'The Voice' Recap: Season 3 Battle Rounds, Part 1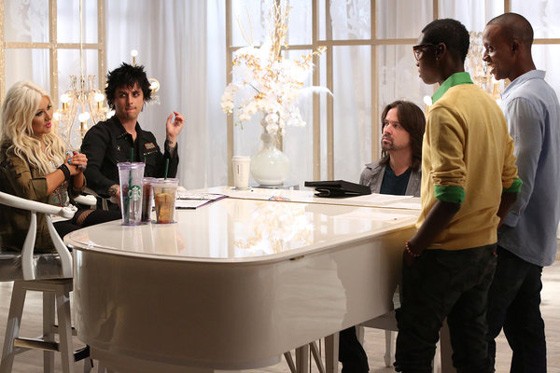 That brings us to Team Christina, where Christina and her advisor Billie Joe Armstrong of Green Day are waiting to meet De'Borah and Nelly's Echo. Christina has picked out The Police's "Message In A Bottle" for them. Nelly is so polite that he asks if he can take liberties with the song before he starts making alterations. De'Borah admits that she doesn't know a lot of popular music, and that makes her nervous, but Billie Joe reassures her that "even the mistakes you're making are amazing." Despite that, she's still apprehensive by the time of final rehearsal.
Nelly impresses right from the start of the battle, but De'Borah comes in with some serious power in her vocals, although at points it might even be too much. Cee Lo calls her "the clear winner" of the battle, while Adam takes a moment to get emotional about how he's sad that someone could ever not be accepted for who they are and that he's happy they could be a part of helping De'Borah. Blake sides with De'Borah, and Christina agrees. She leaves to plenty of applause and lots of hugs; as great as winning the round is, it's the personal accomplishment that is almost more important here. Sadly, nobody steals Nelly, and he will be missed.
Back to Team Blake: 2 Steel Girls are facing off against Gracia Harrison with the Dixie Chicks' "Sin Wagon," but first Blake needs to make fun of Michael Buble. Once that's done, both sides have issues with the fast-paced tune, and Blake does his best to get everyone to relax. Never mind that there's the track record of duets not usually having made it past battle rounds on The Voice (see: Elenowen, The Line). You've got to look back to Tori and Taylor Thompson for a duet that passed battles, and that result was a shocker back in the day.
Gracia has her half of the song down pat, but as is always the issue for duets, 2 Steel Girls have to figure out how to divide their half of it between the two of them so that it shows off their skills in the best way possible. Christina prefers Gracia, while Cee Lo admits he has "a thing for duets" and takes the 2 Steel Girls, and Adam doesn't actually make a decision. Blake has to take a minute, but eventually picks Gracia, saying she brought "way more confidence" to the throwdown. That means it's all on Beat Frequency to break the streak of duets' bad luck (but no pressure!)
The last battle of the evening is Amanda Brown versus Trevin Hunte from Team Cee Lo, pitting a near-unanimous pick over somebody that could've been one to the tune of Mariah Carey's "Vision of Love." Rob calls Trevin "his own worst enemy" while Cee Lo is suddenly mad that he chose to pair these two together. Suddenly, Trevin sees himself as the underdog. You wouldn't know that when he steps into the ring, though. He and Amanda sing the heck out of the song, and it should definitely not be the last time we hear them sing together.
By the end of the song, they get a standing ovation - and Adam is actually standing on the furniture and will not get down, he's that impressed. He tells Amanda and Trevin that "whoever he doesn't pick, I'm committing to right now...This is the show. You guys are why we're here." Blake quips that he's attracted to both singers. Christina restores order by thanking them for their performance, and after Cee Lo picks Trevin, she, Adam and Blake all jump in to take Amanda from him. (You have to love Trevin cheering when this happens.) After everyone makes their pitches, Amanda signs up with Team Adam.
To recap, two artists changed teams tonight - Team Adam's Collin McLoughlin to Team Blake, and Team Cee Lo's Amanda Brown to Team Adam. We also eliminated four artists from the competition - Casey Muessigmann, JR Aquino, Nelly's Echo, and 2 Steel Girls.
With that, we're done for the evening. Were you happy with the results? Now that you've seen "The Steal" in action, do you think it was the right move for the show? Sound off below - and tune in tomorrow for another hour of battles!
For more from Brittany Frederick on The Voice, visit Big Red Chairs and follow me on Twitter (@bigredchairs).  
(c)2012 Brittany Frederick/Big Red Chairs. Appears at Starpulse with permission. All rights reserved. No reproduction permitted.