'The Voice' Recap: Season 3 Battle Rounds, Part 1
With the Top 64 chosen, now it's time to get into competition on The Voice. With the addition of "The Steal" this year, it's going to be messier than ever before, too. Let's go to battle!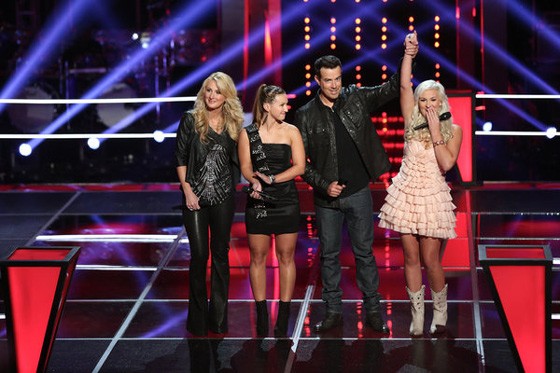 Tonight we open with Blake and his advisor Michael Buble, who quips, "Million bucks says they don't know me." Yeah, right, Michael. It's Team Blake's Casey Muessigmann and Terry McDermott who are going to head-to-head first (note the Street Fighter style graphics that are new this season!) Blake's reasoning for putting them together is that they're both "loud, powerful" dudes who auditioned with classic rock, which is also why he gave them the Kansas hit "Carry On Wayward Son" for their battle.
It's not a song that Casey is initially comfortable with, but that's something we've seen plenty of times before on The Voice, and even by the end of rehearsal, Casey's acclimated enough that Terry has taken notice. When they get into the ring, this unlikely combination really works, although Terry does still seem just a bit more comfortable both on the stage and with the song.
What do the coaches think? "You both chose your spots really well," Christina says, while Cee Lo compliments Terry on his confidence and Casey on the assertiveness in his voice. Adam agrees that Casey definitely overcame the song choice. It's then time for Blake to make his decision, which he prefaces with "someday this will make sense." He chooses Terry as the winner - but unfortunately, nobody chooses to steal Casey, meaning that he's out of the competition. That's a hard pill for Casey to swallow, but he's to be commended for leaving with the right attitude.
Team Adam's first battle pits Bryan Keith against Collin McLoughlin, and both guys freak out a little bit at rehearsing with their coach and mentor Mary J. Blige. Adam selects "Santeria" by Sublime for them, which is a little more up Bryan's alley, but Collin gets great early feedback from his coaching team. Adam thinks he has "maybe the best pitch I've ever heard" (but wants "a little more danger" in his performance) and Mary calls him "amazing."
In rehearsal, Adam's already convinced it's going to be a tough call, and he's right. Both Bryan and Keith sound like they've been working on this one a lot longer than they have; you could probably stick them in a band together, because they are clearly having a lot of fun with this. So is Adam, who's beaming like a proud parent through the entire song.
Christina thinks Bryan had more swag, while Blake takes a liking to Collin, and Cee Lo compliments both singers in equal measure, although he says he'd take Bryan. It's decision time for Adam, who picks Bryan to move forward.  Thankfully, both Blake and Cee Lo cut Collin's goodbye speech off, wanting to steal him. (It's really sweet that Adam seems overjoyed by this and offers to weigh in on who Collin should go with next.) Collin chooses to join Team Blake, and gets a goodbye hug from Adam while he's at it.
Team Cee Lo's Diego Val and JR Aquino are the next pair to go to battle. They meet with Cee Lo and advisor Rob Thomas (and Voice bandleader Paul Mirkovich, who is everywhere) to get their song assignment, which is Rick Spingfield's "Jessie's Girl." The song concerns Diego a bit, and he stumbles over the lyrics and the melody at first, which concerns both Rob and Cee Lo. By the final rehearsal, he's still a little iffy. Will that do him in?
Once they're in the ring, it's a different story. JR is clearly more at home with the song and his voice seems to suit it better, but Diego doesn't have any major stumbles, has figured the song out and is willing to fight him for stage time. Adam is surprised by Diego's performance, while Blake admits that he doesn't know pop music ("Just because it's not country doesn't mean it's not awesome!" Adam tells him), and Christina selects Diego. In a shocker, Cee Lo picks Diego as well, and JR surprisingly goes home.