'The Voice' Recap: Season 2's First Battle Rounds Make A Huge Statement
The chairs are done turning, and now it's time to go to battle. We start season two battle rounds this week on The Voice, and just like last season, they are both beautiful and painful. They're great because we get some absolutely wonderful duets, but they hurt because we have to say goodbye to half the artists.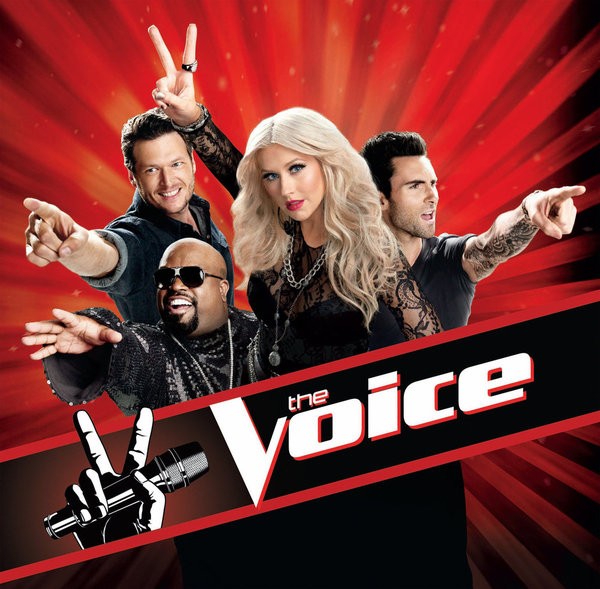 Team Adam leads off, and the first battle pairing of season two is Tony Lucca vs. Chris Cauley. "You guys are going to be singing in harmony and secretly trying to destroy each other," Adam says, which is both hilarious and accurate. He gives them U2's hit (and sometimes overplayed) song "Beautiful Day." At rehearsal, he introduces Tony to Alanis Morrisette, and Chris gets to chat with Robin Thicke, who likes to wear sunglasses indoors for some reason. (Plus, check out Voice bandleader Paul Mirkovich at the piano!) It's quickly apparent to me why he chose these two as advisors: their advice is honest and straight to the point, like Adam is himself.
You'd think that with an extra hour onto the show we might see a little more of rehearsal, but that's not the case. At ten minutes into the hour, Tony and Chris are stepping into the ring. We even get some cool Street Fighter-like name graphics this year. Whatever the package, though, this initial battle shows that these artists really are remarkably talented, and what happens when you put great people in the room together. I hated this song after I heard it the thousandth time on the radio, but these guys had even me singing along. They sounded great individually, but they also sounded fantastic together. Even though it was a competition, they almost felt like a seameless unit. I got the sense that they really were in that moment and loving every second.
Blake votes for Chris, while Christina and Cee Lo go for Tony, and Adam (the only man who can make a Cosby sweater a viable wardrobe option) chooses Tony as the winner of the battle. On his way out, Chris tells Adam that "you know I was a fan of you as a music, but now I'm a fan of you as a man," and lets the camera know that Tony is a worthy victor. On The Voice, even the exits are with grace and class.
We go out into the country to visit Team Blake, and Blake pairs Adley Stump vs. Raelynn on Tom Petty's "Free Fallin." It's the battle of the adorable blonde vocalists. Raelynn understandably flips out when Blake's wife Miranda Lambert shows up to give her some advice in rehearsal; much like Sera last week, I'm so happy that she could have that moment. Plus, being that Miranda was both on Nashville Star and appeared on The Voice last season, she has the perfect package of experience.
Adley gets to chat with Kelly Clarkson, who's one of the most successful singers to come out of American Idol, and seems like she fits into Team Blake pretty easily. This is going to sound ridiculously obvious, but I like how Blake clearly assigned advisors to the artist they would be best with and focused on raising their individual game as opposed to drawing the focus to their opponent. You'd think that kind of stuff would be common sense, but it's not necessarily and it proves once again that Blake isn't phoning his coaching duties in.
After that, the battle is on, and the age/experience difference between Adley and Raelynn is a bit obvious, though in a competition like this I wouldn't expect it not to be. They both sound good, but to my ear Adley is just a little more smooth and a little more nuanced. Cee Lo sums up my thoughts perfectly when he talks about Raelynn having more room to grow and perfect her voice. Adam votes for Raelynn, while Christina and Cee Lo prefer Adley, but Blake chooses Raelynn as the victor. Adley's reaction? Telling Blake she hopes she made him proud and thanking him for believing in her. She has clear talent and the right attitude; I think this won't and certainly shouldn't be the last we hear from her.