'The Voice' Recap: Made-Up Horns, TV Themes And A Rugrat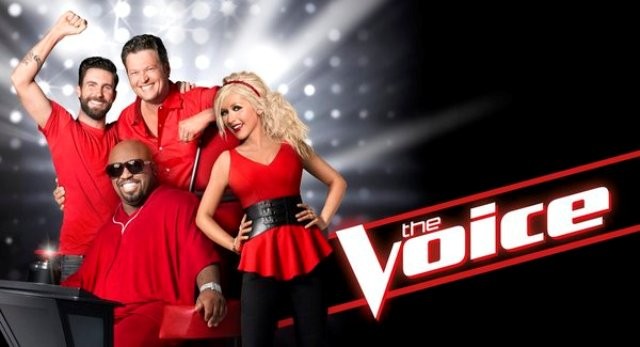 With the "how's it going to be?!" of the premiere out of the way, The Voice is now focused on picking more artists for its four Season 5 teams. BFTV is dialed in to tell you who made the cut in the next two hours, and of course, what the coaches said and did to keep us in our chairs.
Things start with a little more chat between our coaches (with Christina saying what we've all been thinking: "Is it now called The Blake Shelton Show?") before we meet 16-year-old Jacquie Lee, who tells herself to "say hi to Adam" before her performance of Amy Winehouse's "Back To Black." While Adam likes the song choice (he's already used it on this show), Christina and Blake are the two that turn for Jacquie. Cee Lo would rather discuss where she bought her boots. Let the pitches begin!
Christina (to Jacquie): You look up to Blake.
Adam: We all do. He's like 6'9".
Jacquie signs up with Team Christina, home of the female vocalists. Christina calls her "Jacqueline," so let's hope that's her full name or that's a bit awkward. Whatever she wants to be called, she's a good, solid pick, but Bryan Keith still owns the Voice monopoly on that song. And on another note, is Season 5 skewing on the younger side already?
Second to the plate is 27-year-old Barry Black, who left the family hotel business to pursue music in Las Vegas. He gets points for using the word "flugelhorn" in a sentence. In fact, he can imitate a horn (in this case a saxophone) with his mouth. His version of Bobby Caldwell's hit "What You Won't Do For Love," which is one of the best songs ever written, immediately draws Adam's attention. Blake decides to make it a two-way competition, and pretty much beats up on Adam in the resulting discussion with a series of hilarious quips.  Despite this, Barry joins Team Adam, and adds some more awesome to our mix.
That's going to be hard to beat, but here comes 19-year-old alternative rocker Mike Unser. Mike has brought us "Dirty Little Secret," but his version fails to draw the interest of any of the coaches. What follows is the least awkward conversation ever, as no one can put their finger on why they didn't turn for him, and he actually ends up encouraging the panel instead of the other way around. At least Mike still has really lovely hair.