'The Voice' Recap: Live Semi-Final Eliminations Find The Final Four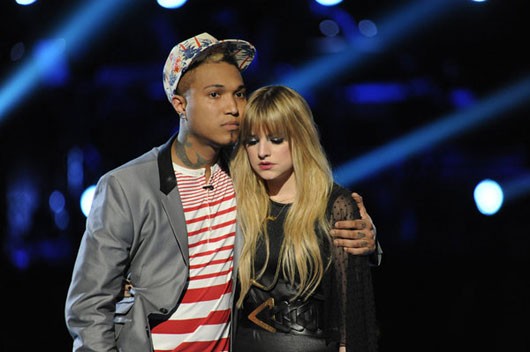 Some familiar faces joined the new during The Voice's semi-final eliminations. Host Carson Daly welcomed special guests including Dia Frampton, Beverly McClellan, Vicci Martinez and Javier Colon, all of whom were last year's finalists.
The eight hopefuls, Tony Lucca, Erin Willett, Chris Mann, Jamar Rogers, Jermaine Paul, Katrina Parker, Lindsey Pavao, and Juliet Simms, battled it out on Monday's episode, and discovered tonight what the coach judges and America thought of their efforts.
The process is a little complicated, involving 100 points for each coach to split between their team members, and then  another hundred points, received from the viewers  via phone, social network, or iTunes, comprising the other half of the final total.
Coaches Cee Lo Green, Blake Shelton, Christina Aguilera, and Adam Levine all seemed reluctant to let go of their prodigies, but eager to discover the vocalists that they would be escorting to the Finals.  
Before any results were announced, the special guests provided a little entertainment. Dia Frampton, with guest Kid Cudi, performed "Kick The Chair" from her current CD. I wasn't a fan of Dia's last season, and her song did not change my opinion. Kid Cudi's rap added little to either the song or the performance, seeming a gratuitous inclusion in an effort to capture fans of both artists.
On to the first elimination of the night: Chris Mann and Lindsey Pavao shared an equal 50-50 blessing from coach Christina Aguilera. Classic vocalist Chris had sung 'Ave Maria,' while Lindsey voiced "Skinny Love." The viewer votes brought the totals to 104-96 in favor of Chris, and Lindsey made an emotional exit.
Time for Vicci Martinez, channeling Melissa Etheridge by way of Prince, to kick it out, with her new single "Come Along," ably fused with the soulful harmonies of her coach, Cee Lo Green. Vicci was a standout in season one, with her powerful voice, and 'war dance' moves. This new song showed a tamer Vicci. Both vocalists sounded great, but I missed the wanton warrior who kicked her way into viewers' hearts last year.
Adam's contestants, Tony Lucca and Katrina Parker, faced the music next. Although Adam praised Katrina's 'sexy, smoky' vocals and ongoing vocal improvement, he split his votes 60/40, with Tony receiving the higher number. America's votes brought the totals to 108 for Tony and 92 for Katrina. Despite – or maybe because of - coach X-tina's frequent snipes at her former Mouseketeer pal, Tony took the win.
Cutting to the backstage media room, Erin Willett was surprised with a birthday cupcake and pink princess hat to celebrate her big day.
I can't help but smile every time powerhouse Beverly McClellan appears on stage, in her work boots, tats and shaved head. She and special guest Cyndi Lauper worked every inch of the stage, wringing every bit of punky energy out of the classic 'Money Changes Everything.' Their duet was a standout moment. Even Carson had to admit that it was fun.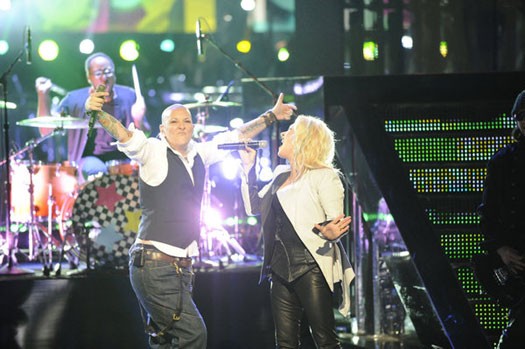 Season One winner, Javier Colon, performed his new single "A Drop in the Ocean" with all of the beauty and power that caused all four judges to turn around last year.
But there's work to be done! Jermaine Paul and birthday girl Erin Willett wait to hear the verdict. Like Christina, coach Blake split his points 50-50. But America wanted former Alicia Keyes backup singer Jermaine three times more than Erin. With 123 points to Erin's 77, soulful Jermaine walked away with the win.
The night built to the ultimate battle – Jamar Rogers vs Juliet Simms . Both are superb vocalists, and losing either weighed heavily on Cee Lo's mind. Jamar's version of "If You Don't Know Me By Now" was pitted against Juliet's equally strong "It's a Man's Man's World."
Cee Lo awarded Juliet 60 points to Jamar's 40. America voted, and Juliet wound up with 121 points to Jamar's 79. With tears in his eyes, Jamar thanked the program, while Cee Lo attempted to comfort him.
So, at the end of this round, Juliet is the last remaining female vocalist, and will have to do battle against a trio of exceptional male vocalists. Stay tuned for the live Finals, next Monday, May 7!