'The Voice' Recap: Judith Hill And Karina Iglesias Rule The Night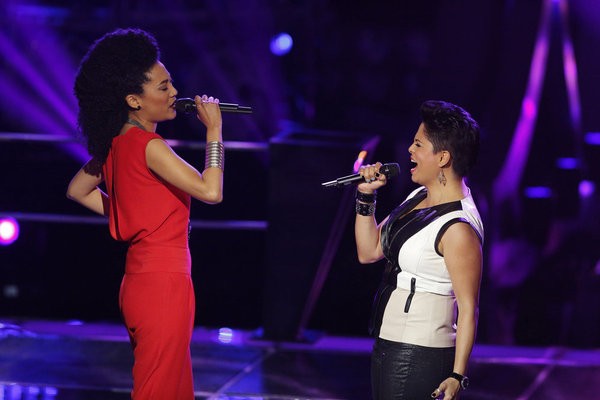 It's time for The Voice to go to battle: head-to-head competition, the button-slamming steals, spotting Paul Mirkovich everywhere, and those graphics that make things look like Street Fighter. Anything can happen in the battle rounds - last season, although Amanda Brown lost her battle as a member of Team Cee Lo, she was stolen by Adam Levine and ended up making it all the way to the top six. No wonder why Blake calls this "the scariest part of the show."
The first matchup of the night is from Team Adam: Amber Carrington, who was Adam's last pick, versus Sasha Allen, who got four chairs to turn for her during the blind auditions. On paper, it sounds like this might be one-sided - but it's the farthest thing from that.
Adam and his mentor Hilary Scott meet with Amber and Sasha, and Adam assigns the pair "Try" by Pink for their battle round. Sasha thinks that's "a great middle ground for everybody." Amber is worried about Sasha's additional experience, and meets with Adam and Hillary the next day to discuss that. They advise her to focus on herself rather than the other person. At final rehearsal, Adam still believes both artists have work to do, but expects a difficult decision.
In the ring, Amber seems to have found her confidence - and bears a certain resemblance to season three's Michaela Paige with her outfit and hairstyle. She's a pleasant surprise in every possible way, and if she keeps coming out with that attitude, she could become a real threat in the competition. Yet there's no denying that Sasha has a definite stage presence you can't help but pay attention to. People have been raving about her since her blind audition, and she absolutely deserves every word. It's nail-bitingly close.
Blake calls the battle "really good overall." Usher says he "really was impressed" by both artists. Shakira thinks Amber and Sasha are "probably two of [Team Adam's] best contestants." No one offers a specific pick, so it's up to Adam to figure it out on his own. He thinks it was "hands down, one of the best battle rounds we've ever seen on the show." He shocks the room by choosing Amber.
But don't feel bad for Sasha, because Usher and Shakira are pushing their buttons to steal her before Carson can even finish his sentence. Usher says he thinks he can "win the entire show" with Sasha on his team, and Shakira seconds that comment before asking Sasha not to break her heart a second time. Sasha migrates to Team Shakira. Usher is crushed. Sasha gets a goodbye hug from Adam, who tells her that he knew she'd move on and she's in good hands with her new coach.
Blake: You made Usher cry.
Team Shakira is next up. She and her advisor, Good Charlotte's Joel Madden, meet with Garrett Gardner, who's looking for redemption after not making a team in season three, and J'Sun, who got montaged in blind auditions. Shakira hands the guys The Heavy's "How You Like Me Now," which was absolutely crushed by Tony Lucca in season two. It's a tall order, but they get right to work on it, with no clear standout in rehearsal.