'The Voice' Recap: Final Blind Auditions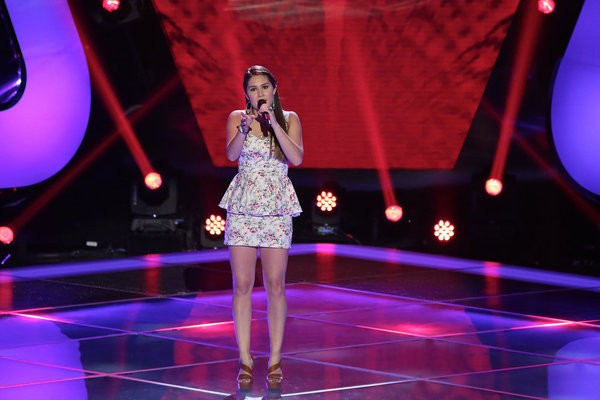 It's the final week of the blind auditions on "The Voice," and by the end of the show all four coaches had their teams filled.  Each coach needed two more singers to fill their teams.
First up was 15 year old Nathalie Hernandez who got Blake and Christina to push their button on the first measure with Adam following shortly thereafter.  Nathalie chose Christina who called Nathalie a storyteller.
European boy band member Rod Michael failed to turn any of the coach's chairs despite having a nice voice.  The coaches said that they didn't hear the big moment.
Caitlin Michele impressed Adam and Blake with her powerful performance.  Caitlin chose Adam as her coach.
Nicole Johnson performed a country song.  After Blake said that he would be honoured to be her country music coach, Nicole chose Blake for her coach.
Middle school French teacher Kameron and his guitar didn't turn any chairs despite the coach's liking his performance.
Looking to step out in the limelight, backup singer Chevonne had to wait for a coach to turn a chair.  In the end Blake and Cee Lo turned their chairs and Chevonne chose Cee Lo for her coach.
Only Blake did not turn his chair for 17 year old Kayla Nevarez who impressed the coach's with her seasoned voice.  Kayla chose Adam for her coach filling his team.
Third generation singer Celica Westbrook had all three remaining coaches to turn their chairs.  Celica chose Christina for her coach completing Christina's team.
After a series of singers who got nos, 46 year old Grandpa Rudy Parris performed a Police song with his guitar.  The two remaining guys – Blake and Cee Lo – fought it out to fill their team with Rudy.  He chose Blake as his coach.
Only Cee Lo needed one more singer to fill his team and that came when farm boy Cody Belew took on "Hard to Handle".
On Tuesday "The Voice" will feature the best of the blind auditions and next week the battle rounds will begin when mentors Mary J Blige, Rob Thomas, Michael Bolton, and Bill Joe Armstrong join the coaches.  The new twitst of the show makes its debut when the steal is entered into the fray.
Team Christina:
De'borah
Devyn DeLoera
Adriana Louise
Aquile
Nelly's Echo
Lisa Scinto
MarissaAnn
Beat Frequency
Paulina
Roslyn Rivera
Dez Duron
Jordan Pruitt
Laura Vivas
Sylvia Yacoub
Nathalie Hernandez
Celica Westbrook
Team Cee Lo:
Daniel Rosa
Trevin Hunte
MacKenzie Bourg
DOMO
JR Aquino
Nicholas David
Avery Wilson
Mycle Wastman
Emily Earle
Ben Taub
Diego Val
Alexis Marceaux
Todd Kessler
Amanda Brown
Chevonne
Cody Belew
Team Blake:
Terry McDermott
Graciaa Harrison
Casey Muessignamm
Julio Cesar Castillo
2Steel Girls
Liz Davis
Kelly Crapa
Sussana Choffel
Michaela Paige
Ryan Jirovec
Lelia Broussard
Terisa Griffin
Charlie Rey
Cassadee Pope
Nicole Johnson
Rudy Parris
Team Adam:
Bryan Keith
Joe Kirkland
Samuel Mouton
Loren Allred
Nicole Nelson
Melanie Martinez
Brian Scartooci
Alessandra Guercio
Adanna Duru
Collin McLoughlin
Benji
Michelle Brooks-Thompson
Same James
Brandon Mahone
Caitlin Michele
Kayla Nevarez