'The Voice' Recap: Blake And Adam Finish Stealing While Usher Starts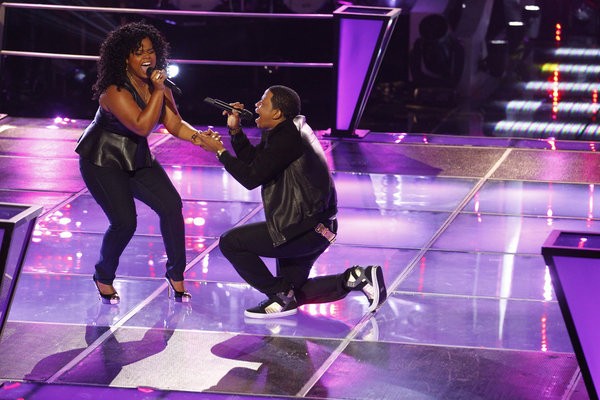 It's time for the second half of battles on The Voice, with plenty of strong artists left to perform and four steals still to be had.
The first matchup of Monday night comes from Team Usher: it's his final pick, Jessica Childress, versus Vedo. Usher has chosen the Bruno Mars hit "Locked Out of Heaven" for them, the choice of which makes Jessica "a little bit apprehensive," especially when she hears Vedo. However, advisor Pharrell Williams tells Jessica he thinks she's wrong about her range, which bolsters her confidence. In second rehearsal, it's Vedo who's impressed by what Jessica can do. Usher seems much more satisfied with this pairing than he did with his last one.
In the ring, the pair put on a strong performance that brings them together as a duo while also highlighting what each of them can do individually. It's clear that they're enjoying the song as much as the audience and coaches are liking what they're doing with it. Shakira compliments both artists, including Jessica's energy.
Shakira: I can tell that you must have like a ton of friends.
Adam likewise has kind words for both competitors, while Blake uses this duel as another example of why battle rounds are such a pain to go through. With no one offering their opinion as to a pick, it's all on Usher, who compliments his artists for overcoming their initial difficulties with the song and supporting each other. He then goes on to name Vedo as the winner. Jessica takes the verdict like a champ, although Carson doesn't mention that she's available to steal, so this battle might have happened near the round's end. It's a shame, because she was definitely worthy of being picked up by another coach. Meanwhile, Usher takes a moment to tell an emotional Vedo that his late mother would be proud of him.
Over on Team Shakira, it's dark horse Luke Edgemon versus four-chair artist Monique Abbadie. Shakira and Joel Madden hand the two of them Lady Gaga's "You and I," calling them her most eclectic duo. Monique thinks Luke is one of the strongest singers on the team, while Luke returns the favor, referring to Monique as serious competition. Shakira gives both her artists very specific constructive criticism, including reminding them to work together while they're performing, even though it's a competition.