'The Voice' Recap: Adam Steals A Country Artist From Blake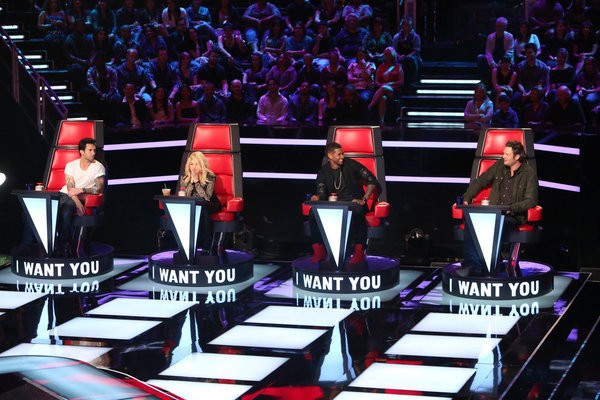 After last week's blind auditions brought The Voice its first 13 artists of Season 4, it's time to continue the search for the other 35. Adam (last seen announcing that Maroon 5 is headlining this year's Honda Civic Tour) has 9 spots left on his team, Blake (last seen in a chicken costume) needs 9 more for his roster, Shakira is looking for 8 more artists and Usher has 9 openings to fill. Who will they discover tonight?
First to hit the stage are The Swon Brothers, who like any good siblings, rib each other constantly through their before-audition interviews. They perform "American Girl," which incites a burst of air drumming (and a little singing along) from Adam, but it's Shakira who is first to hit her button, followed shortly by Blake and then Usher. The duo's being from Oklahoma immediately makes them Blake's to lose, if he'd stop making up lame words. (Watch Adam facepalm.) The guys make the obvious choice and sign up with Shelton. Between The Swon Brothers, The Morgan Twins and Midas Whale, might this be the season we see a duo make some headway on The Voice?
Blake: When Shakira said 'Let's have some fun together,' I thought I was screwed.
Next up is former gymnast turned singer Taylor Beckham, whose version of "I'm Going Down" draws Usher's attention within the first minute. Shakira decides to come in as well, meaning that it's a battle of the new coaches this time around. While we find out that Shakira is pretty flexible, Adam chimes in to say that he's never seen Usher so excited. Indeed, Usher is sitting there with fingers crossed, on the edge of his big red chair like a kid hoping for the big present on Christmas.
Blake: Adam's not helping you, Shakira.
Shakira: No, he's not. I'll deal with him later.
Unsurprisingly, Taylor selects Usher as her coach, leaving Shakira to warn Adam that she'll be watching him from now on. Sam Alves is the third singer to perform, and his version of "Feeling Good" isn't as great as Dez Duron's in Season 3, but it impresses Carson. Unfortunately, Carson doesn't have a button to push. Sam goes home empty-handed, except for a farewell hug from Shakira, but repeats his belief that everything happens for a reason.
The next artist is Karina Iglesias, a vocal teacher determined to make her grandmother proud. Adam dares Blake to push his button before Karina even starts singing, but Karina's version of Melissa Etheridge's "I'm The Only One" instead has Blake yelling at Adam to "push your goddamn button." Adam finally does at the last possible second, but unfortunately for him, so does Blake.
Adam: That was the most stressful thing I've ever gone through in my life.
Shakira also mentions stress as the reason why she didn't push her button, and publicly wants to know what's wrong with herself. Adam talks about how he thought Karina's performance might make the light fixtures explode. As the discussion continues, we find out that Blake is the only person on the panel who doesn'tknow at least a little Spanish. This may be his downfall, because Karina joins Team Adam. At least Adam and Blake hug it out afterward...although Blake has a hard time letting go.