'The Voice' Recap: Adam Scores Another Country Artist, Another Four-Chair Singer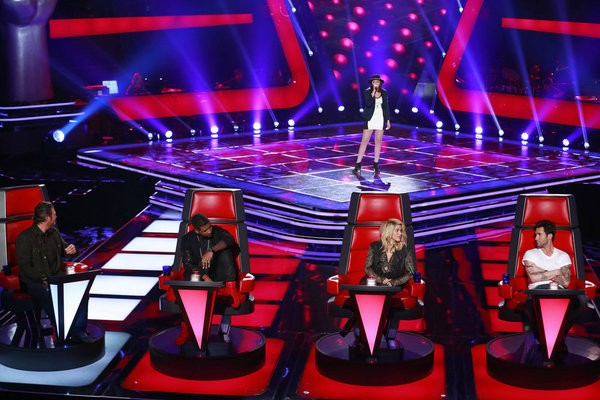 There's a lot going on in tonight's fifth volume of The Voice blind auditions! The coaches have just 16 spots left on their four teams, and Adam Levine is about to be honored with a new award that he can soon produce any time Blake "just happens" to find his CMAs or ACMs or whatever else he has. Not to be outdone, Blake's officiating Kelly Clarkson's wedding, even as Kelly is about to tour with Maroon 5. It never ends with these coaches!
Our Fantastic Four are still on the lookout for more great singers. The search begins with golf cart-driving Jeff Lewis, who comes armed with Usher's "U Got It Bad." Cue the obligatory shot of Usher being pleasantly surprised by this song choice. He deliberates for a good, long while before pushing his button, after which Blake and Shakira decide that might also be a good idea. Although Blake doesn't give himself much of a chance.
Blake: Let me just get my little thing in here, because I'm screwed. I know I am.
He's right, because Jeff signs up with Team Usher. Following him is 45-year-old Shawna P, who seems to be living that phrase "you're only as old as you feel." She name-drops for a little bit before performing the Black Crowes song "She Talks To Angels,' which appears to startle Shakira for a second, but that doesn't stop the Latin superstar from pushing her button. Adam contemplates a nap, but then joins her. Shawna hears them talk about how rock and roll they both are before joining Team Shakira. At least Adam and Shakira hug it out afterward.
We move to St. Louis to meet coffeehouse singer Caroline Glaser, who steps onto the Voice stage with Elton John's "Tiny Dancer." Adam recognizes the song immediately, as it's one of his favorites. While he's completely Zen with the music, Blake and Shakira hit their buttons for Caroline, making this a two-coach battle. Blake continues his habit of trying to convince contestants he has everything in common with them. Shakira whips out the word diaphanous. Caroline decides to sign up with Team Blake. Afterward, the coaches debate whether or not Blake plants people in the audience to yell his name.
Next up is Cameron, who tells us that he can do just about everything in the music business, before declaring that he's going to sing "As Long As You Love Me" by Justin Bieber. We've already seen Vedo have success with a Bieber cover, so will Cameron be able to do the same? He seems a little more invested in his footwork; Adam makes a point of noting that he's dancing. No one turns around for Cameron, with several of the coaches bringing up that his performance was more about his moves rather than his sound.
Usher: You have to put in the work to manage both. It's about finding the balance, because it's really based off of the voice first.
Following this is Michael Austin, who you probably don't want to get on the bad side of, because he's also a deputy sheriff. Michael's cover of "Someone Like You" draws Adam's approval, followed by Shakira. Blake doesn't buzz in because he thinks it's pitchy, but Adam doesn't care. In fact, he ribs Blake quite a bit for not chiming in. Although Shakira can yodel, Michael joins Team Adam, giving the Maroon 5 front man two country artists on his roster.