'The Voice' Recap: A Strong Artist Is Stolen From Team Blake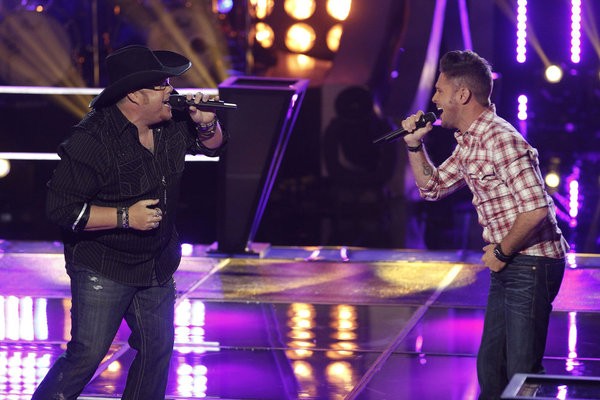 After last night's six battles, The Voice is back tonight with six more  - or in actuality, three and three others condensed into about a minute and a half. Who moved onto the knockout rounds? Who went home? And did anyone get one of the five precious steals remaining in the competition?
Team Adam starts the night for the second evening in a row, with Michael Austin competing against Warren Stone. Michael turned two chairs with his audition, while Warren has the distinction of being the first country artist to have become a member of Team Adam after he spun three coaches. Now they're facing off against each other in the battle of civil servants who are also country singers, with Jason Aldean's "My Kinda Party" as the song.
Adam and advisor Hillary Scott tell Warren to be careful of falling off on notes, and are floored when Michael reveals that he just had a tumor removed from his sinus canal. (The camera catches Adam's jaw dropping open.)  In second rehearsal, we get to sample Adam singing country, as he tries to show his artists what he's looking for. Furthermore, the coach tells the audience via voiceover that he thinks there's "only one spot on my team" for a male country artist. Well, obviously.
After that, it's time to go to battle, with the obligatory camera cuts to Blake so we can gauge his reaction to Adam's country artists. Both Michael and Warren have their moments, and they gel together as a good pair, which makes it really hard to decide which one of them is better.
Blake sides with Michael, while Usher starts talking about Warren's "country swag" and picks him, and Shakira has no opinion. So it's really completely up to Adam, and he selects Warren to move forward to the knockout rounds, based on the diversity of his voice. He also imparts another piece of Levine wisdom while doing so.
Adam: You can't be a good coach unless you learn.
Sadly, Michael goes home. Even though Blake disagreed with Adam's choice, he tells the camera afterward that he didn't hear anything that he wanted to use his one remaining steal on.