'The Voice' Recap: A Returning Artist Makes Show History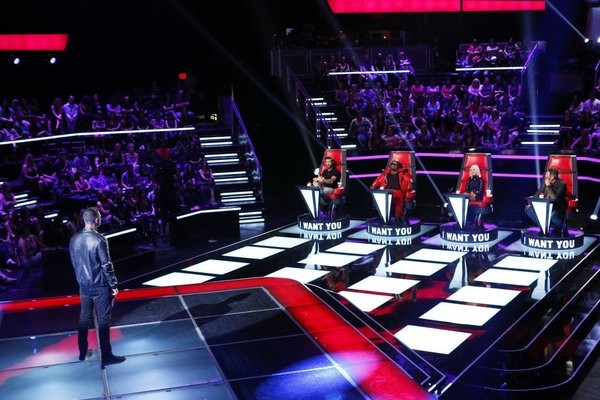 Night four of blind auditions on The Voice sees our coaches' rosters filling up, and that usually means it's the time when they become more choosy, letting some good artists go home in the hopes of saving a spot for one that is great or unique. Will that be the case tonight? Let's find out.
Adam, Blake and Cee Lo all need 5 more singers to complete their squads, while Christina only has 4 spots to give. Our coaches roll up to the soundstage in style, while Carson and his Kia fetch Will Champlin, the son of Chicago member Bill Champlin. For those of you too young to remember Chicago, they were great. (In a case of 'it's a small world,' Bill also performed "In The Heat of the Night," which we discussed last week.) Will's hoping his audition will help him establish his own music career. His performance of Gavin DeGraw's "Not Over You" gets Blake to push his button, followed by Adam and then Cee Lo. (But the most important thing here is that Will's daughter is adorable, pointing at her dad on the backstage monitor.)
Adam starts the pitch process, talking about how if Gavin DeGraw songs reflect Will's taste, then he knows a little something about that. Cee Lo's argument is a little bit vague. Blake is almost alliterative, as he compliments Will's power, passion, pitch - and hair. Christina admits she didn't want to be a part of this fight. Will makes the smart decision and joins Team Adam, as Adam tells his colleagues that Will reminds him of a male version of Season 3 finalist Michelle Chamuel. What do you think of that comparison?
Next to audition is 18-year-old Macey Estes, who wants to be a hip-hop/rap artist. Her performance of "The Way" has our panel immediately picking up on how young she is, and also staring at Cee Lo to see what he's going to do. The answer to that is nothing, and Macey goes home, but not before she whips out a rap about her audition.
29-year-old Stephanie Anne Johnson is third to go, and we learn that she studied classical voice and opera (as Chris Mann did before he came and wowed us). Stephanie chooses KT Tunstall's "Black Horse and the Cherry Tree" for her audition, After some argument as to who's going to push their button for her, Christina finally goes in, followed by Cee Lo. Cee Lo compares Stephanie Anne to his Season 1 finalist Vicci Martinez, who as it turns out was a high school classmate of Stephanie Anne's. (Again, small world.) After Blake assures Christina that it's okay that she doesn't play guitar, Stephanie Anne signs up with Team Christina.