'The Voice' Premiere: Season 4 Blind Auditions, Part 1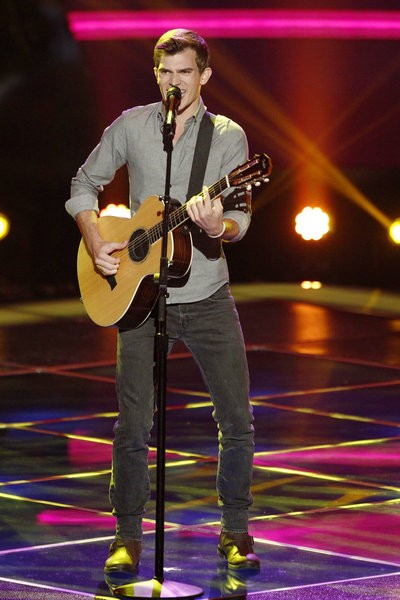 Particularly sharp Voice fans will already have seen this next blind audition, which was also leaked before tonight: it's bar musician Christian Porter, looking to make that jump to the next level of his career, and doing an incredibly different arrangement of LMFAO's "Sexy and I Know It." This is not as novel as, say, Chris Cauley's version of Bruno Mars' "Grenade" from Season 2. It does, however, get Shakira to make a hilarious face just before she pushes her button. After the guys laugh at each other for awhile, Blake finally decides to join Shakira, and Usher gives in too, making Adam the lone holdout. The Grammy winner quips that he thought it was possible he was listening to something non-human.
Adam: I think I was just perplexed because it was so unique and different, and maybe I'm just not ready for it.
Christian elects to go for Team Blake, putting the defending champion ahead in the "number of artists collected" tally. After a completely needless break for the lovely Christina Milian to tell us things we already know, it's time for our first montage of people who were not lucky enough to make the cut.
If you weren't depressed by that montage, it's followed by 15-year-old Leah Lewis, who credits her father as her major musical influence and wants to be successful so that he doesn't have to work as he gets older. Her rendition of Carrie Underwood's "Blown Away" doesn't earn any turnarounds, though, and the coaches tell Leah that she just needs more time and practice, with Adam encouraging her to keep at it as she leaves. Leah needs a second afterward, but who can blame her? Thankfully, there's a commercial break afterward so we can all take a moment to cheer up.
Kris Thomas arrives, explaining how he had "creative differences" with label executives that caused him to lose a record deal, and ended up in a bad state. He snapped to his senses after passing out at the wheel and nearly driving into someone's house, and now he's determined to earn a second chance. Kris proves that a guy can sing Whitney Houston's "Saving All My Love For You." Shakira is the only one to turn around for him, but everyone seems surprised that this is not a woman. While this is treated as a huge shocker, it's worth noting this isn't the first time one of the coaches has mistaken a male artist for a female one (see: Tim Mahoney), although it's definitely impressive that a guy can pull off a selection by one of the biggest female singers of all time.
Next we meet James Irwin. He has another sad story, talking about how he and his wife lost twins before successfully giving birth to a son. Can we stop making people cry on camera? Anyway, James' version of The Script's "The Man Who Can't Be Moved" doesn't get anyone's attention. Adam calls his performance "a little bit subdued" and Shakira suggests that he deserves to come back next season.