'The Voice' Premiere: Season 4 Blind Auditions, Part 1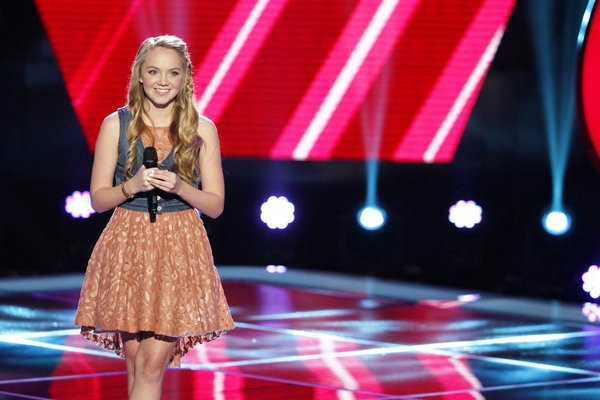 Next up is Janetza Miranda, who's got dance moves and bird calls, but whose version of "Titanium" doesn't turn any chairs. She sounds just a little too much like Sia, if Sia was belting every possible note. Janetza takes rejection really hard, and it doesn't take her long to freak out, causing Adam to leave his chair, come up on stage, give her a hug and tell her everything is going to be okay. Blake calls the rendition "a little too dramatic" but encourages Janetza to come back for another attempt, and Usher reaffirms that "this isn't the end for her." It's another heartwarming moment in Voice history, also reminding those of us playing at home why this show is unlike any other of its kind.
Carson reminds everyone that Adam is waiting for his first pick, and then we meet 16-year-old country singer Danielle Bradbery. Danielle's rendition of Taylor Swift's "Mean" earns button pushes from Usher, Blake and Adam, in that order. Blake is very unhappy with having competition, and equally shocked to find out that this is Danielle's first major performance. Meanwhile, Shakira calls herself stupid for being the only one not to turn around.
Usher: I would feel stupid too if I were you.
Adam and Blake debate if Taylor Swift is really a country artist, only for Usher to drop the Justin Bieber bomb (if you didn't know, he's credited with discovering Bieber), which causes Adam to stop arguing with Blake and start laughing.
Adam: Are you bribing her with Justin Bieber tickets?!
Then we learn that Usher didn't do so well in geography.
Usher: ...Nashville is a state.
Adam: It's a city.
Blake: (after Usher tries to keep talking) I'm still fascinated by Nashville being a state.
Usher: ...Tennessee.
Blake: And he's from there.
Adam: (laughing) It's one of the 60 states.
Once everyone calms down, it's decision time for Danielle, who makes the right choice and signs up with Team Blake. Setting aside her genre, it's a perfect pick given Blake's talent for mentoring the younger artists (see: Xenia, RaeLynn). As Blake celebrates his victory by trying to dance, Usher isn't afraid to make fun of himself a little bit more.
Let's meet Vedo, who talks about how he's glad to see Usher given that he's singing Justin Bieber's "Boyfriend," but then turns serious when he reveals that his mother is dying of cancer. He almost passed on his audition to stay home and take care of her, but she insisted that he go for the opportunity, and in fact she's in attendance to watch his performance. Vedo only gets one chair to turn, but it's the right one. He joins Team Usher.