'The Voice' Premiere Recap: The Coaches Fight Like Usual In Season 5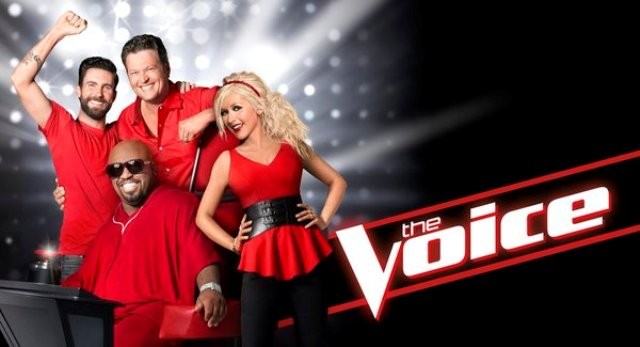 The Voice original recipe is back (after winning the Emmy for Best Reality Competition!), and all eyes are on the classic coaching panel to see if they gel together again (even though we know Shakira and Usher will return next spring). Plus, oh yeah, we've got some new talent to find. What does the first night of blind auditions have for us?
Every season must open with a coaches' performance, and this one is no different. Adam Levine, Blake Shelton, Cee Lo Green and Christina Aguilera offer us their take on Joan Jett's "I Love Rock and Roll," which isn't their best ensemble number (both in sound and because it looks like an over-polished music video rather than a natural part of the show), but it's still nice to see the original group back together again. If you missed the song, or just want to see it one more time, here it is below.
After Adam crashes Carson's intro, it's time to get to the real business: auditioning singers for 48 spots in the season (that's 12 per team). First up - no pressure - is 29-year-old Kat Robichaud, performing "I've Got The Music In Me." Cee Lo decides to turn his chair for her, which motivates Christina and Blake to follow after him. Adam, although he doesn't want to get involved in the battle, renames Kat 'Raspy McRasperson' and then compares Cee Lo to Michael Jackson, showing that he's still hilarious.
Cee Lo remains a man of few words, but that's okay because Christina has an excess of words. Blake worries that he's in the wrong genre, and Adam agrees, saying that he knows her coach isn't Blake, causing consternation among the audience. "Oh, cry me a river," Adam tells them. In the end, Kat makes the smart choice and goes with Cee Lo, who should perfectly understand her Queen and David Bowie vibes.
Next up is 17-year-old Caroline Pennell, who shares the same anxiety about singing that Danielle Bradbery did, and we know how that turned out for Danielle. Caroline's version of "Anything Can Happen" prompts Blake to push his button after he thinks Cee Lo isn't going to, but then Cee Lo does it anyway in a nice fake-out. Neither coach's pitch is that great, but Caroline ultimately turns down Blake's magic pointing finger and goes with Cee Lo.