'The Voice' Performance Show: Who Was Instantly Eliminated?
The producers of NBC's The Voice aren't making it easy: on Monday's performance show, an "instant elimination" forced two coaches to chop two artists before America's vote.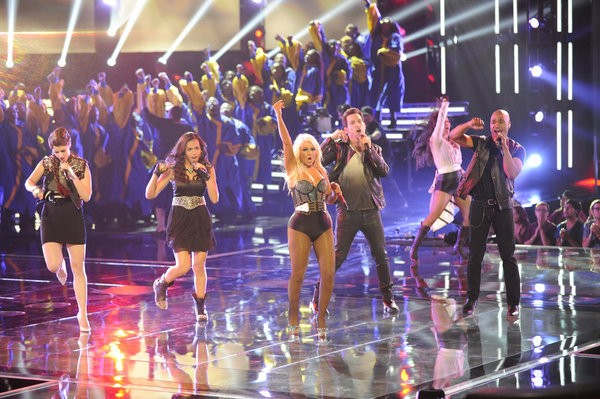 Neither the singers nor the coaches were fans of the surprise axe. Blake Shelton remarked that if he knew who was responsible for the idea, he'd kick them - and Team Blake's Erin Willett was quick to concur.
"I'm still unhappy with it. I think that's the worst thing we've done," said Team Christina's Chris Mann after the show.
Perhaps the only one to see any merit in the idea was Adam Levine, who remarked that it at least gave the coaches the chance to decide one departure, rather than their having to leave both up to the popular vote.
"It's just another reminder to treat every day like it's your last, until it's your last," said Team Christina's Lindsey Pavao.
The new wrinkle led to a pair of shocking choices: Shelton said goodbye to Jordis Unga, after having saved her from elimination the week before, while Christina Aguilera dropped fan favorite Jesse Campbell, whom Levine recently referred to as the man to beat in the competition.
This leaves Raelynn, Jermaine Paul and Erin for Team Blake, and Chris, Ashley de la Rosa and Lindsey for Team Christina. Another member from each team will go home tonight based upon the result of America's vote.
Aside from the shake-up of moving one elimination back into the coaches' hands, it was a busy night on The Voice. Levine and his band Maroon 5 premiered their new single "Payphone" featuring Wiz Khalifa, a season after they premiered their hit song "Moves Like Jagger." By the end of the night, "Payphone" had already charted at #3 on iTunes.
Team Blake joined Shelton for a group rendition of "Heartache Tonight," which was relatively low-key compared to Team Christina's version of "Fighter" that involved a local high school choir and plenty of effects.
The latter got off to a hilarious start as it began with the opening of Shelton's hit single "Hillbilly Bone" and a pair of male dancers who paid Shelton a visit (no doubt due to his prior comments about 'male strippers' on the show).
Big numbers aside, the artists delivered more unique performances as they tried to avoid being the pair sent home at the end of the evening. Birthday girl Ashley sung a rock arrangement of advisor Jewel's "Foolish Games," while Lindsey brought her unique sound to Katy Perry's "Part of Me," Jesse delivered a soulful rendition of Beyonce's "Halo" that featured pictures of his young daughter in the background, and Chris channeled his inner James Bond for his take on Coldplay's "Viva La Vida."
"Every moment of this was like living a dream," said Jesse afterward. "Being there on stage with Christina and the same night singing a Beyonce song...I captured that moment. It's in [my heart] and it's not going to go away."
Over on Team Blake, Raelynn made Aguilera want to sing country music after her growly, assertive take on Jason Aldean's "She's Country," Erin tackled Adele's "Set Fire To The Rain" (the week after Team Adam's Kim Yarbrough's Adele cover landed her in the bottom three), Jordis continued the country vibe with Sara Evans' "A Little Bit Stronger," and Jermaine formed a connection with the Phil Collins classic "Against All Odds."
"I am a huge Phil Collins fan," he said after the show. "I've always been. He's always been able to connect his emotions to his melody and his lyrics. He does an amazing job doing that. Tonight was the hardest thing I've ever done on stage, ever."
In the end, it was Jordis and Jesse who had to say an early farewell. You can keep up with the both of them at JordisMusic.com and JesseCampbell.com, as well as on Twitter at @jordismusic and @singjessesing. Both of them expressed that they're going to be working on new music going forward.
"I have a clean slate to work from, and now this slate is holding somebody who knows exactly what they want to do, so I think that's pretty priceless," said Jordis. "I'm a better person having done this show. It's been invaluable."
The "instant elimination" will continue next week, as Levine and Cee Lo Green will be forced to make the same decision regarding each of their teams before America will vote out another singer, leaving eight artists standing going into the semifinals.
Tune in to The Voice at 9 PM ET/PT tonight on NBC to find out who America will send home...and for a potential surprise from Justin Bieber.
(c)2012 Brittany Frederick/Digital Airwaves. Appears at Starpulse with permission. All rights reserved. No reproduction permitted.