'The Voice' News Roundup: Blake Shelton's Christmas Album, Nicolle Galyon, Karla Davis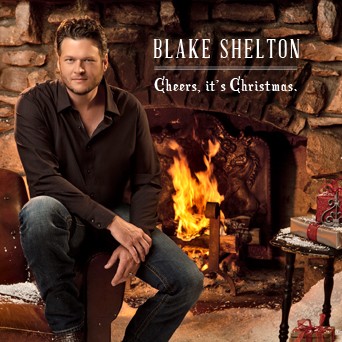 The Voice fans got a double dose of new music this week: coach Blake Shelton put out his first Christmas album, appropriately entitled Cheers, It's Christmas, and Team Adam's Nicolle Galyon released her post-show EP Child of the Country Sun.
Plus, Team Adam's Karla Davis discussed conquering her nerves during Season 2.
Voice fans will appreciate that Blake has recruited everyone he's asked to help Team Blake onto his holiday CD: his wife/Season 2 advisor Miranda Lambert, Season 1 advisor Reba McEntire, Season 2 advisor Kelly Clarkson and Season 3 advisor Michael Buble. On top of that, his Season 1 semi-finalist Xenia also makes an appearance. Yet these aren't guests just for the sake of having them - all of them complement Blake very well, and Blake is just as great as he's ever been.
There are three tracks that stand out on the album, each for different reasons: Blake and Miranda's version of "Jingle Bell Rock" is the perfect song to play at the aforementioned Christmas party. It's the best version of that song yet recorded. On the flip side, Blake joins Buble on a version of the latter's "Home" rewritten for the holidays; they sound excellent together, and it's neat to hear them collaborate on a song they've both had success with.
And it's ridiculously touching to hear Blake singing with his mother, Dorothy Shackleford, on "Time For Me to Come Home." You can just hear how much they must have enjoyed recording the song together.
Holiday albums always try to evoke a certain warmth, and Cheers, It's Christmas has that throughout. Even those burned out on Christmas music won't be able to repress a smile listening to Blake's versions of some of these now well-known songs.
If you haven't picked up your copy already, click here. For the full album review, as well as a review of Nicolle Galyon's EP Child of the Country Sun (featuring Voice alumni Tony Lucca and Mathai), click here.
Team Adam's Karla Davis also recently discussed how being on The Voice helped her find her confidence and get over her nerves.
"It's the strangest thing to watch the show now," she saidvwhile traveling through Texas after her recent West Coast stops with Pip and Lindsey Pavao. "I always point out something on the TV and I'm like, 'I was there, I did that.' It was a really huge thing. At some point in every episode I'll just get mad at myself. I could've done so much better on the show if I'd just relaxed a little bit more.
"The main thing for me was my nerves," she explained. "The main thing I got out of the show – other than getting to hang out with Adam Levine, which was awesome – I'm so much more comfortable as a performer now. I'm not nervous now, for any show that I do. I like taking chances now. Looking back at it now, that was my purpose [for] being on the show."
You can read the full interview with Karla here.
For more from Brittany Frederick on The Voice, visit Big Red Chairs and follow me on Twitter (@bigredchairs).  
(c)2012 Brittany Frederick/Big Red Chairs. Excerpts appear at Starpulse with permission. All rights reserved. No reproduction permitted.