The Voice: More Blind Auditions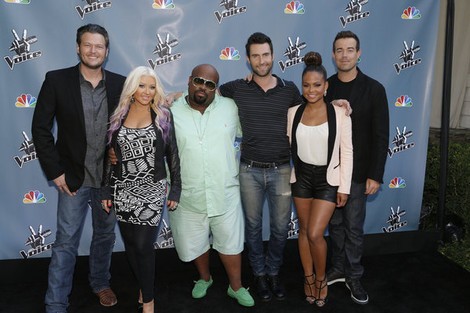 Night three of the season three premiere on "The Voice" continued with the blind auditions as the four coaches continue to build their 16 member teams.
The night began with pizza cook Samuel Mouton who captured Adam's attention in the first measure as Samuel poured his soul into the Bob Marley song.  Adam called Samuel a raggae scholar.  Although Adam, Chirstina, and Cee Lo turned their chairs, Samuel chose Adam for his coach.
Former Dream Street boy band menmber Chris failed to impress the coaches with Adam telling Chris that while a good performer, he needed to focus on his singing.  Chris wasn't the only singer who failed to turn a chair; Mike, Jasmine, and Brandon also didn't turn a chair.
Nelson calls himself Nelly's Echo.  The Nigerian born singer performed "Ain't No Sunshine" as he played the guitar.  Christina and Adam turned their chairs for Nelson.  Chiristina asked where the concert was because she wanted to go.  Nelson chose Christina for his coach.
The first group audition of the season was a mother/daughter duo called 2Steel Girls.  The girls are a part of a family band.  Cee Lo and Blake turned their chairs together.  The girls chose fellow country singer Blake Shelton.
While the auditions weren't shown, Lisa and MarissaAnn joined Christina's teajm and Loren joined Adam's team.
Hip-Hop dancer DOMO caught Cee Lo's attention early as she danced more than she sang during her performance.  Christina noted that DOMO and Cee Lo was a good match.
The final audition performance of the night was from Nicole Nelson who performed a captivating rendition of "Hallelujah".  Nicole was the only singer of the night to turn all four coach's chairs with Adam turning first and followed quickly by the rest.  Adam said it was his favourite version of that song.  Admitting that coming in she was thinking only of Team Blake, Nicole chose Adam for her coach.
"The Voice" returns next week with more blind auditions.
The teams so far…
Team Christina:
De'borah
Devin DeLoera
Adriana Louise
Aquile
Nelly's Echo
Lisa Scinto
MarissaAnn
Team Cee Lo:
Daniel Rosa
Trevin Hunte
MacKenzie Bourg
DOMO
Team Blake:
Terry McDermott
Gracia Harrison
Casey Muessigmann
Julio Cesar Castillo
2Steel Girls
Team Adam:
Bryan Keith
Joe Kirklan
Samuel Mouton
Loren Allred
Nicole Nelson