'The Voice': Meet Team Adam's Sarah Simmons, Amber Carrington and Amy Whitcomb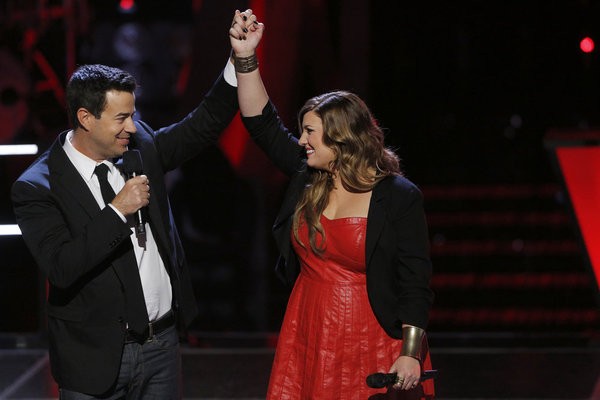 On The Voice, Team Adam has established itself as the team to beat. Before they head into knockout rounds, BFTV caught up with three of Adam's strong female artists - the phenomenal Sarah Simmons (pictured), surprising Amber Carrington and not-as-yet-unleashed Amy Whitcomb - to get to know them a little bit better.
Sarah told us that her four-chair blind audition "just completely wrecked my soul in a beautiful way. It was deeply humbling, overwhelming, and I know I'm only 23, but it's been a hard life for me in ways growing up, and [I] just can't believe this is happening. [I'm] blown away by the one above me opening doors to shine through, and to use all my pains and be able to pour them out through music."
Her battle with Duncan Kamakana was one of the best in Season 4, and we asked her how the two of them gelled together so well in such a short period of time. "I love my buddy Duncan!" Sarah gushed. "Why we looked so uncomfortable in our band rehearsal is because it was a song that we weren't used to singing, and also our voices are completely different, and we hadn't had much time to rehearse it. Also, I believe why we started to gel even more is because our goal together was not to think about the outcome of the battle at all, but to put on an incredible performance and feel every note, every lyric together - [to] escape into the song and display it together.
"We were already by then good buddies, but became real, true friends following that from just being able to hang out here in California, and through practices [and] jam sessions. [I'm] so blessed to know Duncan, he's a really a great guy, and a good friend," she continued.
Would she consider recording with Duncan in the future? "Gosh, we would love that actually!" Sarah enthused. "We've been talking about doing that sometime after all of this. That's what is so great about this show, is that not only is it an incredible opportunity, but you meet incredible souls and those friendships just are so appointed in such a beautiful way! [I] can't wait to make music with a couple people here."
Another person Sarah has affection for is her coach, Adam Levine. "Adam is such an awesome soul!" she told us. "Seriously, he genuinely cares for us, and wants the best for us. That's real rare to find in today's world, especially coming from an accomplished, successful, well-known artist like him. He gives so much time to us, and I am so grateful for that. A couple of my favorite times with Adam are listening to his advice, encouragement, and just being able to be really goofy with him. You would think being around someone well-known would make you feel nervous or something, but I feel completely comfortable like I'm just hanging out with a brother."
If Sarah were in Adam's position, who would she push her button for? "Good question!" she replied. "I would turn my chair for Patrick Dodd, Amber Carrington, Garrett Gardner, Karina Iglesias, Shawna P, Brandon Roush and Judith Hill. I love everyone - but man, do those voices I wrote move my soul!"