'The Voice': Meet Team Adam's Sarah Simmons, Amber Carrington and Amy Whitcomb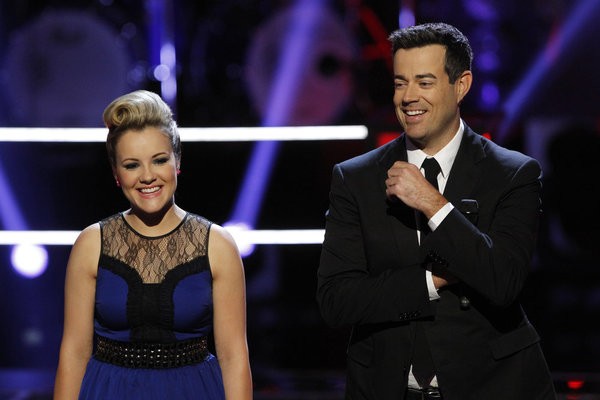 Amber Carrington shocked The Voice fans when she upset another four-chair artist, Sasha Allen, in the battle rounds. Who is this talented artist and how did she put on such a great performance? She told us how she went from Adam's last pick to a true contender.
"Going into my blind audition I had no clue how many spots were left," she explained, "but right after I was chosen by Adam and I walked backstage, one of the producers told me that Adam gave me his last spot on his team and I was totally shocked! I never imagined Adam turning for me at all. He was the last person I thought would turn, actually. He tends to be very picky and like voices that are very unique, and in my eyes I didn't compare to the people on his team in the past. Come to find out, he really liked what he heard! I really feel like I am right where I am supposed to be and wouldn't have it any other way."
Even though Amber sees herself as a country artist, she definitely believes that she picked the right coach. "Adam has so much knowledge about so many little things that make what we do work," she continued. "I don't think it matters that he is not a country artist because he has helped me in many other ways, such as my confidence and believing in who I am, and not worrying about what everyone else sounds like. He is very into what makes everyone individual and that definitely shows with the artists who are on his very diverse team.
"He has definitely gotten me out of my comfort zone which is something I have needed," she said. "I think I am really finding who I am while on his team because I am experimenting with songs and genres that I never used to even try. Whereas if I were to be on Blake's team, as a fellow country artist, I would probably be doing the same songs I have done for years."
Besides, Adam's choice of advisor did give Amber a little bit of country: "What I thought was so perfect was when I walked into the room for our piano rehearsal and Hillary Scott was who Adam chose to be our mentor," she added. "That couldn't have worked out better for me!"
Her battle matchup did prompt a little bit of doubt, but that didn't last long. "When I was paired with Sasha, at first I did think that this was Adam's way of just getting me eliminated because my opponent was everything I was not," Amber admitted. "I kept trying to keep in mind, though, that Adam paired me with her because he saw something in me that could put up a good fight.
"I worked so hard on our battle song and I really tried to make sure and focus on who I am and not get too intimidated by Sasha's big voice. My confidence definitely shot up after making it on Adam's team, and I brought a totally new me to the stage the night of the battles - and it sure paid off!"
"Being paired with Sasha was a huge shocker for me - and actually my whole team. We all thought she would go against another one of the best on our team, Judith," Amber reflected. "Being paired with Sasha though, win or lose, I don't think I would have traded it for anything. I learned a lot from her and the whole situation. If you are around people who are worse than you, then you tend to just stay the same that you ar,e but if you are around people who are better than you, then you strive to be more. I was very intimidated by Sasha and her powerhouse voic,e but I also admire her for her strong personality and confidence.
"I feel like being paired with her pushed me to work harder and after I won that battle my mind was going insane!" she said. "I really and truly couldn't believe it at first, I was just taken over by excitement because I knew that meant I was going on to the next round. Then I walked backstage and realized that I beat Sasha Allen in our battle, and I started to cry because I had worked so hard for this. Confidence is definitely rising throughout the show, because you work so hard for so many hours on just a short cut of a song and you stress yourself out over it all. When it finally pays off and you succeed, it is the best feeling in the world. You become proud of something that you created and you achieved for yourself."
Now that she's shown us what she can really do, "I really want to continue on the path that I have started," Amber told us. "I feel as if I have kept climbing up a ladder with every performance I do. Something the coaches have kept saying is that I surprise them every time I am up on that stage and I don't intend for that to stop. I want to keep learning new things from Adam and continue to stay out of my comfort zone, because I believe that is where I work best.
"Overall, my one huge goal is to just do songs that mean something to me and have something to say," she continued. "[To be] connecting with America and speaking to at least one person that needs to either hear my story or the words in a song. I want to inspire others to never look back and to just live and chase after your dreams."