'The Voice': Meet Javier Colon
Wednesday night, Javier Colon was named the winner of NBC's The Voice - so it's time to get you introduced to the man we'll hopefully be hearing a lot more from!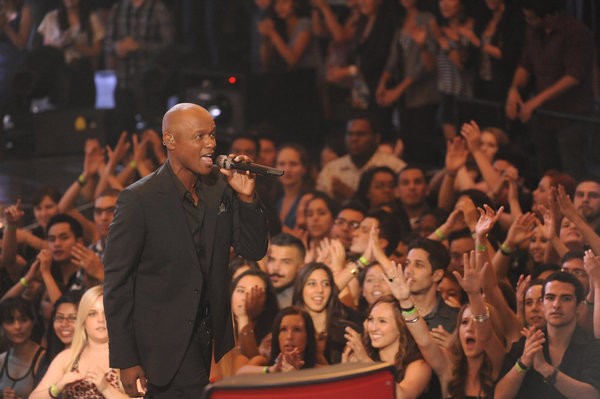 The soulful Connecticut native has been around music for a very long time. His father worked at a radio station, he started songwriting to win a girl over in seventh grade ("it was horrible, but it got the job done"), and he went on to attend the University of Hartford's Hartt School of Music, from which he graduated with a major in Music Education.
Degree in hand, he set off to start a performing career, but like many aspiring entertainers, found out quickly that it wasn't easy. His solo career got what should have been his big break when he signed a deal with the legendary Capitol Records. He released two albums with Capitol, but the eventual split between him and the label was for the best. He was looking for something different than the "straight, strict R&B" genre they wanted to market him in, though he's quick to point out he harbors no ill will toward anyone at his former label, saying "everything happens for a reason." Javier describes himself as "a firm believer in what's meant to be is meant to be."
Enter The Voice. From day one, Javier appeared to be the frontrunner. He was one of only two contestants to have all four coaches vying for him (the other being his fellow Team Adam cohort Jeff Jenkins), and many of his fellow contestants repeatedly named him as their toughest competition and/or pick to be the last one standing. His partner for the battle rounds, Angela Wolff, had this to say about him:
We all admire Javier. I think everyone would agree with me that he's just absolutely fantastic. I just wanted to enjoy being on stage with him and make it a great memory...my gut feeling was that Javier had it all the way. Javier has really been standing out along the way, even from before the show even started, just from the commercials, he was already almost a favorite. It's like, he's just one of those guys. He's just so good.
Added Tje Austin:
I'm such a big fan of Javier. I went fanboy a couple times after I met him.
The public easily embraced Javier as well; in the round of sixteen, he won America's save after a touching rendition of Sarah McLachlan's "Angel" that got many teary-eyed, including his former teammate Casey Desmond. On the eve of the finale, his original piece "Stitch by Stitch" shot to #2 on the iTunes charts - behind only his fellow finalist, Dia Frampton.
But Javier wasn't so confident! After the victory, he admitted that he's prone to having low or no expectations, and that before the big announcement, he was mentally preparing himself for Carson to say that Dia was the winner. In person, he seems completely bereft of ego. "I feel very blessed," he told us on the red carpet Wednesday. "I don't even remember the confetti falling. I was in such shock. I'm super-honored to be the winner."
Perhaps he's so grounded because Javier's main focus is his family - his wife Maureen and their two young children, whom he brought out to join him in California for the finale of The Voice. For him, winning the huge competition ultimately isn't so much about his success as it is about his loved ones. "I was doing this as a means to an end, to make sure I could provide for them," he said, adding later that before the show, he might have had to give up on his dream: "I'd be doing something other than music...The income just unfortunately wasn't enough."
Luckily for us, he'll be around to sing another day: his first release under his new contract with Universal Republic Records is tentatively headed our way in September. Before that, he'll join the top eight finalists for The Voice Live On Tour, beginning July 27 at the Gibson Ampitheatre in Los Angeles. It's a perfect next gig: three of the six tour dates - Boston, Wallingford and New York - are "two hours from my house."
"My kids loved this process," he adds. "They loved rooting for Vicci [Martinez]. They loved Vicci more than me, which is okay."
Perhaps Javier's taste in music sums up his story best: when I asked him to pick a song that represents him, he broke into the Journey classic "Don't Stop Believin'".
He certainly didn't stop believing, and now everyone in America knows his name.
For more on Javier, check out our Q&A with him, and make sure you visit his official website, JavierColon.com. If you're looking for his music, all his Voice singles as well as his August 2010 acoustic EP are available on iTunes. You can also chat with him on Twitter. I wish him all the best in his future endeavors!