'The Voice': Mark Burnett Explains Format Additions, Addresses Potential Coach Changes
The Voice has made significant changes for its upcoming third season, and producers are talking about the biggest change of all - new coaches - according to executive producer Mark Burnett, who addressed the media alongside coaches Adam Levine, Blake Shelton, Cee Lo Green and Christina Aguilera earlier this week.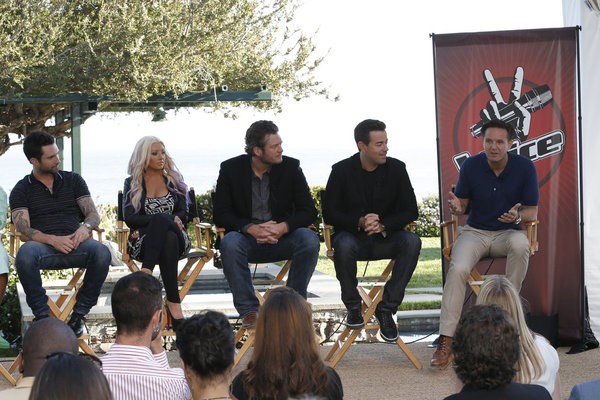 According to Big Red Chairs: After NBC exec Bob Greenblatt talked earlier this year about wanting to incorporate the coaches' signature chairs into the battle round phase of competition, the show has done just that. In a new twist called "the steal," during the battles, the artist who does not win the battle may be stolen by any of the other three coaches with a press of their button. That artist then selects a new coach from those who have buzzed in, and remains in the competition. Each coach is allowed two steals.
The coaches will finish battle rounds with ten artists on their team and move into a new phase referred to as "the knockouts." In this part of the competition, coaches will select two artists to be judged against each other, but they will not be performing together. Instead, each artist is allowed to select their own song, then the paired-up artists will watch each other perform their selections before the coach chooses between them.
Each team will then have five members when the live rounds begin, which is one less spot than was available in Season 2.
In addition, rather than rotating between teams during each week of live shows, Burnett told the press that all of the remaining artists will perform each week. The Voice has more airtime for performances, as it was previously announced that the competition will go to two nights a week (8-10 PM Mondays and 8-9 PM Tuesdays) from the outset, as opposed to only adding the Tuesday hour during live shows.
With NBC determined to go to two cycles of The Voice per calendar year and all four of its coaches being active touring musicians, there has been buzz from moment one that one or more of them may be forced to leave the series to keep up with their careers. Burnett addressed that concern as well, acknowledging that "it will be when" and not 'if' someone departs the coaching panel.
"Here's the fact we decided:  When you've been on this show, that's your chair for life," he said. "So if they have to tour and someone comes in for a season and then goes out for a season, comes back for a season, there will never be anyone getting replaced ever.  And it will be 'Well, I need to tour.  Let's help you find who comes in.  When I'm done on tour, I'll come back, they'll go on tour.'"
He repeatedly cautioned that the situation is still very much fluid, saying that "We're all openly talking about it all the time. We'll figure it out." No decisions have been made yet by anyone involved.
For more information on the show's format changes, as well as updates on the artists from Season 1 and Season 2, click over to the original article.
The Voice returns September 10 at 8 PM ET/PT on NBC.
For more from Brittany Frederick, visit my Starpulse writer page and follow me on Twitter (@tvbrittanyf).
(c)2012 Brittany Frederick/Digital Airwaves. Appears at Starpulse with permission. All rights reserved. No reproduction permitted.