The Voice Live Show Quarter Finals #2 June 14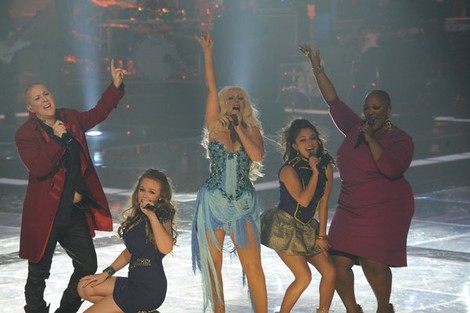 I don't know why Carson Daly bugs me, but he does. Is it the blandness? Or his complete lack of animation? Either way, the night starts with him introducing the judges/coaches Blake Shelton, Adam Levine, Cee Lo Green, and Christina Aguilera before announcing the first cuts of the finals.
From Team Christina: Beverly McClellan, Lily Elise, Raquel Castro and Frenchie Davis. Tearfully, and proclaiming it 'the hardest decision of my whole life," (really? A few other moments come to mind.) Christina saved Frenchie Davis. Yeah! That girl can sing! To my surprise, America saved Beverly McClellan, shark tattoos and all. (Carson even rubbed her bald head. For luck?) I was guessing little Raquel Castro, the mini Gloria Estevan, would capture America's vote. But I'm so very glad that Team Christina saved the two best vocalists. Two big, bald, over the top, Divas go on to the finals.
We're going to have to wait for the Team Blake results at the end of the show. Blake tells us he's nervous – that's not water he's sippin'!
Team Cee Lo: Tori & Taylor Thompson - 'Boogie Woogie Bugle Boy' by The Andrews Sisters The rehearsal footage is terrible, with the two young girls way over their heads. I felt so sorry for the duo, trying to learn a 70 year old song, and mix in choreography. But the actual performance was a little better, with the cute outfits, and American patriotism running riot behind them. Unfortunately, these girls are adequate singers, not star material. They remind me of Saturday Night Live's Sweeney Sisters – way too eager to be liked.
Adam loved the performance concept, while Blake drooled over the outfits. Christina (it's all about me, all of the time) wondered if she'd just stepped off the set of her Candy Man video. My man Cee Lo, back wearing huge shades and in a blindingly dazzling jacket, said he was proud of the girls, and proud to be an American. Hmmm … these are his girls. Not much praise for the actual vocals.
Team Adam - Casey Weston: 'Black Horse and the Cherry Tree' by KT Tunstall  The rehearsal looks okay, but I'm having trouble getting past the little girl speaking voice. Her performance was solid, minimal stage fireworks, great backup singing. Casey's singing voice is unique, interesting, quirky. She could do well.
 Blake said he'd be downloading the song immediately; Christina hinted that the background overpowered her vocal;  Cee Lo said she did a wonderful job. Adam is very happy with her energy in a song way out of her comfort zone.           
Team Cee Lo - Vicci Martinez: 'Jolene' by Dolly Parton  I'm sure I'm not alone in looking forward to anything Vicci Martinez sings – the 'spitfire' brings so much energy and passion to her vocals. In rehearsals, she says she realized how high the bar was set, and it was scary. Cee Lo says Vicci's vocals are amazing, but she needs to work on the entire 'package.' (Um, it's called "The Voice"? I do know what he means, though. Audiences still want the old razzmatazz.) Of course, she absolutely blows the audience away when she performs, saving her trademark high, anguished sounds for just the right moment in the song. She brought new life to this standard.
Adam found her soulful, raw performance utterly believeable; Blake says he's a huge fan; Christina liked the stage ambience of candles in the background. Coach Cee Lo praises Vicci, and says they'll win with her voice and energy.
Team Adam: Devon Barley - 'Stop and Stare' by OneRepublic  In rehearsals, Adam coaches Devon on stage presence, and has him run his vocals multiple times. Devon is definitely not a 'natural' stage performer, although he has a nice tone to his voice. Devon knows he puts up a brave front, but plans to strip that away for the audience. In performance, I didn't see that vulnerability, I saw nerves, and I heard some very pitchy notes. A valiant effort, but not good enough.
Blake liked the starkness of the stage; Christina flirts with Devon; Cee Lo likes the juxtaposition of Devon's look with his voice. Christina blathers all over Cee Lo's commentary. Adam admits it was a little pitchy in the beginning, and says Devon did a good job.
Time for a break from the competition. We go now to Cee Lo and crew, as they hang in dTox Day Spa. While his team lounge in white terrycloth robes, Cee Lo has on a black and red robe, and chunky red necklace, worthy of Mohammed Ali at his zenith. He tells his team they are warriors, and have to be ready to get out and fight. Get out your nunchucks!  After a relaxing massage, Cee Lo leads his team in a rousing rendition of Sly Stone's "Everyday People." Decked out in funky 70's clothing, and with Cee Lo sporting an enormous Afro wig, they actually look more like 'The Archies.' Unfortunately, Vicci, Nakia and Cee Lo are  the only singers who sell the classic tune.
Team Cee Lo: Nakia - 'Sex on Fire' by Kings of Leon    "You are my strong hopeful," says Cee Lo. The bluesy belter is definitely outside of his comfort zone with this song. He doesn't want to let Cee Lo down – I don't think that'll happen. On stage, Nakia steals a trick from Cee Lo when he removes his glasses on the line "I know they're watching." As two women juggle fire behind him, he stalks the stage in his red sneakers, then drops to his knees, selling the song big time.           
Blake says he felt the burn; Cee Lo is profusely complimentary. Neither Christina nor Adam are asked for comments. I'm thinking Christina's nonstop interjections have messed with the pace of the show.
Team Adam - Jeff Jenkins: 'Jesus Take The Wheel' by Carrie Underwood   Adam raises the key of the song, causing Jeff to be nervous about hitting the notes. But country boy, mama lovin', Jeff doesn't really need to worry. All he has to do is let the audience hear the emotion in his voice. Dedicating the song to his mama, Jeff doesn't hit his vocal stride until the chorus, which he nails. However the verses, even with the key raised, are a little low, and not as powerful as I'd hoped.
"Good job, Bubba," says Carson Daly. Jeff tugs the heartstrings with his words about his late mother. Christina says it was lovely; Adam says it was an incredible job. Cee Lo and Blake are not asked for comments, although it looked like Cee Lo had prepared some notes. Ah well.
We pause again to see a little pre-recorded video of Team Adam hanging out in Mr. Levine's back yard. They seem a little star struck. Adam gives a few pointers on hitting the stage with confidence, and disses Cee Lo's propensity for feathers and fire. They then take to the stage for a version of "A Little Help From My Friends," Joe Cocker style. With a red robed gospel choir behind them, the team sings very well. Javier, of course, nails his vocals, as does Casey. Devon's timing is bad, and Jeff shows a soulful side that would have been better spent on his vocal competition. Adam shows off his rock star stage moves. Very nice, Adam!  
Team Cee Lo - Curtis Grimes: 'Addicted To Love' by Robert Palmer  A country boy doing a Robert Palmer classic? Geez, I hope this works better than it sounds on paper. Good luck to you, Curtis, but I don't hold out much hope. Sure enough, even with four sexy cowgirls prancing behind him, the song lacks something. The melody gets twisted around, and Curtis' attempt to honour Cee Lo's notes on how sexy the song is, result in a very unsexy performance.
Adam compliments Curtis' cowboy hat and deep, manly voice; Blake wishes he could slam his guitar around as Curtis did; Christina flirts and talks about Cee Lo's sexy team. Cee Lo thinks it was a great job.
Team Adam: Javier Colon - 'Angel' by Sarah McLachlan                                                                                  Adam coaches Javier, saying that Javier has such a huge range, he should concentrate on saving his falsetto for the right moments. I think Javier is probably the likeliest contender to win this show, with his incredible voice, and warm personal style. We'll see.  It's a lovely performance, with Javier hitting all the right notes, and backed by beautifully played strings.
Blake pretty much hands the crown to Javier; Christina calls Javier 'the one that got away'. Adam says it was 'absolutely perfect.'
Time for the decision on Team Blake: Dia Frampton, Jared Blake, Xenia and Patrick Thomas. America's save is Dia, which I sort of saw coming. Dia has a fragility that is like catnip to audiences. But I am very disappointed with Blake's choice of Xenia, saying: "I can't affect change with Jared Blake or Patrick Thomas like I can with Xenia." Fine and dandy, but Xenia was the weakest performer last week, and, at 16, is just as likely to change career choice as easily as her hairstyle. I liked Jared's rocker style, but not his attitude. I'd have chosen Patrick Thomas, for his big voice and quiet appeal.
So basically, we have four women going into the finals; two bold, brassy divas, and two young, fragile songbirds. Good thing it's not a physical challenge!
Next week: we're down to the last 8 challengers for the Title.