'The Voice' Live Playoffs Recap: Team Adam vs. Team Blake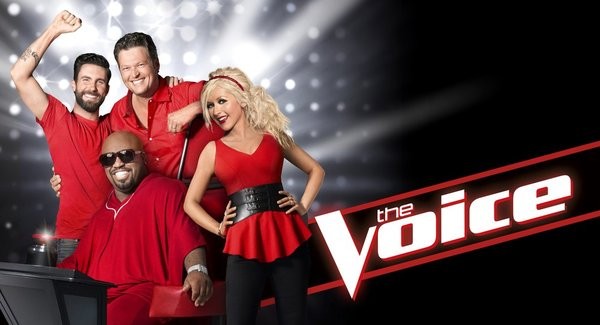 We've reached the last part of Season 5 of The Voice: where the Top 20 now perform for your approval. Only 12 will make it through to next week. Tonight, it's Team Adam and Team Blake who are first to face America.
After a show-opening performance by Flo Rida and Christina Aguilera, we get to the serious business of these ten folks fighting for eight spots in the next round. Carson explains that the iTunes multiplier is now 5, down from 10 previously, before introducing Team Blake's Shelbie Z. She's gotten married now (congratulations, Shelbie!) and she'll be singing Reba McEntire's hit "Fancy," originally recorded by Bobbie Gentry. But did Blake really have to tell Shelbie that Reba watches the show? No pressure!
Based on this performance, Shelbie is a major threat for Team Blake. She's in a perfect position, as a pure country artist on Blake's team. And she has a certain attitude-slash-stage presence that serves her well. All those folks who may have made fun of her weight past or present should just eat a microphone, because regardless of her size, Shelbie's a talented, engaging and powerful singer.
Time for coach commentary. Christina starts talking about something Shelbie didn't say anything about before complimenting her rendition. Shiny Cee Lo Green appreciates her charisma and creativity. And Adam, who looks like he's got an important business meeting after this, echoes the praise. Blake chuckles at another Carson dig about his lack of a wardrobe change, before telling his artist "you would think you're already established."
But Carson's got one more zinger up his sleeve.
Carson: What do you do, cut lumber when you're done here?
Next up is Team Adam's James Wolpert, who has a bit of a chip on his shoulder after a knockout round performance that he wasn't happy with. Adam has assigned him Joni Mitchell's "A Case of You," which has a long history amongst many artists, including several members of Team Adam - both Season 1's Javier Colon and Season 2's Tony Lucca have performed it (although not on the show). Adam does his best to bolster James' confidence in rehearsal, before sending him out to redeem himself.
It's easy to hear in this what everyone's been raving about in regard to James. The dude has a voice that's ridiculously smooth, and he enunciates, which is something that is vastly underappreciated these days. Maybe he doesn't have the most unique voice in the competition, but it's one of the most consistent, even factoring in last week's misstep. And let's  shut the door on that while we're here, because with this, he rebounds nicely.
James earns praise from Blake, his performance gets called a "safe haven" by Christina, Cee Lo comments on the irony of his appearance compared to his talent, and an incredibly pleased Adam is happy to see the guy bounce back. As are we, Adam, as are we.
Unfortunately, the absence of Christina Milian has not led to the disappearance of the Sprint Skybox. Instead, poor Carson has to run up there. Thankfully, Carson's a pretty funny dude on his own merits, and he's got that sardonic delivery that makes some of the ridiculous tweets actually amusing. If he's going to be doing this from now on, we'll give it a pass, though if he doesn't want to pull double duty, we hear Terry McDermott is around.