'The Voice' Live Playoff: Team Cee Lo vs. Team Christina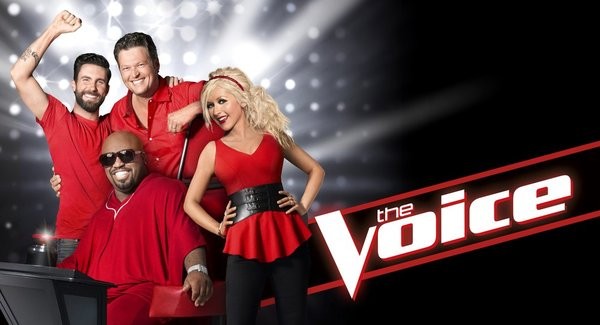 After Team Adam and Team Blake sung for your vote on Monday night, Tuesday night it's Team Cee Lo and Team Christina who are center stage on The Voice.
If you didn't see enough of Christina performing last night, she's added to the guest performance tonight as well. After that's out of the way, Team Cee Lo's Amber Nicole is performing Season 3 winner Cassadee Pope's lead single, "Wasting All These Tears." It's the first time a Voice artist has performed a song by a show alumni (coaches excluded), and like many things Cee Lo does, it's eyebrow-arching. It hasn't been that long since we first heard Cassadee do the song - do we really need to hear it covered already? The answer is no - Amber doesn't hit the big, sweeping moments like Cassadee does, and those moments are the ones that drive this particular song. It doesn't compare to the original and it's not distinctive from the original either, leaving Amber in some unremarkable middle ground.
At least one coach kind of agrees with our opinion. Adam calls the performance "good" and delivers some constructive criticism about Amber missing the big note. Blake concurs with Adam's critique. Christina is more positive, though she thinks that note was "a little sharp." Cee Lo thinks his artist did "a wonderful job" and "an exceptional job," but then again this is his artist, so it's understandable that he'd be more encouraging.
After mixing things up between teams during last night's show, tonight The Powers That Be have decided to steamroll through Team Cee Lo. This would seem to be an odd decision, because anyone who doesn't like Team Christina can check out of the show at the halfway point, which can't be good for ratings. But, nobody consulted us on that one.
Jonny Gray is second to perform, with "Bitter Sweet Symphony" by The Verve. It's a good fit for his voice, which sounds just similar enough to the original track to make it feel comfortable. He might even be enunciating a little more, too, which we are always in favor of. This isn't a show-stopping kind of song, but Jonny is clearly enjoying himself performing it and the crowd loves him.
So does Adam, who praises Jonny for recreating the song "really beautifully and really well," and says he really enjoyed the performance. Christina calls him "consistent" and would love to see him let loose a little more next time. Cee Lo rambles for a bit before saying he hopes America enjoyed the performance as much as he did. And Blake, well, Carson doesn't want to know what Blake thinks.
Next up is...another irrelevant Sprint Skybox segment. Bless Carson for trying to make this work. The only thing that this is any good for is Blake once again joking about Adam's wardrobe, quipping that he backs over his T-shirts four times in the parking lot and sets them on fire before wearing them. We're not sure how qualified Blake is to be giving wardrobe critique, but the quip is hilarious, as is Adam yelling at Blake to shut up during it.