'The Voice' Finale - And It's Jermaine for the Win!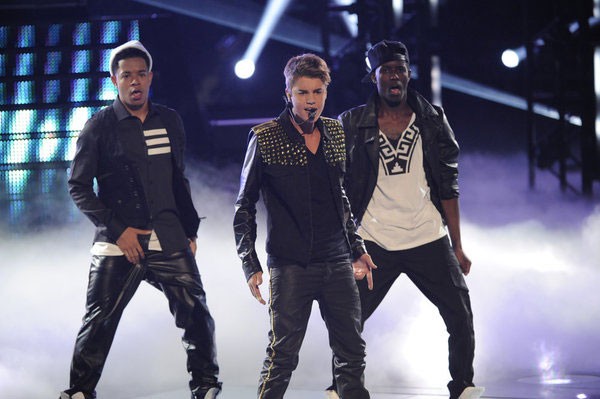 But first – it's Chris Mann's birthday! What a present this has all been! But wait – the top four attend an after party, accompanied by their coaches, and discover that there's another perk for them. Kia Motors has decided to give each of the finalists a car of their choice! Jermaine feels like he's on Oprah! All of them couldn't be happier.
Now? Now? Is it Justin Bieber time? Why yes it is! The frenzied audience couldn't care less about who's won the competition – Justin is gonna debut his new single, "Boyfriend"!
Am I the only one unimpressed? Justin may be taller, but he's a little off key, and his overall singing is fairly … unimpressive. It appears his adolescent soprano has finally broken, which may explain the lack of new material over the last few years. In comparison to some of the Voice competition, in fact, I'd doubt he'd have had a single chair turned for his presentation. The dancing's good, though it seems defined by the Janet Jackson choreography of 1989's "Rhythm Nation." Come on, the guy's Canadian (Yeah!) and just graduated from High School, whilst juggling a pretty full schedule of touring the UK, promoting his forthcoming album, fending off lawsuits, and trying to spend time with his own girlfriend, Selina Gomez. Still, it's a tepid, almost tuneless, but nicely visual performance.
Time for the announcement of the winner! In typical reality show procedure, the poor finalists are herded on stage, where they'll wait, and wait and wait for Carson to finish his sentences. Each is asked what a win would mean to them, which is kind of like asking a person in a guillotine what they think heaven will be like.
"In fourth place … Chris Mann."  Chris is gracious to receive this news. Xtina dashes up to hug him on stage, in a very unfortunate wardrobe choice of what appears to be shiny, polka dotted Depends adult diapers under her circus lion tamer sparkly jacket.
In third, well, it's Tony Lucca. Both Adam and I think that's unfortunate. And now, on to the winner. Team Cee Lo and Team Blake, represented by Jermaine Paul and Juliet Simms, are the last two standing. Juliet's already crying. Just how long can Carson wring out this very dramatic pause?   Almost a heart-stopping minute is the answer, and Jermaine wins the title of this season's The Voice.
Jermaine is beyond words. Blake is ecstatic. Juliet, the internet favorite, joins the group of also-rans in applauding Jermaine's win.  Blake leaps on stage, hugging it out with Jermaine. The other coaches console the losers. It's a good win, as Jermaine is told, "No more backgrounds for you!" by Carson Daly. Jermaine attempts to hug his family, while his wife nibbles at his temple, and Jermaine reprises, "I Believe I Can Fly."  It's madness! Proving himself the star he has become, Jermaine handles his family, and glad-hands the audience as the he finishes his song and the show ends.
And that's it folks. Ready for season three? They're ready for you! See NBC.com/The Voice for information on the next round of auditions!
So, did the right 'voice' win? Let us know, in your comments below.