'The Voice' Finale - And It's Jermaine for the Win!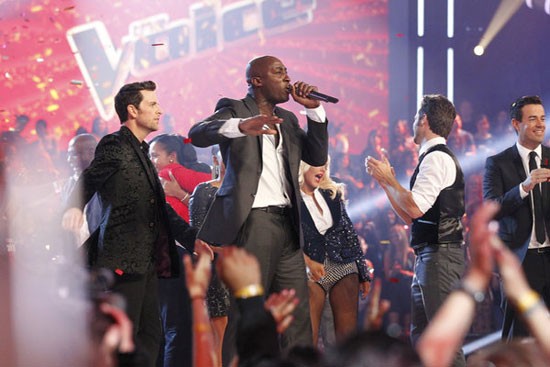 Host Carson Daly welcomes us to The Voice finale. There have been three months of blind auditions, battles and live performances.  Four contestants -  Jermaine Paul, Tony Lucca, Chris Mann and Juliet Simms  - have given everything they've got to win over their coaches and the viewing  audience. The four celebrity coaches - Adam Levine, Cee Lo Green, Blake Shelton, and Christina Aguilera  - have done their best to pick winning vocalists, and to nurture the musical talents to this peak point.
It's all over but the two hours that our poor finalists will have to endure before discovering just who will wear the title. To keep them, and us, entertained, we'll be treated to performances featuring superstars  Justin Bieber, Lady Antebellum, Flo Rida and Hall & Oates, ably assisted by the finalists and some of the vocalists who have been eliminated throughout the season, along with a look back at what has led to this moment in time. Oh, and blooper reels. I'm not a big fan of blooper reels. But we'll see those anyway.
 The evening begins on a high note. My fave, Jermaine Paul, performs Jackson Five's "I Want You Back." Great song, and made even more fun by the 'Bruno Mars at the Grammys' style outfits and the feel-good, energetic addition of gone but not forgotten Jamar Rogers, Pip, and James Massone. "Take that, boy bands, "Carson says.
First blooper reel … the coaches being silly. Carson says he likes to do all his bloopers live. Hee.
Next up, Flo Rida and Juliet Simms. It's a mash up of two of Flo's biggest hits.  Why anyone thought pairing a rapper with a Joplinesque female singer would work defies comprehension. But she struggles through admirably, hopping up and down carefully to his rap, but still in demure Stevie Nicks mode.
Chris Mann sings the Verve's "Bittersweet Symphony" with Lindsey Pavao and the very much missed Katrina Parker, who's never channeled Adele more.
Blooper reel 2: Adam Levine and Blake Shelton have a 'bromance.' Which means, these two like to act like widdle kids. Blake admits he thinks Adam is a good looking man; Adam alleges that he's not dating Blake, but they do like to dance together. People Magazine calls them the 'Odd Couple.' Carson blows Blake a kiss when Blake announces that he now has a crush on Carson. It's funny, cuz it's all so 'non-gay.'
Hall & Oates perform a stylized version of their blue eyed soul hit "Rich Girl." Jermaine, Chris and Tony Lucca provide backups to the classic tune.  Does it seem kinda mean to cast Jermaine back into his backup role? Whatever – Daryl Hall is still the coolest guy on the stage.
Flashback/Blooper reel #3: Blake again stars. Seems he's the funniest, wittiest guy, according to Xtina, who's wearing a decorated CD on her head.  Cee Lo's the appointed sex god of the show, as he strokes his pussy cat Purrfect. Xtina's the Diva. Adam's the salesman with a heart of gold.     
Stevie Wonder's "Superstition" is sung by some of the women who didn't make the cut; Kim Yarbrough, Naia Kete, Cheesa and Sera Hill. Wow – some very nice vocal work here. Each takes a verse, and shows America that they've got what it takes, whether they've been eliminated in competition or not. And the horn section, in black gloves, KILLS! Nice work, everyone.
Okay if I don't talk about the crossover insertions of "Parks and Recreation?" I mean, it's a two hour show, here! Thanks.
For Juliet's last vocal offering, she teams up with Erin Willett, RaeLynn and Jamar for "With A Little Help From My Friends." I still can't figure out if Juliet is blond or brunette. Juliet says they're 'kind of like a family.' Each singer takes a verse. Jamar is clearly the big brother, and RaeLynn the ditzy younger sister, while Erin wrings every bit of soul out of the lyrics. Balloons are released.  
Apparently Justin Bieber will be appearing on the show. Who knew?
Blooper roll #4: Carson introduces the real star of the show – Purrfect. Apparently Cee Lo would be directionless and motivation-free without his furry friend. Blake can't stand the cat, especially since Puffect has pooped in his seat. Adam thinks cats are fickle, and Xtina thinks "The brains behind Team Cee Lo has got to be Purrfect." Nuff said.
Lady Antebellum has a new song, "Wanted You More." None of the competitors join in; must have been in the contract.  
Tony reappears, joined by Jordis Unga (in impossibly high heels) for Fleetwood Mac's "Go Your Own Way." Jordis is no stranger to reality competitions, having finished fifth place in Rockstar: INXS in 2005. Both rock the joint, and rouse the audience.
Hey! Justin Bieber's in the house!   Carson just said so! But first, here's Saturday Night Live's Kenan Thompson dressed up as Cee Lo, saying that he may look 'similar to a villain in a Bond movie directed by Tyler Perry." And apparently, Will Ferrell is hosting this week's SNL, with Usher as the musical guest! Cross promo! Okay, I think I'm ready for Justin.
"OMG, Carson" says Christina Milian, in the Sprint Lounge, shilling madly. "Those girls are really excited to see some Justin Bieber!" Gosh, I hope no one's disappointed by his appearance, singing his new song and all.