'The Voice' – Excitement In The Air On Finale's First Night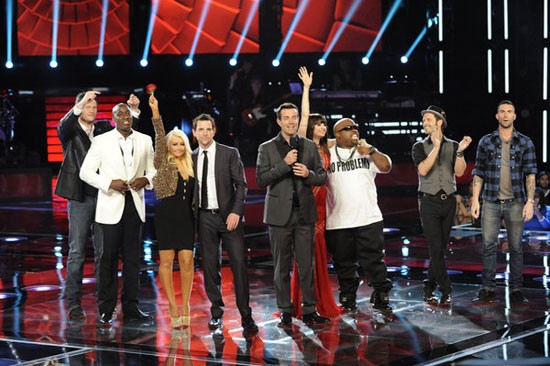 It's the beginning of the end for the Final Four. Jermaine Paul, Tony Lucca, Chris Mann and Juliet Simms will face the audience to see who will win the title of this season's The Voice.  Host Carson Daly is excited, coaches Adam Levine, Cee Lo Green, Blake Shelton, and Christina Aguilera are excited, and the studio audience is frenzied.
Only the audience's votes will be counted for the final vote. Each of the vocalists will sing three times; a solo, a duet with their coach, and a tribute to their coach, singing one of the songs their coach made famous.
The night begins with a look back at the past season. The judges reminisce about their first impressions of the finalists. The finalists each state that they're ready and willing to perform their best, for the win.
First up, Carson chats with Blake about his prodigy, Jermaine Paul. Blake doesn't think their pairing is so unlikely; as a coach, his job is to find the greatest singer, not necessarily someone in the same genre as his own.
Carson asks Christina what a win for Chris Mann, with his unique voice, will say to viewers. Christina looks a little odd this evening; apparently she's 'a little bit sick.' Or maybe it's the weird eyeliner she's wearing, which appears to be Swarovski crystals. She doesn't actually answer his question, but says how great all of the performers have been.
Cee Lo says that Juliet Simms is indeed special, and has proven herself time and time again. It seems Juliet also is having health and throat issues, so Cee Lo has total respect for her bravery.
Adam tells Carson that he and Tony Lucca have become close friends as they've worked together. He thinks all the vocalists are great. Now that his work is done, he can just relax and enjoy the performances.
Jermaine and Blake seem to have a deep respect and fondness for each other, and Jermaine certainly fulfills the promise of a winner. The former Alicia Keyes backup singer interviewed that he's had a goal for each song that he's presented; first, to connect emotionally with the lyric, and second, to do something that America would love. This evening he sang "I Believe I can Fly", "God Gave me You",  and dueted with Blake on "Soul Man."
In his white suit with casually untied tie, Jermaine looked every inch a star, and his voice easily brought out the best in each song, even prompting Carson to say that Jermaine's take on Blake's "God Gave Me You" was better than Blake's own. And Blake agreed! Blake seemed to really enjoy listening to, and singing with, this future R&B star. The other coaches all praised Jermaine's classy, powerful presentations.
Juliet Simms began the coach tributes with a rendition of Cee Lo's hit "Crazy."  Love the song, wasn't crazy about her version, which was thin in places that Cee Lo's fuller voice did better. Later she soloed on "Free Bird", and dueted with Cee Lo on "Born to Be Wild." I'm bucking the trend; I'm not in love with Juliet's voice. And I keep forgetting if she's the blonde or the brunette, even though she's the last female standing.
Next up, Chris Mann dueted with Christina on "The Prayer," a perfect song for these two trained voices. Xtina may have not been in full voice, but that's probably a good thing, as between the two, full voice might have shattered glass in viewer's homes. Not fond of their presentation set, though, which resembled a wedding canopy, and featured Chris in a tux and Xtina in a glittery dress cut far too low in the front, and far too strappy in the back. Later, Chris did a capable job on "The Voice Within," but a weaker rendition of "You Raise Me Up", which made me realize how very good a singer Josh Groban is.
Former Mousketeer  Tony Lucca of Team Adam  is thrilled to have a second shot at stardom. Adam has made no secret that he and Tony have a 'bromance,' and Adam is full of respect and pleasure at Tony's ability to sing and dance with the best. Former child star Christina - with whom he once worked -  has not been as supportive of Tony as one would expect, seeming to always find some criticism to offer, regardless of his performances.  After tonight's solo song "99 Problems", Christina took offense to Jay-Z's lyrics, wondering if "the lyrical connotation was a little derogatory toward women." Or maybe just toward Christina? Whatever.  I like Tony, though I'm not loving the hat and vest combo, which just feels too like Russell Hantz' look. When Tony has the right song, he's terrific. The challenge for him will be to continue finding songs that showcase his style.  Tony's coach tribute song was "Harder to Breathe",  and he harmonized like an angel on his duet with Adam on the classic Beatles' tune "Yesterday."
You'll have to tune in tonight, for the announcement of who has won the title of The Voice.  There will be performances from Justin Bieber, Lady Antebellum, Flo Rida and Hall & Oates,  to cap off the season.