The Voice Comes A Live! First Quarter Finals Jun 7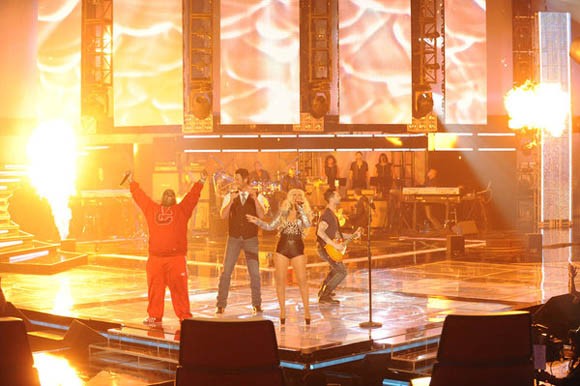 The 'band' blew my mind last night. Adam Levine, Christina Aguilera, Blake Shelton and Cee Lo Green, I mean! Yep, the judging foursome opened the show again, this time with a medley of Queen hits. Cee Lo performed without his trademark sunglasses, and Christina made a really unfortunate wardrobe choice in a pair of black short shorts and nude stockings. But yeah, those guys can sing. Question is – can the finalists we're about to see?
Carson Daly gave us a brief recap of the past six weeks, along with clips of the contestants and judges. We're also told that this is the first week that the audience will participate, by phone voting. Here's how it will work: Blake and Christina's vocalists will perform this evening, while next week, Teams Adam and Cee Lo will do their thing. Viewers vote by phone to save one singer, while the coaches will also choose one of their team members. Unfortunately, due to the phone in nature, we don't find out the results until the following week. And now – let's get started.
 But wait! It's a social media meltdown, as Alison Haislip, Official V-Correspondent®™ shows us her media centre, where she, and the contestants, will hang out during the show, twittering and tweeting their little hearts out! Gotta admit, I'm not fond of the messages that flit along the bottom of the screen, but I know some people love it, so, twit away.
We start with Raquel Castro, a teeny tiny girlie (she's the youngest in the competition) in a very glittery dress that seems to be made of mirror ball chips. Clips from rehearsals reveal that she'll be performing Ke$ha's "Blow." Dwarfed by her crew of back up dancers, Raquel tries to absorb Christina's coaching on both voice and dance. Raquel's live performance is on a stage set that channels the worst excesses of 'Saturday Night Fever,' all flashing lights and laser beams. She stalks the stage like a mini Christina, while stage mama Christina dances along in her seat, mouthing the words. My take: Raquel's a better dance than singer, and the dancing left her breathless at times. Her voice is fairly weak to start with, but time and practice will help.  She seems relaxed and confident on stage. The judges shower Raquel with praise.
Just an aside – wow, Cee Lo looks so different without his shades! And when did he grow that tiny 'stache? Strangely, he looks younger, and more vulnerable without the camouflage. Somehow this makes his comments on the singers more personal and thoughtful. You go, Cee Lo!
Blake's choice, Jared Blake, father of six, and the self-proclaimed 'King of Second Chances,' is next. He'll be singing "Use Somebody" by the Kings of Leon, whom he describes as 'southern boys turned rockers.' He seems like a nice guy, although I really don't like the way he wears his bandana. Blake thinks that Jared is struggling to define himself as either country or rock. I like his rough, but soulful voice, and he uses the stage well, even stepping down into the audience amongst the fans. It's a solid performance, the judges love both him and his song choice, and Blake officially proclaims Jared as a rock guy.
Beverly McClellan is up next, and the shaven head, tattooed, raunch wrangler is performing Melissa Etheridge's "I'm The Only One." She warns us that she's got a cold, and in rehearsal, Christina respects her illness, opting to let Beverly rest as much as possible. Wearing a strange, quasi-military uniform, Beverly struggles a bit with the low, opening verse, but when she opens up vocally in the chorus, complete with a strange little dance march, she brings down the house. Adam calls her 'the one that got away,' while Cee Lo and Blake praise her voice and stage presence. Christina comments that Adam wets himself every time Beverly comes on stage.
Singing "Heartless" by Kanye West, shy singer/songwriter/novelist Dia Frampton accompanies herself on piano. I found the performance competent, if a little shaky vocally, but without any of the showmanship available to the performers unencumbered by an instrument. Cee Lo and Adam praised her original take on the song. Blake was happy the world got to see the real Dia Frampton.
Time for a little break from 'work.' Carson tells us that each week, the judges will have to say goodbye to two of their artists. To soften the blow, Christina takes her foursome to a Japanese restaurant for a meal and a giggle. We're treated to Raquel, Beverly, Lily Elise and Frenchie Davis asking for advice on vocals and stage presence, which Christina handily answers. All five of the ladies then take to the stage to sing "Lady Marmalade." With their best growls and provocative moves, it's a spectacular performance. But for my money, Frenchie Davis owns this song – no one else came close to the tonal quality of her few lines.
Choreographer Hi-Hat has her work cut out for her with Xenia. The shy high schooler tries so hard, but this is where the pavement meets the road – I'm not sure she'll be with us next week. Blake admits that her biggest weakness is her fear and lack of self-confidence. Well, duh! She's a 16 year old high school kid! She sang well, but had zero stage presence while singing "Price Tag" by Jessie J. I really like her smoky sound, but she didn't score any points with her lackluster choreography, so low key as to be almost inert. Blake was cute with his 'stage daddy' singing and grooving along, but I don't think he'll keep her. Christina was overly enthusiastic with her praise, Cee Lo uncharacteristically brief, and Blake talked up Xenia's 'unique' sound.
Time for Lily Elise. She'll be singing "Big Girl's Don't Cry" by Fergie. Christina opines that Lily generally comes off a little cold and guarded, and so should try to show some vulnerability. Easier said than done! Lily loves to spiral high notes into the ether at every opportunity, more technique than feel. On stage, Lily has a team of male back up dancers, awkwardly posed, who come alive as she walks before them. and then writhe and pose behind her during her performance. I didn't miss the dancers when they left the stage, and Christina's frozen grimace said it all … who can we blame for the choreography? Lily is essentially an American Adele wannabe, in my view. But not as good. So, what did the judges think? Well, Adam and Blake agreed with me about the dancers, Cee Lo was brief, and Christina damned with faint praise.
Another pause, as this time, Blake has his Team over to his house for lunch. Xenia, Jared, Dia and Patrick Thomas tuck in while Blake explains his strategy: forget the competition aspect, just do what you do, really well. Blake is funny, unassuming, and fiercely proud of his Team. Well, until he can only vote for one at the end of the evening! Team Blake performs "This Love" by Maroon 5. Way to suck up to Adam, Blake! But it's a good choice, because I can't think of any song that would adequately showcase this mismatched, but enthusiastic, Team. It's only when Blake himself joins in that we see why Blake Shelton towers over his Team, both heightwise, and as a multi-award winner. But Adam gives them a standing O.
It's Patrick Thomas' turn to shine. His choice of "I Hope You Dance" by LeeAnn Womack, is dedicated to his sister. It's a terrific song, and the audience is with him from his first perfect notes, and through the modulation that brings the song into the 'sweet spot' of his voice. Yep, this guy is good.  Christina's comment rewrites the song title to "I Hope You Take Off Your Pants." Classy.  Cee Lo calls Patrick one of the strongest contenders, Adam thinks it was a classy, understated performance. Blake's over the moon at Patrick's performance. I agree.
Which only leaves diva Frenchie Davis yet to sing. I've been looking forward to this all night, because Frenchie has a wonderful voice. She was unceremoniously dumped from American Idol when nude pictures of her were found on the internet. Rather than complain, she dusted herself off, and took on Broadway. With a voice like hers, the world should be listening. Confession: I like her voice better than Christina's. So sue me. Anyway, Frenchie will be singing "When Love Takes Over" by David Guetta. Not sure if this was the best use of her talent, we'll see how it shakes out. I'd have gone with a powerhouse dance tune like "It's Raining Men. I don't think Christina really knows what to do with her, and that's borne out by another stage filled with dancers and laser beams. Sure, it's a dance song, but there's just too much going on. Cee Lo is enthusiastic about Frenchie's voice, breath control and stage presence. Adam and Blake acknowledge Frenchie's professionalism. Christina praises Frenchie, and Frenchie acknowledges Christina's suggestions for improvement. It's a lovefest!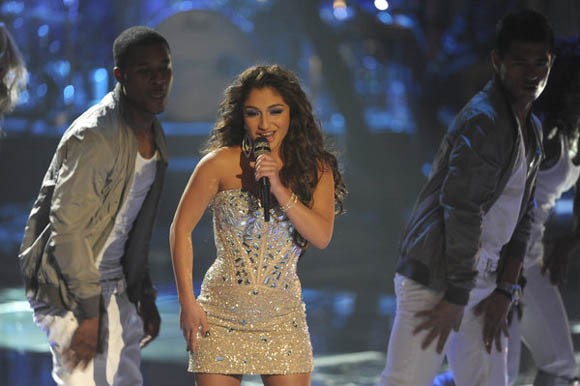 Okay, everyone's had their shot. Let's re-cap Team Christina. Raquel Castro: cute, mini Gloria Estevan pre-Miami Sound Machine. Beverly McClellan: hard core, tattoed, bald diva with a massive voice.  Lily Elise: Adele wannabe, with potential, but more of an imitator than an innovator. Frenchie Davis: not the best song choice, but a voice that should rule the world. If I can only have two, I have to pick Beverly and Frenchie.
Team Blake's quartet include Jared Blake, bandana-ed rocker, with a wandering eye for the fans. Dia Frampton: talented mini monster, who could go far, but will need to lose the stage fright. Xenia: the voice has potential, but stage presence is lacking. But she's 16! Give her time. Patrick Thomas: this cowboy hatted fellow has exactly what it takes to rule the country and western world. Will the pop audience agree? I like Jared and Patrick for the win, but Dia and Xenia may grab the younger viewer's votes.
We'll find out next week. See you then!