'The Voice' Coaches Adam Levine, Usher and Shakira Tease Season 4
The Voice's season four coaching panel - Adam Levine, Blake Shelton, and new additions Shakira and Usher - let reporters in on what audiences can expect in the upcoming cycle during a press conference in November.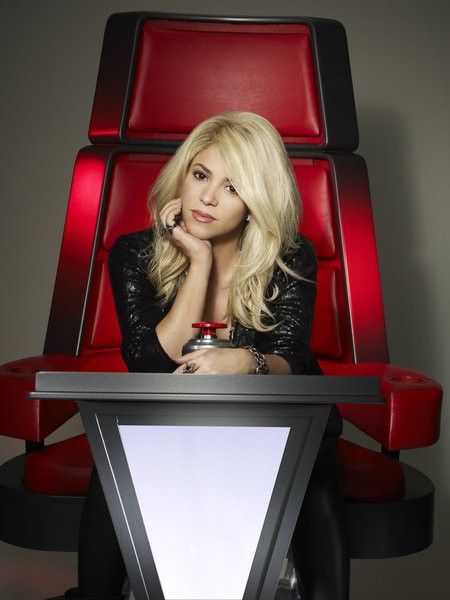 For one, don't expect the show to shake things up too much after introducing several tweaks to its format this fall. "We're going to kind of stay the course and do what we did in Season 3 in Season 4," said Levine.
Executive producer Mark Burnett agreed that the series has found its stride. "I think we learned in the earlier seasons, in the battles some fantastic people went home that could have easily won any other music competition, and to give people a chance to stay there I think puts more pressure on [the coaches]," he said, referring to the 'steal' element introduced in Season 3. "When you're deciding on a battle and sending someone home, there's three other people sitting there waiting to take that person, and who knows, maybe someone that gets stolen ends up winning the whole thing."
Levine believes that his and Shelton's past coaching experience gives them an edge over the new arrivals - albeit a temporary one. "There are many advantages to being the seasoned veteran, starting with we've seen about 4,000 more auditions," he explained. "We fell into the traps that the new bloods will fall into and dig themselves out of because they are strong, and they will survive, but we know from experience where we've been, where we're going, how to get through this. Yeah, it's particularly strong at first, but these guys are smart and quick studies, so they are probably going to get better quickly, and it's going to suck for us because then they will probably win this damn thing."
What kind of coaches will the two newcomers make? Although he might be standing in for Cee Lo Green, Usher won't be keeping up with his predecessor's theatrics. "I think I'm super serious," he said. "I think my style is just like more military than anything because I'm all about the preparation. My style is to make them understand the seriousness of the craft, and that they have the very best opportunity to be the greatest or the worst, depending on how you take it."
As for Shakira, "Once I'm in the recording studio I am so hands on," she added. "I tend to micromanage so much. I think while I'm coaching my team that I tend to do the same.  I focus on the detail."
She also spoke about how much she is enjoying her new role as a Voice coach. "I can only tell you that it is the best. They have been such great hosts making Usher and me feel at home at all times," she said. "There's a lot of competitiveness, of course. There's a lot of adrenaline, and there's a lot of tension, but a healthy one. There is also a good sense of humor in this whole recipe. It all works out, and it makes it super enjoyable."
Season 4 of The Voice arrives on March 25.
For more from Brittany Frederick on The Voice, visit Big Red Chairs and follow me on Twitter (@bigredchairs).
(c)2012 Brittany Frederick/Big Red Chairs. Appears at Starpulse with permission. All rights reserved. No reproduction permitted.