'The Voice': Blind Auditions - Week 3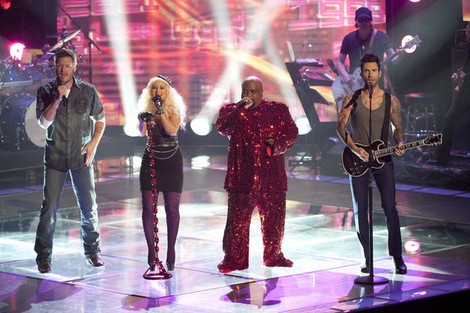 Week three of "The Voice" continues with more blind auditions as the coaches continue to build their teams of 16 singers.
The first singer of the night was Michelle Brooks-Thompson who performed the Ike and Tine Turner hit "Proud Mary".  Adam, Cee Lo and Christina all turned their chairs for Michelle.  While Cee Lo said Michelle's performance was flawless, Michelle chose Adam for her coach.
Diego traveled all the way from Peru for a chance on "The Voice".  Diego played guitar and performed in both Englis hand Spanish.  Cee Lo was the only coach to turn his chair making Diego a part of Cee Lo's team.
Lauren failed to turn any of the coach's chairs but they told her that while pitchy she did a great job and that were problems were fixable.
Music teacher Susanna played her guitar and sang the Fleetwood Mac hit "Landslide": she even looked and sounded a bit like Stevie Nicks.  Adam and Blake turned their chairs with Adam saying Susanna was refreshingly unique and Blake noted that Susanna's heartfelt performance let her artistry speak for itself.  Susanna chose Blake for her coach.
In season two Dez Duron  didn't turn any of the coach's chairs with his audition; this time around Blake, Christina, and Cee Lo turned around.  Cee Lo said that Dez had soul in his voice and Blake said that Dez reminded him of Elvis.  Christina said that last year she missed an opportunity but not this year.  Dez chose Christina for his coach. 
Music conservatory teacher VJ performed Cee Lo's "Forget You".  VJ failed to turn any chairs but coach Cee Lo went up on the stage and showed VJ how the song should be performed.
Alexis and her family lost everything in Hurricane Katrina but her music brought her through.  Performing "Go Your Own Way" Alexis got Cee Lo to turn his chair.  Cee Lo said that rocker chicks turned him on.
Seventeen year old Brandon is an old school soul singer.  Singing "I Wish it Would Rain" Brandon got Adam, Cee Lo, and Christina to turn their chairs.  The coaches noted Brandon's soulful voice and Adam said Brandon didn't imitate the old singers but was the next in line.  Brandon chose Adam for his coach.
Jeffrey performed "A Little Less Conversation" by Elvis but his performance failed to turn any of the coach's chairs.  The coaches liked Jeffrey's voice but noted some pitch issues and didn't find anything "button pushing worthy".
Former Disney singer Jordan Pruitt turned only one chair…Christina's but Christina said Jordan was what she had been waiting for.
The final performance of the night was from Terisa Griffin who used to work with Jerry Butler.  Performing Adele's "Someone Like You" Terisa got Christina and Blake to turn their chairs.  Christina said that she would have to be an idiot not to turn her chair.  Before making any decisions Terisa had a question for the coaches…she wanted to know what the coaches would do for her.  Terisa chose Blake for her coach.
The teams so far…
Team Christina:
De'borah
Devyn DeLoera
Adriana Louise
Aquile
Nelly's Echo
Lisa Scinto
MarissaAnn
Beat Frequency
Paulina
Roslyn Rivera
Dez Duron
Jordan Pruitt
Laura Vivas
Team Cee Lo:
Daniel Rosa
Trevin Hunte
MacKenzie Bourg
DOMO
JR Aquino
Nicholas David
Avery Wilson
Mycle Wastman
Emily Earle
Ben Taub
Diego Val
Alexis Marceaux
Todd Kessler
Team Blake:
Terry McDermott
Graciaa Harrison
Casey Muessignamm
Julio Cesar Castillo
2Steel Girls
Liz Davis
Kelly Crapa
Sussana Choffel
Michaela Paige
Ryan Jirovec
Lelia Broussard
Team Adam:
Bryan Keith
Joe Kirkland
Samuel Mouton
Loren Allred
Nicole Nelson
Melanie Martinez
Brian Scartooci
Alessandra Guercio
Adanna Duru
Collin McLoughlin
Benji
Michelle Brooks-Thompson
Same James
Brandon Mahone