'The Voice': Blind Auditions - Part 7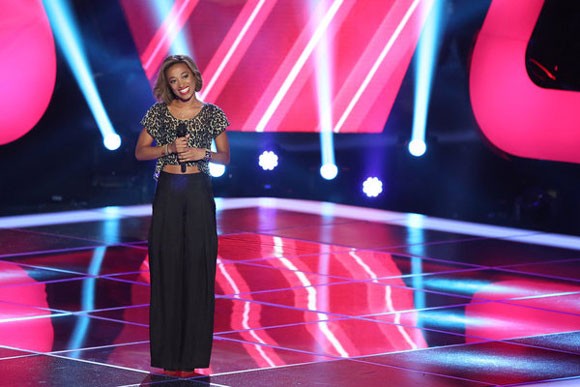 With only 12 spots remaining on the four teams, the coaches are looking for something very special in their remaining spots.
Sylvia Yacoub traveled a long way to appear on "The Voice" stage; all the way from Alexandria, Egypt where the opportunities for women are few.  Of the four coaches only Adam did not push his button for Sylvia.  Sylvia chose Christina for her coach.
Country boy and North Carolina pig farmer IJ failed to turn any chairs.  IJ has a high voice and the coaches were convinced that IJ was a girl. 
Charlie Rey took on the Michael Buble hit "Home" and got Adam and Blake to turn their chairs.  Blake liked the vibrato in Charlie's voice; even saying that Charlie was a bit like Buble.  Adam thought Charlie's voice had a refined quality to it.  Charlie chose Blake to be his coach.
Like many singers Amanda Brown grew up singing in the church but when she discovered Radiohead, all of that changed; but only Cee Lo turned his chair for Amanda.
Saying she was there to represent, 55 year old Yolanda Barber – one the show's oldest contestants – took on another Yolanda…Yolanda Adams for her audition.  While Yolanda had been performing on cruise ships, she failed to turn any of the coach's chairs even though Adam thought the performance was amazing.  Christina admitted to "almost" pushing her button several times.
Former rock band member Cassadee Pope finished up the night's performances.  Since the breakup of her band – Hey Monday – Cassadee is turning her attention to being a solo artist.  Cassadee became the first singer to turn all four coach's chairs in over a week; Adam, Blake, and Christina turned their chairs almost at the same time with Cee Lo joining them later.  Adam called Cassadee amazing.  Christina said Cassadee could do it all.  Cee Lo called it a wonderful performance.  Blake noted that there was nobody like Cassadee, believing she is a superstar.  Cassadee chose Blake to be her coach.
With the addition of the singers on Tuesday's audition show, all four coaches have 14 singers on their teams.
The teams so far… (see list below)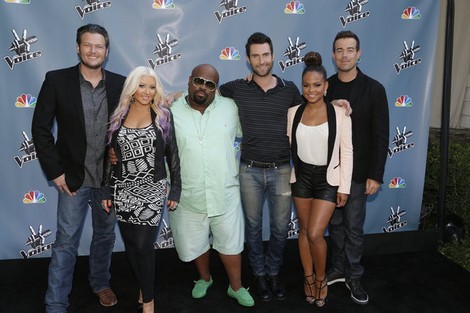 Team Christina:
De'borah
Devyn DeLoera
Adriana Louise
Aquile
Nelly's Echo
Lisa Scinto
MarissaAnn
Beat Frequency
Paulina
Roslyn Rivera
Dez Duron
Jordan Pruitt
Laura Vivas
Sylvia Yacoub
Team Cee Lo:
Daniel Rosa
Trevin Hunte
MacKenzie Bourg
DOMO
JR Aquino
Nicholas David
Avery Wilson
Mycle Wastman
Emily Earle
Ben Taub
Diego Val
Alexis Marceaux
Todd Kessler
Amanda Brown
Team Blake:
Terry McDermott
Graciaa Harrison
Casey Muessignamm
Julio Cesar Castillo
2Steel Girls
Liz Davis
Kelly Crapa
Sussana Choffel
Michaela Paige
Ryan Jirovec
Lelia Broussard
Terisa Griffin
Charlie Rey
Cassadee Pope
Team Adam:
Bryan Keith
Joe Kirkland
Samuel Mouton
Loren Allred
Nicole Nelson
Melanie Martinez
Brian Scartooci
Alessandra Guercio
Adanna Duru
Collin McLoughlin
Benji
Michelle Brooks-Thompson
Same James
Brandon Mahone