'The Voice' - BattleBots Part Two Recap May 17, 2011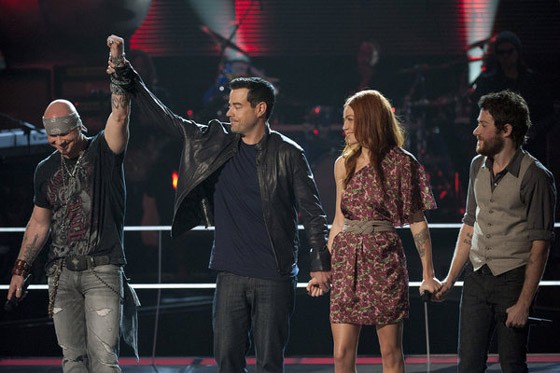 Get set for another round of mega duets, as Part Two of the Battle Round begins! The celebrity coaches Cee Lo Green, Blake Shelton, Adam Levine and Christina Aguilera choose another pair of vocalists from their team, and the nail biting begins! Host Carson Daly seems even more self-effacing this week, if that's even possible.
Team Cee Lo: Nakia and Tje Austin were chosen to sing Ne-Yo's "Closer." It's a hair-fest, as both have huge mops of hair, and face fur to match.  At the blind audition, Nakia actually braved Cee Lo's own "Forget You," and seems to have appropriated the singer's indoor sunglass wearing habit as well. Tje comes from a large family of mostly adopted kids, and seems wonderfully centered.
 With Monica by his side, Cee Lo advises the contestants to get as deep as they can into their song, and make it their own. Both vocalists are terrific, although I prefer the smoother quality of Tje's sound over Nakia's harsher, Joe Cocker-style tone. Adam, Blake and Christina love them both, but prefer Nakia.  Monica says that Tye's voice is so pleasant and melodic, many singers would love to have his sound. Cee Lo props himself and his own good taste, but chooses Nakia for the win. Winner: Nakia.
Team Blake: Jared Blake and folk duo Elenowen (Josh and Nicole) must showcase the Motown classic "Ain't No Mountain High Enough." Nicole thinks her duo may have the advantage singing a love sing, since she and her husband are newlyweds and in love. Jared, father of six, wonders how he'll fare against a duo.
Blake and his helpmate, Reba McEntire, are not happy during the practices, eventually lowering the key so that the singers can hit the notes. Reba tells Jared he needs to keep some of the audience focus on him while the other two sing. She tells Elenowen to get the notes right, and project confidence. At rehearsal, Blake sticks a pin in all three when he says he's not afraid to say "this is not happening here." I felt this was a really poor choice of both competitors and song.
Jared's stage presence is all swaggering rock star, a la Axl Rose, while Elenowen focus on each other.  I liked Jared, but thought Elenowen should get a room. The song was a mess, with the harmonies never really gelling, and Nicole hitting some very questionable notes. Christina, Blake and Adam like Jared but are kind to Elenowen. Reba's just pleased she got to meet all three of them. And Blake, while admitting he begged Elenowen to choose him as their coach over Cee Lo, says he's shocked at how well Jared presented. It's back to the parent's basement for Josh and Nicole. Winner: Jared Blake
Team Adam:  Angela Wolff and Javier Colon will be singing "Stand By Me." Angela interviews that she's excited to work with Javier, but frightened of him, as he's probably the best singer in the competition. (Javier's Blind Audition rendition of "Time after Time" was moving and inspired, so I'd say Angela may be right to fear him.) Angela was picked in the second round of the Blind Auditions with her fabulous version of "Rolling in the Deep."  
Adam, and Maroon 5's musical director Adam Blackstone, advise Javier to scale back his trills, with Blackstone chiming in that it's all about vocal discipline. Keep it true to the original, is the main advice. We don't see Angela getting any sort of advice or pep talk. At the battle, Javier's delivery is effortless, while Angela tries for the trills, and misses a few. For me, no contest – it's Javier. Blake is blown away by Javier, Christina likes Angela's sweet presence, but says it's Javier, as well. Cee Lo says Angela has a great voice, but she's got stiff competition. He says that "in our world, it's not so much about competing, as about co-existing." Adam loved the energy between the two, but he's got to go with Javier. Winner: Javier Colon.
Team Christina: Beverly McClellan and Justin Grennan are given The Who's "Baba O'Rlley." Shaven headed Beverly is stoked at the choice, and warns Justin "you're in trouble." This song couldn't be more up her alley and down her street. Justin's high, clean, tenor may be no match for the explosive Beverly. Plus, he's never even seen the lyrics before this day. And apparently, never watched a single episode of C.S.I.
Christina, along with Australian singer Sia, tells the singers they need to make the song their own. Christina sings a few lines to show them what she means, and I am once again struck by the quality of her voice. Justin brings a distinct R&B flavour to his interpretation.
At the battle, Justin's not only stepping outside his musical comfort zone, he's even been dressed like a rocker – albeit it, a very clean and tidy rocker – in a white tee and leather jacket.  Beverly vows she's going to 'bring the thunder.' And does she ever! Justin never had a chance, despite a valiant effort. The crowd goes wild, as Beverly tears the roof off with her combination of high notes and low growls. Cee Lo says of Beverly, "you stole, you owned it, and then you sold it!" Adam thought Justin did an amazing job. Blake thinks Justin's unprepossessing presence reminds him of a guy who works in his bank, but covers an interior of rock. Christina first thanks them both for making her co-coaches extremely jealous, then praises Justin for the growth he's shown in making the song his own. It's a tough decision, but she has to go with … the winner: Beverly McClellan.
Sadly, the best of the duet duels mean some deserving singers will never get the chance to be The Voice. But I'll keep watching, because this competition is fierce!