'The Voice' – BattleBots Hit The Ring For A Sing Off May 10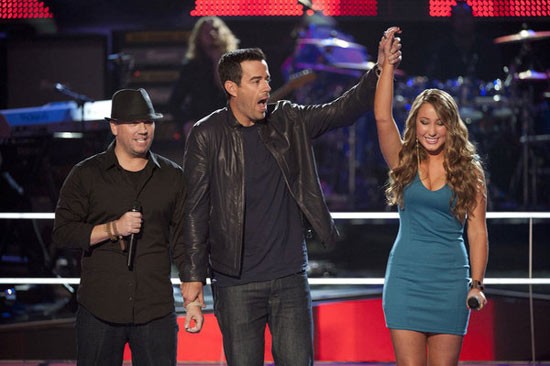 I've really enjoyed the new series, "The Voice", since it began three weeks ago. The first two weeks were devoted to 'blind auditions,' where celebrity judges Christina Aguilera, Blake Shelton, Cee Lo Green, and Adam Levine, could not see the contestants singing until they had made a decision on the fate of the vocalist.
With a total of 32 vocalists, eight singers per judge, the challenge moves on to Phase 2, the battle rounds. Two competitors sing the same song, on the same stage, simultaneously, trading off verses, and dueting on choruses.  Only one will win.  The celebrity judges, and a mentor, will coach the artists, preparing them for the contest. Their own coach picks one of the two as the winner. The other will go home.
In Week One of the 'BattleBots', Team Christina, along with Xtina's friend Sia,  consisted of Tarralyn Ramsey vs Frenchie Davis. They presented Beyonce's "Single Ladies (Put a Ring on It)." Both ladies were terrific, but Frenchie was clearly the most polished and professional of the pair. Winner: Frenchie Davis.
Team Blake: Patrick Thomas vs Tyler Robinson. Blake Shelton upped the ante by bringing in Reba McEntire as his aide.  I thought this match might be problematic, as Patrick has a country sensibility, while gawky Tyler brings blue eyed soul to his vocals. They sang Elvis Presley's "Burnin' Love," each in their own way, and it was surprisingly good.  Although both Cee Lo and Adam thought Tyler had the edge, Blake chose country boy Patrick over Tyler. Possibly Blake felt more comfortable with music closer to his own style. Winner: Patrick Thomas.
Team Adam: Casey Weston vs Tim Mahoney. Adam chose Maroon 5's musical director Adam Blackstone as his mentor. The first male/female duet were given the Stevie Nicks/Don Henley classic "Leather and Lace." Both vocalists were chosen during the second round of blind auditions. Casey, just 18, channelled Stevie Nicks' sound, while 42 year old Tim, the "Almost King," who has played professionally most of his life, but never quite made it, used his surprisingly high voice to rework Don Henley's part. The judges were taken with Casey's voice, but I have to agree with Cee Lo, who said that Casey's voice sounded too much like Stevie Nicks, and was therefore, not unique. Adam disagreed. Winner: Casey Weston.
Team Cee Lo: Vicci Martinez vs Niki Dawson. Cee Lo's advisor was singer Monica. The pairing of Vicci and Niki was exquisite. These two women set the stage on fire, to everyone's delight, as they battled over Pink's "Perfect." I agree with Blake, who said that Cee Lo would live to regret setting the two Diva's against each other, as each vocalist was a winner in her own right. 19 year old Niki Dawson sang like a young Aretha Franklin, while Vicci's 'war dance' and impassioned vocals were mesmerizing. In the end, Cee Lo found Vicci 'gut wrenching', and chose her over Niki, but assured Niki he would be able to help her in the future. Winner: Vicci Martinez.
It was an exciting hour of terrific singing, and far more dramatic than any other vocal competition show currently on television. I'd highly recommend the series to anyone who is in, has been in, or wants to be in, the music business.