'The Voice' Battle Bots Part 4 Recap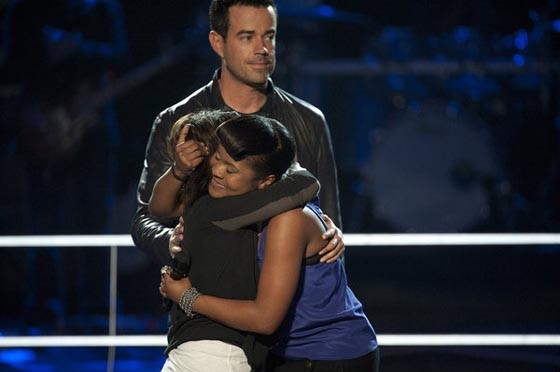 This is the final round for the battling vocalists. After these decisions, each team will have four potential winners vying for the Voice title. Here's what happened:
Team Adam: Casey Desmond vs Jeff Jenkins. Visually, this pairing could not be more opposite. Rocker/Punk/Dance Casey, with the bright red hair, versus Mama's favourite Country boy Jeff – the mind boggles. They tackled Elton John's "Don't Let The Sun Go Down On Me."  The smooth crooning of Jeff would seem to be a natural fit to this ballad, while Casey's more strident, nasally tone seems more appropriate to a Lady Gaga medley. But Adam, who was the only judge who picked Casey in the Blind Auditions, seems to be leaning towards Casey, as he tells Jeff to tone down his vibrato during rehearsals. Dang, I wish Blake Shelton had gotten Jeff!
Sure enough, Jeff opens the performance, and blows away the judges. When Casey comes in vocally, she plays with the melody so much it seems in a different key. And the choices made for harmonies … thumbs down from me. Visually, it's clearly Casey, though. So are we really judging voices? Reba admits she couldn't take her eyes off Jeff, but Christina and Blake go for Casey's look. Adam and aide Adam Blackstone seem to brush off Jeff's work as an easy win, but laud Casey's tone. Adam, struggling with a decision, gets a last minute whisper in his ear from Blackstone, and then says "There's something just mind-blowing about you, Jeff. I gotta take Jeff." Jeff is as surprised as I was, until I thought … hmm … in the next section, Jeff would be a real asset to any judge, whereas Adam's got his own production company, and could scoop up Casey for himself at his leisure. That's my take, anyway. The winner is: Jeff Jenkins.
Team Blake: Xenia vs Sara Oromchi. Two quiet, shy little girls, neither of whom exuded much personality. 18 year old Sara's only concern is that, if she stays too long at the auditions, she'll miss prom. I'm betting these girls go gaga at the mall, but otherwise, life seems pretty 'go with the flow.' Their song is The Pretenders' "I'll Stand By You." Neither teen seems particularly impressed at meeting Reba McEntire – they may well have never heard of her. 16 year old Xenia seems to have already given up as they begin to work on the song, saying that Sara's range is a little higher than her own, so will give Sara the vocal advantage. Sara thinks Xenia's strength is in her tonal quality. Advantage, Sara, in terms of confidence.
Blake and Reba tell both girls that they want a big, powerful sound – maybe not the best advice to give to two singers whose strength seems to lie more in a quiet, thoughtful presentation. Blake's compliments make Xenia cry. With both girls dressed in their best teen outfits, the battle begins. This is definitely not a song tailor made for either vocalist. Neither girl sounds particularly comfortable with the melody or feel of the song. By the end, there were more missed than hit notes, with a particularly nasty harmonic ending. Christina cites Sarah's 'pitchyness', Cee Lo likes them both, Adam also notes the pitch problems, and says it wasn't a good song choice. Reba and Blake note how nervous both girls were. The Winner: Xenia.
Team Christina:  Cheri Oakley vs Lily Elise.  They'll be wrestling with Kelly Clarkson's "Since You've Been Gone." One's a little bit country, the other's a little bit soul. So let's do a rocker! At the initial meeting rehearsal, Christina and aide Sia are surprised that Lily is not only ready to start singing the song, she's belting it out full blast – and about two octaves higher than dogs can hear. Christina advises Lily that she's not looking for perfection – just passion and emotion. Cheri surprises Christina with a powerful dress rehearsal.
Battle Time! Sadly, Lily seems to have lost part of her wardrobe, as she's wearing a partial hoodie, with her short shorts held up by suspenders, and is wearing heels so high … we call them stripper pumps around here. Cheri, by comparison, is dressed more sedately, but looks good. Lily may have a good high end, but her low end is pitchy. Cheri's voice is controlled throughout the song. Lily stalks the stage like a ring girl at a martial arts match. Cheri uses the stage as one would in concert. The ending harmony? Hurt my dog's ears.
When Blake is asked what he thought, Reba jumps in to say how happy she is to finally meet Cheri, who wrote Reba's Number 1 hit "Turn On Your Radio." Cee Lo notes that, under pressure, Lily had a lot of attitude, while Cheri had a lot of control. Sia liked the high notes, while Christina thinks Lily's outfit was terrific, calling her 'a little hot mama.' (Uh, it's The Voice, Xtina? Not The Bod?) With Cheri's face already set in disappointment, Christina decides on Lily. Christina's stacking her final deck with screamers, which I'm not sure is the way to go … but we'll see. Not my choice here. Winner: Lily Elise.
Team Cee Lo:  Emily Valentine vs Curtis Grimes. It's a coup for Curtis the Cowboy when they hear their song will be Lady Antebellum's "Need You Now." Rocker Emily seems to be taking the love song to heart, as she 'loses' herself in his voice. Cee Lo and Monica seem taken aback when Emily admits to having a 'little crush' on Curtis. It takes some of the sting out the competition if both competitors are rooting for the same winner. Cee Lo confesses that the pained "Why?" in the ending of his song 'Forget You' was suggested by Monica, who notes that both the country and blues genres share the same emotion of pain. He wants both Emily and Curtis to re-enact the pain and risk involved in love. So, how did they do?
Emily again admits her crush on Curtis, but Curtis reminds us that he gave up baseball for a girl, he's not giving up music as well. Look out, Emily! Curtis hits the stage, all swaggering Cowboy, while Emily's finger wave curls and sedate blue dress contrast with her multiple tattoos. First note – the song's key is not kind to either singer. Neither vocalist does a great job, and they end the song with an obviously staged kiss. Host Carson Daly notes that one of them is going home, but not alone, apparently. The judges love that bit of stagecraft, Cee Lo's mouth drops wide open in shock, and Blake cracks a poor joke about how they were supposed to 'duet' not 'do it.' Groan. Adam likes Curtis' baritone, Christina notes Emily's shaky notes, and Cee Lo feels Emily was out of her comfort zone. Winner: Curtis Grimes.
And thus ends the Battle Rounds. Next week: The Voice LIVE. Looking forward to seeing these sing offs? Let me know. It's not too soon to pick your fave from each team!