'The Visitor' Works Out America's Demons Following Sept. 11, 2001

(
Hollywoodchicago.com
) – "
The Visitor
" is a subtle film. Created by the unique talent of writer and director Thomas McCarthy – who also generated the equally subtle world of "
The Station Agent
" – this new work explores the nature of who belongs where.
It's outside the artificial borders of countries and city states and more toward the intuitive virtues of the emotional state that bonds us to each other.
Richard Jenkins
– best known as the recurring dead father on "
Six Feet Under
" – plays the role of a lifetime as Walter Vale: a burnt-out professor of economics at a Connecticut university.
His wife – a reputable concert pianist – has recently died. The emptiness of the new circumstance is etched upon his soul. Forced to attend a conference in New York City, Walter opens up an apartment he owns there only to find squatters living inside.
Tarek (Haaz Sleiman) is an illegal immigrant from Syria and his girlfriend, Esi (Danai Jekesai Gurira), is an African with similar status. They have "rented" the apartment from someone who conned them into the place.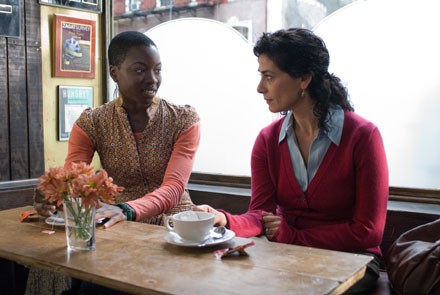 Walter lets them stay until they can find new lodgings. He discovers that Tarek is a jazz drummer (of the single African drum variety) and is curious to learn new drumming techniques. When Walter begins to absorb the rhythm lessons from Tarek, a bond develops.
Walter is even with Tarek as he is stopped in the subway and hauled away by immigration authorities to a warehouse prison. This begins a Franz Kafka-like nightmare of epic proportions as the post-Sept. 11, 2001 world punishes the illegals with impunity.
Walter suddenly finds himself entrenched within and between the passion of Tarek's mother to seek her son's freedom versus the laws and officials of the immigration system.
This also serves to release the professor's own repressed feelings as a life spark he thought was buried begins to emerge again. McCarthy brilliantly focuses on characters who love life despite the less savory circumstances surrounding them.
Like Bobby Cannavale's memorable best-friend persona in "The Station Agent," Tarek is also an eternal optimist who passes along his happy state to Walter through the beats of a simple drum.
There is poignancy to be felt throughout this process especially when the immigration prison finally punctures Tarek's unyielding sunniness.
Jenkins makes the most of his first leading male role. He carefully nurtures Walter throughout the darkness to light materialization while always staying realistically within the bounds of his inner professorial approach to existence.
The understated change of eyeglasses, his sudden frustrated outburst at the prison and his admiration for the courage of Tarek's mother are all keenly realized. There is complete empathy for Walter because of Jenkin's acute portrayal.
This film is America working out the demons of Sept. 11, 2001. It's time to bang the drum.
"The Visitor" opened on April 18, 2008.

By
PATRICK McDONALD
Staff Writer
HollywoodChicago.com
© 2008 Patrick McDonald,
HollywoodChicago.com