'The Vampire Diaries' Star Kat Graham Lands Record Deal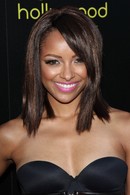 Vampire Diaries star Kat Graham is launching an assault on the pop charts after landing a record deal.

The former back-up dancer for acts like Missy Elliott and Pharrell Williams has also starred in music videos for Akon, Nelly, John Legend and Justin Bieber - and now she's preparing to carve out her own music career after signing a deal to release her first album.

In a video posted to YouTube.com, she tells fans, "I am so, so excited to share my big, special announcement with you guys. As you can see I'm in a recording studio... the reason is I am now signed to A&M/Octone Records."

"It's my first time being signed to a major label and we have a single. The new song that you guys will be hearing is called Put Your Graffiti On Me. We're shooting a music video this weekend and I'm so excited that you guys are going to be a part of this journey with me!"