'The Vampire Diaries' Recap: 4x14: 'Down The Rabbit Hole'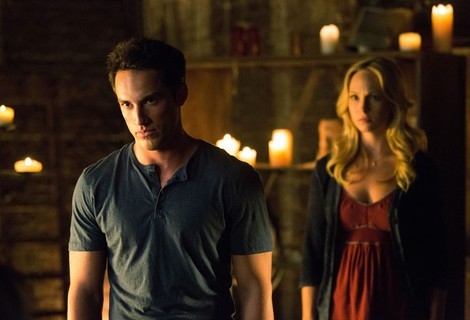 One of the most interesting parts to come out of the storyline involving the cure is determining who wants it and who doesn't. Of course, all of that goes out the window once we learn there's only one dose and Katherine makes off with it. But we'll get to that…
The episode starts off with Damon tied up to a tree by one of the members of The Five, named Galen Vaughn, who has a tattoo that completed when Jeremy's did.
With Damon missing in action, Elena calls home to fill Caroline in on everything that's going on and to ask her to get the hunter's sword from Klaus so they can translate Jeremy's tattoos.
In the cave, one of Silas' men, who appears to be a native of the island, wants to leave. Shane pays him with the tombstone, which is made up of the witch Ketzsia's blood. According to Shane, it's more valuable than the Hope Diamond. Turns out the tombstone had nothing to do with the spell—yet another classic, well played misdirection by the show's producers, just like the Sun and the Moon curse.
Tyler arrives at the Gilbert house—he easily found the sword amongst Klaus' things. After some snarking, Klaus eventually does help Tyler and Caroline transcribe the tattoos using the sword.
Back on the island, Stefan and Elena have a heart to heart, where Elena expresses disappointment that Stefan didn't tell her that he wanted to be human. He admits that maybe they can be friends and when Elena touches his hand, Rebekah looks on with jealously.
Galen tells Damon that he wants to kill Silas so that the mission of The Five can be over. He also plans to use the cure against Silas – to kill him – and more importantly, there is only one dose. Rebekah is the next to learn about the single dose problem as Klaus gets on the phone with her and tells her there's only one dose of the cure – he learned this during the translation – before Tyler and Caroline can hang up the phone on them.
Jeremy and Bonnie are lowered into the well to where Silas lays. Bonnie promises that she won't let Silas get out and she's kill Shane if she has to.
Damon accuses Galen of saving Jeremy's life in the last episode, but Galen denies it. They then stumble upon a body of one of the natives that was working for Shane and realize someone else is on the island.
When Rebekah meets up with Elena and Stefan, she fails to inform them of what Klaus told her. Elena jumps down a large cliff by herself, leaving Rebekah and Stefan alone. Rebekah tells Stefan that there's only one dose of the cure. Rebekah hints that she'd give the cure to Stefan, but she knows he'll just give it to Elena. So she snaps Stefan's neck to knock him out—which Elena witnesses.
In the well, Bonnie starts to activate Jeremy's tattoo. As she does, it starts to activate on Galen as well. The walls shake in the well and start to fall. After the cave in, both Jeremy and Bonnie are ok, but Shane's leg is broken—they chose to leave him behind and venture farther in. Galen and Damon arrive at the top. Rebekah enters after Damon is free of his restraints, but Galen has a gun out.
Stefan is up and awake and he tells Elena that there is only one dose of the cure. Elena is self-defeating, knowing that she is not the same person she was when she went off that bridge. But the pity party is over quickly when they realize that Klaus will break free of the spell and come for them, meaning he needs to be the one that gets the cure.
Galen gets the better of Rebekah and puts a grenade in her chest that explodes wooden stakes into her. (Clearly, he's got way cooler toys than Alaric ever did.) It's not enough to kill her of course, but it slows her down. He also stops Damon and puts him back in restraints.
Back in the well, Bonnie is visited by the ghost of her Grams, who says Bonnie can bring her back to life with Silas. Jeremy can't see Grams, so he tells Bonnie that it's not really her ghost, because he would be able to see her if it was. Instead, it is Silas, trying to control her.
Back at the Gilbert house, Caroline tells Klaus that he can't kill Tyler. Klaus challenges Caroline on whether or not she would want the cure. When Klaus says they're similar, Caroline tells him to show Tyler the mercy she would show. Klaus says fine, but Tyler must leave town immediately. Except it will only be a head start before he tries to kill him.
Tyler and Caroline later have a tearful goodbye but Tyler is confident they'll find a way back to each other again. Caroline makes Tyler promise her that he'll live a happy life without her. (Side-note: many of the recappers have indicated that this indeed Tyler's last episode for awhile. So that goodbye was for real. At least until Klaus leaves for his spin-off.)
Damon is too injured to travel down the well, so he tells Stefan to go down and help Elena get the cure.  He does and stumbles across the injured Shane, who pleads ignorance about knowing there was only one dose of the cure. Stefan also elects to leave him behind. But Shane's wife Kaitlin makes an appearance—likely as a hallucination from Silas—who tells him that everything will be fine.
Bonnie and Jeremy approach Silas' body. It's then that Jeremy and Bonnie also realize that the cure won't work on that many people. Jeremy tries to take it out of Silas' hands, but it's fossilized with him. They realize that the only way they can get the cure out of his hands is to wake him up.
Galen appears and stabs Bonnie. He then cuts his hand and starts pouring blood on Silas so he can wake him up. Jeremy starts to fight him, but Galen gets the upper hand and is about to kill Jeremy when Elena arrives. She's about to kill Galen when Jeremy reminds her of the hunter's curse—if she kills him, she'll suffer mass hysteria until another hunter is unveiled.
Klaus is able to leave the house – likely since Bonnie is hurt – and tells Caroline that he showed Tyler's mercy because of her.
Stefan then stumbles upon Elena—meaning the other Elena was actually Katherine. Jeremy wants to help Bonnie, but Katherine insists on getting the cure. She cuts Jeremy and feeds his blood to Silas. While Silas is feeding on Jeremy, Katherine takes the cure. Silas then kills Jeremy while Bonnie is powerless to do anything.
"Down the Rabbit Hole" was easily one of the best episodes of the season. It's been a wonky season so far with highs and lows, but the pay-off with who gets the cure and who dies on the journey seems well worth it. Unless of course Jeremy will be OK since he's seen wearing his ring that brings him back from death…