'The Vampire Diaries' Recap 4x02: 'Memorial'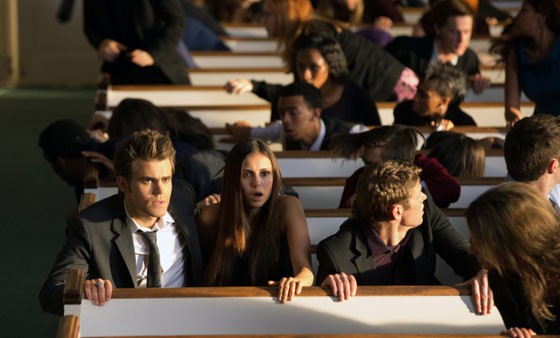 "I am in environmental clean-up."
With that line, vampire hunter Connor indicates he's not going to be like his predecessor, Alaric. He won't be making friends with vampires anytime soon.
After a slow, yet important season premiere, this new episode of The Vampire Diaries continues its tradition of going for the jugular and doesn't let up… until the end when we get a poignant and completely earned ending.
Stefan and Damon argue all episode long over how best to truly transition Elena into a vampire. In other words, can she avoid the bloodlust for human blood that affects all newborns? Can she avoid becoming the horrible monster Damon and Stefan were at different times?
At first, it doesn't appear so. She throws up all animal blood she drinks. She even throws up Damon's blood. (Which Stefan was not happy to hear she drank. Apparently, that's kind of like cheating in the vampire world.)
It's not a good time for Elena's bloodlust to be kicking in with Connor's arrival in town. We quickly see he's an incredibly bright, articulate and well-prepared vampire hunter. With a vervaine-laced glove, he's able to immediately tell that Tyler is a vampire.
Well, a hybrid. And it's that hybrid status that prevents Tyler from dying when he's shot with Connor's special bullets. Bullets that both Stefan and later Bonnie are confused by—since apparently, they're not magically-enhanced.
Connor comes close to learning about Elena's identity later when she throws up blood in a church bathroom. Damon arrives with a change of clothes and holds him off, but Connor knows something is up.
So he stabs April, the daughter of Pastor Young, to create a blood-laced trap in the church balcony. All the vampires (and hybrid Tyler) can smell her blood, but Elena is the only one who has trouble controlling herself.
Tyler than makes an uncharacteristically brave move – if you look at who Tyler was in season one – and moves up to the podium. He knows Connor will take a shot at him since he's the only one he's sure is a vampire. (I kept wondering how Connor was going to identify anyone. I thought he might have vervaine all around the podium, but maybe he was just waiting for someone to pop out black lines under their eyes because of their bloodlust.)