The Vaccines Cancel Concerts Due To Illness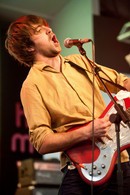 Rising British rockers The Vaccines have axed three shows in Europe due to frontman Justin Young's ongoing throat problems.

The vocalist underwent an operation in January and the Post Break-Up Sex hit-makers subsequently called off a string of gigs to allow him time to recover. 
However "continuing issues" with Young's throat have prompted the group to scrap even more shows - or the star could be in danger of losing his voice.

In a post on the band's website, Young writes, "The doctor has ordered immediate vocal rest with the risk of permanent damage to my speaking and singing voice if ignored. Cancelling shows has unfortunately become a reality in an otherwise successful, exciting and rewarding year and we understand any anger, resentment or upset you feel."

"Please try to understand that this is as distressing and upsetting, if not more upsetting, for the band and everyone involved. We have played to the extent recently that has become detrimental to my vocal chords (sic)."
 
Concerts in Holland, Austria and Northern Ireland this week have been scrapped, but the band is still scheduled to play at the U.K.'s Reading and Leeds festivals later this month.