"The Unofficial Game of Thrones Cookbook" - Eat Like A Lannister or a Stark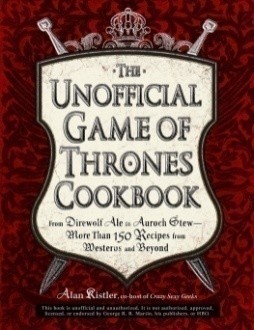 This Sunday, Lannisters, Baratheons, Greyjoys and of course Starks, will be back in our lives.
(For those not in the know, we're getting Game of Thrones back on our TV screens on Sunday night at 9 pm ET on HBO.)
If you're planning to have a premiere party, perhaps you should make some food for all your guests—the kind of stuff that makes them feel like THEY'RE the King (or Queen) of Westeros.
Enter then, The Unofficial Game of Thrones Cookbook from Alan Kistler. There's tons of recipes for meats, desserts and even ale.
A number of the recipes are inspired by A Storm of Swords, the third book in George R.R. Martin's series, on which half of season 3 is supposedly based on. Those recipes include "Late Lord Frey's Leek Soup" and "Ballroom Blackberry and Honeycake."
While my roommate and I haven't had a chance to try any of the recipes yet, while flipping through the book, "Buttered Quails of King's Landing" caught my eye—especially since I remember hearing that dish described many times in Martin's books. (He really does love describing all of the amazing food.) Alas, quails are a little hard to come by in Hoboken supermarkets.
Most of the recipes are indeed pretty complicated, but the attention to detail by the author, who's clearly a fan, is easy to see. Just if you plan to make anything for the premiere on Sunday, you might want to give yourself a couple of hours to prepare.
The Unofficial Game of Thrones Cookbook is available now for under $15.
* Disclosure: A copy of the book was provided by the publisher for the purposes of this article. *