'The Unit' Season Three Arrives On DVD

The Unit
's top secret military world of conspiracy, danger and nail-biting suspense continues with compelling revelations about the team, their personal lives and the Unit's increasingly complex nature as "The Unit" Season Three arrives on DVD October 14th from Fox Home Entertainment. Golden Globe®-nominee
Dennis Haysbert
(
24
),
Scott Foley
(
Felicity
) and
Robert Patrick
(
The X-Files
) star in the Emmy®-nominated series as members of a covert Special Forces team operating outside the usual military chain of command, their identities highly classified as they risk their lives on dangerous missions at home and abroad. But upon returning home from a successful mission the men are thrust into their most perilous situation yet when they discover the Unit is on stand-down pending investigation of criminal actions by their leader Jonas Blane (Haysbert) and those under his command. The men all fall under suspicion which quickly escalates to physical assault and are forced to use the skills they¹ve honed in the field to protect themselves and their families as they race to uncover who is behind the attacks which grow increasingly more deadly.
From Shawn Ryan, the creator of
The Shield
, and Pulitzer Prize-winning writer/director
David Mamet
(
Redbelt
), "The Unit" Season Three three-disc DVD collection includes all 11 episodes presented in widescreen, plus bonus features including deleted scenes, behind-the-scenes featurette and more.
Known only as "The Unit," they are an ultra-secret contingent of Special Forces soldiers who operate outside the usual military chain of command. Their very existence is a closely held secret protected by the soldiers themselves. Their wives, who are also in on the secret, strictly adhere to a fictitious cover story that is provided for them. "The Unit" chronicles a team of unknown heroes who, without ever receiving credit, risk their lives while protecting others.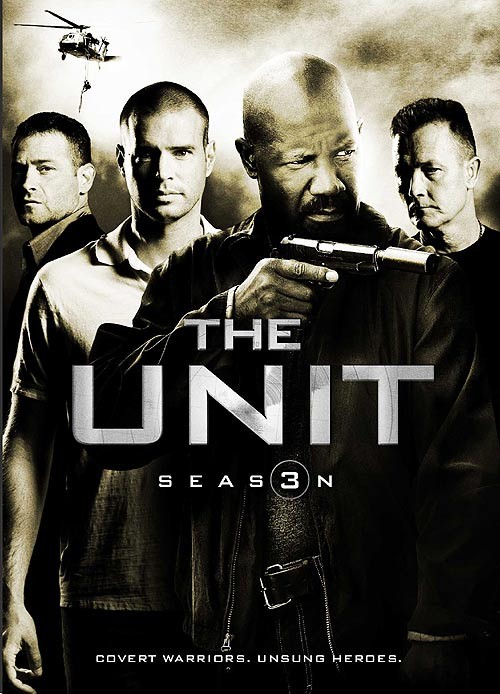 Season Three Episodes / DVD Special Features:
Disc One: Pandemonium Part One
-Commentary by Executive Producer/Director Vahan Moosekian, Director of Photography Krishna Rao and Supervising Producer Sharon Lee Watson
-Pandemonium Part Two
-Commentary by actors Dennis Haysbert,
Michael Irby
and
Rebecca Pidgeon
, Co-Executive Producer Todd Kessler, Executive Producer Vahan Moosekian, Director of Photography Krishna Rao
-Always Kiss Them Goodbye
-Commentary by Visual Effects Supervisor Dave Altenau, actor Abby Brammell and Executive Producer Shawn Ryan
-Every Step You Take
-Commentary by actor
Demore Barnes
, Co-Executive Producer Lynn Mamet and Editor Rick Tuber
Disc Two: Inside Out
-Commentary by actors
Audrey Marie Anderson
, Demore Barnes and Abby Brammell and Writer Dan Hindmarch
-M.P.s
-Five Brothers
-Commentary by actors Dennis Haysbert, Demore Barnes, Michael Irby & Max Martini and Co- Executive Producer Frank Military
-Play 16
-Commentary by actors Dennis Haysbert, Robert Patrick, Demore Barnes, Michael Irby & Max Martini and Co-Executive Producer Daniel Voll
Disc Three: Binary Explosion
-Commentary by actors Dennis Haysbert, Robert Patrick, Demore Barnes & Michael Irby, Story Editor Randy Huggins and Special Effects Coordinator Dennis Dion
-Gone Missing
-Side Angle Side
-Special Features:
-The Writers' Roundtable featurette
-Deleted Scenes
"The Unit" Season Three DVD includes episodes presented in widescreen format (1.78:1 aspect ratio) with English 5.1 Dolby Digital and French/Spanish Surround sound plus Spanish, Cantonese and Portuguese subtitles. Individual disc content as follows:
Click the pics for gallery & larger images