The Underrated Greg Kinnear

He's that guy in decently funded movies you can't remember. The writing is always good to great, and you're not angry for watching one of his movies instead of
The Shawshank Redemption
(seriously, when is that NOT on TV?) or asking for your money back outside the theater. His work may not be critically underrated, but he's not a rock solid A-lister just either. With actors like
William H. Macy
and
Tom Hanks
out there, getting recognition for expanding on his most likeable qualities might be difficult. He may continue to slip by under the fickle radar of celebrity for a little longer.
This isn't a bad thing. Great actors seem to have their faults exploited under further scrutiny, and
Greg Kinnear's
resume can still grow with interesting projects that allow him to maintain a happy medium. Yes, he is undoubtedly a bona fide actor, but he's never been outlandishly touted. It may keep him humble and choosy with his roles; it may cause audiences to under appreciate his work, or he may be in his own perfect niche. Chronologically, he's had some genuinely good roles playing variations of the same guy until recently, when he took some chances and finally starred in a solid drama.
Kinnear's career actually began with a college degree and a legitimate non-waiter job before some talk show hosting gigs and finally some bigger films. Ok,
Blankman
isn't exactly on anybody's top 10 list, but for those who haven't seen him in one of his first roles as rich privileged David in the 1995 remake of
Sabrina
, you're missing two things. The first would be a wonderful remake that combines modernism in a likable way, and the second is a simple character maintained with believability.
Harrison Ford
co-stars, and Kinnear's supporting role doesn't interfere with the flow of the narrative in any way - no hamming, no hogging the spotlight. At the time, it was enjoyable, but he wasn't stealing the show.
His next noteworthy role came in
As Good As It Gets
alongside
Helen Hunt
and
Jack Nicholson
. With those two Hollywood superstars acting alongside him, he actually grabbed an Academy Award Nomination. Be your own judge. The Academy found something remarkable in his performance. He delivered a subtle, likable character in "Sabrina" and was a little underwhelmed. There had yet to be a leading role for him at this point, and after this title he was due.
As good as it gets

Let's skip his next major work,
A Smile Like Yours
, and go straight to another key Kinnear performance in
You've Got Mail
. If you're familiar with the circumstances of his characters for the previous stories, he seems to get the short end of the stick on the big screen. The "nice other guy" role seems to be written for Kinnear. Here, he's even starring with the man that can play the leading nice guy in his sleep,
Tom Hanks
. Unfortunately, Kinnear's next few films weren't exactly blockbusters, nor were they dead in the water…more of swimming with cramped legs.
The next movie Kinnear contributed to was
Little Miss Sunshine
. The cult hit exploded into the mainstream and was all over the Academy Awards. It was nominated for Best Picture and won for Best Screenplay and Best Supporting Actor for
Alan Arkin
- not Kinnear. He was apologetically real as the failing-to-get-his-feet-under-him dad and leading his dysfunctional family on a road trip bound for what some consider to be hell - a kiddie pageant. This was a unique leading role where Kinnear finally played something other than a likable secondary character. His turn as an anti-hero paternal figure broadened his recognizable range as an actor and finally garnered some loud critical recognition.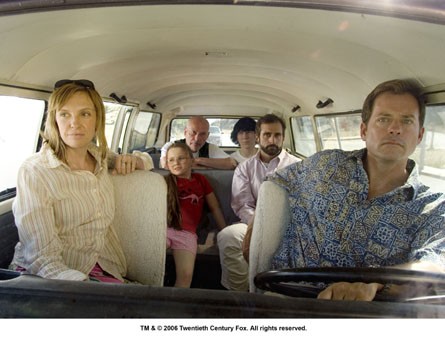 Greg Kinnear in Little Miss Sunshine
Most recently, Kinnear starred in
Flash of Genius
, dramatically telling the true story of Robert Kearns, the inventor of the intermittent windshield wiper, how Ford stole his idea and the events that followed. Kinnear finally is in a standard, leading role with a strong topic to pull from - a David and Goliath tale with a clear ethical dilemma needing resolution. Kinnear is totally believable as the every-man being taken for a ride by the big, evil corporation. It may help to consider the economic climate we're currently living in, but by the end you will be cheering for Kinnear's Kearns. It's finally something strong for the guy who has been so wonderful as a supporting actor. His appeal may be far-ranging due to his nonthreatening appearance and lack of a true villainous role, but this actor's star seems to be on a steady rise with few setbacks along the way.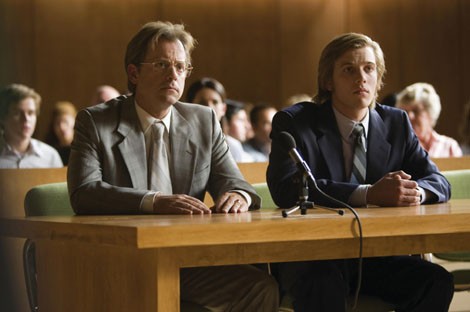 Greg Kinnear in Flash of Genius
Story by
Kate Kostal
Starpulse contributing writer