'The Unborn' Is In Theaters Friday; Check Out These Other Great Babysitter Flicks

Writer/director David Goyer (Blade: Trinity, The Invisible, Batman Begins) gives a terrifying glimpse into the life of the undead in
The Unborn
and follows a young woman pulled into a world of nightmares when a demonic spirit haunts her and threatens everyone she loves.
Starring
Odette Yustman
,
Meagan Good
,
Cam Gigandet
and
Gary Oldman
,
The Unborn
is a thrilling tale of one woman's survival as she fights a family curse and struggles to shut a doorway from beyond our world that has been pried open by someone who was never born.
In
The Unborn
Odette Yustman plays the babysitter, here are our picks for some more "scary" babysitting movies:
Don't Tell Mom The Babysitter's Dead
The old lady hired to babysit in
Don't Tell Mom The Babysitter's Dead
started out evil and scary, but then up and croaked, leaving
Christina Applegate
to-- gasp!-- do the unthinkable: get a job and support her siblings while mom & dad are on vacation in Australia.
Trailer:


Nanny McPhee
Nanny McPhee
starts out quite scary, with a grotesquely scary looking nanny with magical powers hired to make the children of a widower who's an undertaker behave. Fortunately she gets better looking as the children learn to behave, but still we only end up with
Emma Thompson
.
Angela Lansbury
adds mean to the story playing the evil Aunt Adelaide.
Trailer: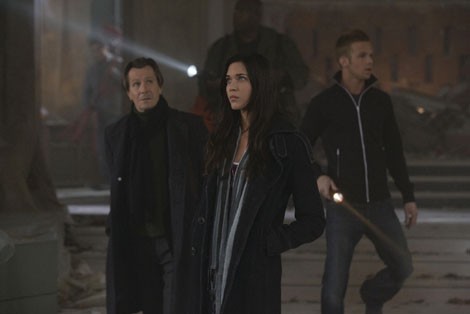 Mary Poppins
As if
Mary Poppins
wasn't queer enough, budding YouTube "moviemker" (a.k.a. Chris Rule), changed things up a bit in this trailer recut. (For more info and credits
click here
). More like "Scary Poppins." Check it out:
Mary Poppins Recut:


Don't Bother To Knock
In an uncharacteristic career turn,
Marilyn Monroe
plays a suicidal psycho recently out of a mental hospital in
Don't Bother To Knock
. Naturally, she signs on for a babysitting job at a luxury hotel and, of course, her bipolarity kicks in and, ultimately, she snaps.
"Don't Bother To Knock":


Halloween
Forget
Rob Zombie
's remake,
John Carpenter
's original
Halloween
starred a little known actress named
Jamie Lee Curtis
, spawned numerous sequels, and has all the classic elements that Zombie left out of his "re-imagining" of the series. Curtis played the responsible babysitter, but broke one of the cardinal rules of babysitting: don't leave the house. Unfortunately for her and her friends she did just that, making Michael Myers a household name the likes of
Freddie Kruger
and
Jason Voorhees
.
Trailer: