The 'Twilight Breaking Dawn Part 2' Gang Speaks Out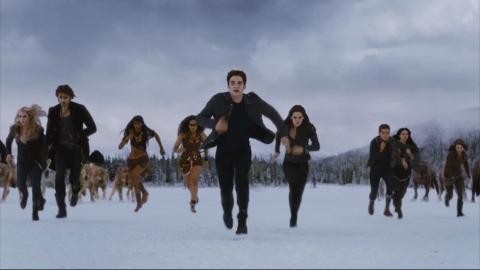 On the finale of the film including the sequence between the Cullen clan and the Volturi:
Michael Sheen (Aro): It is set outside in a forest, so I thought we were gonna be outside in a forest for weeks and weeks.  When we did the costume design I made sure my costume was layers and layers and when I showed up on day one we were in a studio.  It's all CG and green screen so I was boiling.
Bill Condon (Director): That sequence was the biggest challenge of either movie.  Battle sequences are hard – here is what's harder.  Usually in a battle sequence you get horses and big flags and banners and you get weapons and you don't have any of that here.  These people you can't puncture their skin.  The only way you can kill them is by pulling their heads off so that became a big thing.  We shot it on a green screen stage in Baton Rouge.
Wyck Godfrey (Producer): When you're standing on set in Louisiana in a giant stage with nothing but fake white snow on the ground, it's hard to imagine it's ultimately going to look like this battlefield, this meeting field that Stephanie had described – we're happy with the way it turned out.
Kristen Stewart (Bella): I broke my thumb maybe the first or second day of our really intense action stuff, so that was really frustrating.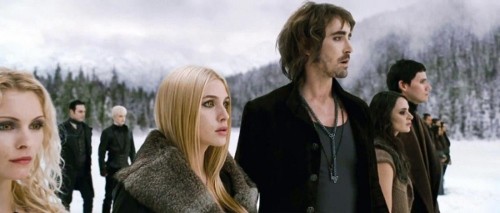 Elizabeth Reaser (Esme): I'm always very resistant to action.  I'm always afraid I'm gonna punch someone in the face – I think I did do that at some point!
Michael Sheen (Aro): Towards the last day of the battle scene there was this huge dance that happened where the Cullen team had choreographed a dance.  As they said action they suddenly went into Sweet Dreams Are Made of This and a whole choreographed dance routine which was fantastic – so that broke the boredom.
Nikki Reed (Rosalie): Toni Trucks is one of our new additional vampires and she's a choreographer and brought us together for the dance.  We worked on it during lunch breaks - we really went for it. 
Stephanie Meyer (Author): In a way I feel like the ending is off screen in the novel because we only see what Bella sees.  It was just a way of making visual what some of the other characters might have been seeing.  It does feel very surprising – I still have that moment where I go we did that didn't we?
Kellan Lutz (Emmett): The last twenty minutes of the film are going to be really exciting for the fans – what Melissa and Bill brought to the screenplay and finally got up on screen is really beautiful.
Wyck Godfrey (Producer): We finished the entire series of movies in St. Thomas, on a beach as dawn broke and it was pretty great.  Just Rob and Kristen and a small crew shooting that midnight swim.
On Kristen Stewart:
Stephanie Meyer (Author): Bella as a vampire - the performance was really marked from the moment Kristen put in her contacts.  I know I was nervous and I was so impressed with her and she was really awesome.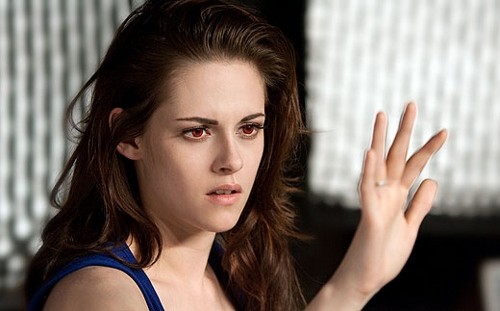 Bill Condon (Director): It's no secret that I worship at the altar of Kristen Stewart.  I've always said we made this as one movie and if you look at these two movies together it really speaks to the achievement of Kristen Stewart.  She would go from being this bad ass warrior in this movie in the morning and then she'd be emaciated in the afternoon – it was an incredible thing to watch.  But she was dying to play the vampire – she watched everyone else and said I can do that better.