The Tragic Life And Death Of Country Star Mindy McCready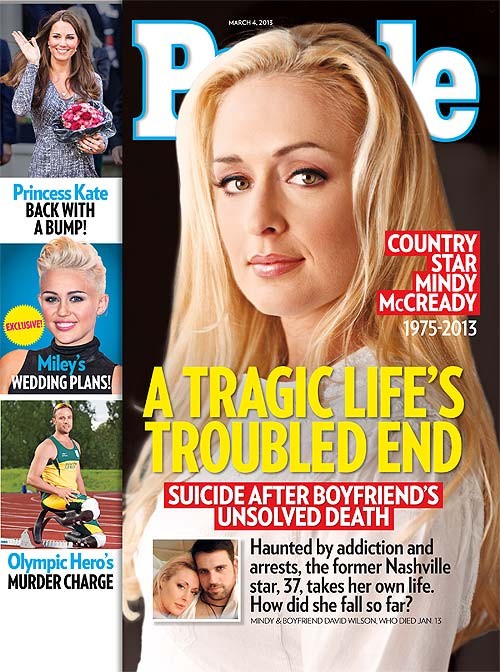 Her career ruined by drug addiction, bad relationships, and legal problems, this week's issue of PEOPLE examines the tragic life and troubled end of Nashville singer Mindy McCready, 37, who took her own life just five weeks after the mysterious death of her boyfriend, songwriter David Wilson, 34. Alone and adrift, McCready seemed to have little concept of time in the blurry month following the apparent suicide of Wilson on Jan. 13 at the lakefront home they shared in quiet Heber Springs, Arkansas.

"She would call you at 2 in the morning and then would call you 20 minutes later and act like she hadn't spoken to you in a week," says a friend of the long-troubled country singer, who had left a court-ordered rehab facility after just one day on Feb. 7. She didn't talk much about her two sons, 10-month-old Zayne and 6-year-old Zander – both boys had been placed in foster care when she was admitted for treatment – because the subject brought her to tears. Upset over speculation about her role in Wilson's death, McCready had been spending her days sleeping and her nights drinking and was screaming "about everything," according to a Feb. 6 petition filed by her father, Tim, to have her committed to rehab. But even as her world imploded, McCready sounded resolutely hopeful after watching the Feb. 10 Grammy Awards. Recalls a friend: "She said, 'I'll be there next year. That's a promise.'"

McCready's suicide marked a brutal end for a singer who had once been among Nashville's brightest stars before a toxic downward spiral of reckless relationships, arrests, addiction, and family fights played out publicly for nearly a decade. The news of her death left many who had known her "saddened but not surprised," as her former fiancé, actor Dean Cain, tells PEOPLE. "My first thought was of those boys who have been left, it's just tragic. This is a woman who had so much talent and just self-destructed."

A once-vivacious beauty whose big voice matched her outsize confidence, McCready had fallen so far into the abyss that when local law enforcement arrived at her house on Feb. 17 after neighbors heard gunshots, they encountered a harrowing scene. "Food was out, it smelled really bad, the dog had pooped everywhere on the floor," says a police source. "[McCready] was filthy. The TV was on; everything was a mess. The bed wasn't made – it was just a bare mattress. The kitchen counter, nightstand and bathroom were full of prescription pills."

Her music manager, Stan Moress, tells PEOPLE, "I think she had some emotional scars from her childhood, and she had a tumultuous relationship with her mother." Her longtime friend, Jimmy Nichols, adds, "She didn't know honesty could come with love." Her erratic behavior also affected her work. Once when she was invited to attend a benefit dinner in New York City with Kenny Chesney, "it was a big opportunity," recalls Joe Galante, then the head of RCA Nashville. "I said we'd meet in the bar of our hotel, and this big guy comes walking in to meet Mindy, and I said to Kenny, 'Who is that?' And he said, 'It's Roger Clemens, the pitcher.' There was clearly something going on between them. I was thinking, 'Where are your priorities? We don't have time for this!'"

In between arrests, suicide attempts, and rehab stays, McCready would resolve to start over. "I've done things that are completely stupid and wrong," she said in 2010. "But I wasn't crazy. I was doing crazy things. I was just really empty and searching for anything to latch onto."

*Also In This Week's 'People'*
Exclusive - Inside Miley's Wedding Plans: "I'll Probably Have 30 Dresses At My Wedding!"
Jenny Mccarthy's Celebrity Crush: "Bradley Cooper. He's Such A Hunky, Delicious Stud"
Woman Warrior: "I'm Odd Woman Out. I Want To Show That If I Can Do It, Others Can"
Josh Groban's Biggest Pet Peeve: "Parents On The Internet"



The new issue of People magazine is on newsstands everywhere now.