The Top 16 And Khloe Kardashian Haunt The 'The X Factor' Halloween Show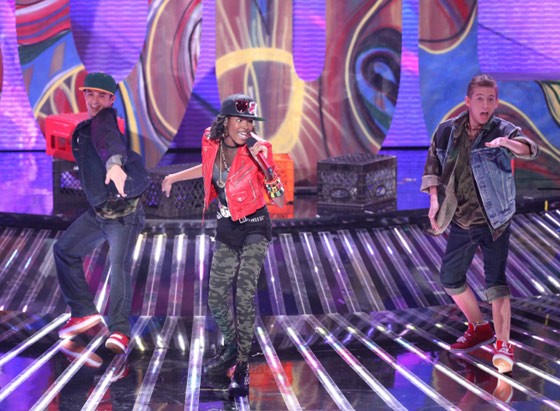 Diamond White Sang: "Hey Soul Sister" by Train
LA Reid Said: I thought that was strong, but at the beginning it felt a little bit mechanical to me.
Britney Said: You impressed me so much. You are amazing.
Demi Said: I thought the song choice was really great. You're so adorable, but I would have liked to see you have a little more fun.
Simon Said: You came over as a relevant pop star.
I really wish Diamon had sung the theme to 'A Different World' because then maybe this insane 90s afro-centric stage setting would have made a little bit of sense instead of taking somebody born on the edge of the 21st century back to a time when Will Smith was just getting into fights on basketball courts.
Despite the odd set decoration, this performance was fun enough. About all you can expect from a tweenie singing to the best of her ability. Again, the excessive echo drowned out her vocals so it was hard to get an accurate reading on her voice. Of course, that could all be part of the plan.
With all those distractions, it was hard to get any sense of who Diamond White is, what she could be, or even how well she sings. We did get a good sense, however, of what the inside of Sinbad's brain must look like. So it wasn't a complete waste.
Grade: C-
Vino Alan Sang: "Gotta Be Somebody" by Nickleback
LA Reid Said: You'll prove them wrong again.
Britney Said: I feel your effort, but I was a little bored.
Demi Said: I find myself really rooting for you because I see the passion behind your eyes. I just have a hard time seeing you as a pop star.
Simon Said: I think the song and arrangement of the song was completely and utterly wrong for you. It made you into some horrible cover singer. I think you're more of a soul singer than a rock singer. (Then an Expletive was Deleted)
Vino Alan on Halloween. I was expecting so much. Like the rage seething inside of him to summon lightning strikes on stage. Or it to start raining blood inside the arena. Or him to shoot fire from his eyes as a means of getting focused.
What did I get instead? Some weird combination of Everlast, Tony Bennett and the worst of early-century schlock rock. Like 3 Doors Down. Or Lifehouse. Or…Nickleback.
Yes. Let's discuss that song choice. Is LA Reid unaware that Nickleback is about as popular in America as the Hantavirus and Boggle? Has he been aware of the pop music scene in the last 10 years? Has he ever actually heard Nickleback?
Of course, he could have just been trying to summon the rage from my man Vino. And after that shouty and awkward performance, he could be beating himself up again tonight to an astounding effect.
If you see the headline tomorrow morning, "Zombie Apocalypse Begins in Los Angeles: X-Factor Contestant's Rage Though to be the Catalyst", don't be surprised.
Grade: D+
Lyric 145 Sang: "Boom Boom Shake the Room" by DJ Jazzy Jeff & The Fresh Prince with a little bit of "Gangnam Style"
LA Reid Said: I love you guys, but it sounded like somebody put you in a washer, dumped in bleach and took all the soul out of it.
Britney Said: I was genuinely entertained.
Demi Said: I had so much fun watching you guys.
Simon Said: I thought you guys were absolutely sensational.
Here are two things that are clear about Lyric 145: Lyric Da Queen is a star and the 145 portion is essentially useless, coming off like the Baha Men's wannabe cousins.
While that my true, I don't think Da Queen works as a solo act. She needs the other two dudes to back her up. She just doesn't have enough substance to survive on her own but with that little bit of oomph, she really comes out as a finished product. Like a cool bass line you don't notice backing a great guitar riff.
Unfortunately, 145 could not be contained behind her and sang a few bars of 'Gangnam Style' in what was nothing but a jarring bit of distraction that made me think I was having a stroke for a minute. I don't know why we needed to have that in the middle.
If Cowell continues this group as Lyric Da Queen as the frontwoman and 145 as her backup, I think this will really work. If he goes with that tag team method, they may be just as successful as Tag Team.
Grade: B-
Leopard Face Sang: "Because the Night" by Patti Smith
LA Reid Said: You left a little to be desired vocally, but it was strong overall.
Britney Said: I loved the performance, but I thought your vocals were a little weak sometimes.
Demi Said: I feel like you could do much better vocally. You are a pop star.
Simon Said: You're fearless and you're interesting.
Leopard Face is some kinda pop star all right. What kind exactly, I have no idea.
It seemed here like Demi was trying to make her a gay icon crossed with a Thomas Dolby Fever Dream all in one shot. Complete with the electric Day-Glo and synthed-out backing track.
Yes, the vocals were kind of the undercard here as Lovato upped everything around her to try and make us forget this was the girl who judged everybody before outsinging them. Maybe she didn't want her to flash those huge pipes again. It would be too unlikable? I don't know, but this wasn't the same raging fire vocals we've heard before.
But I love Leopard Face and I love all the crazy nonsense so I totally loved it. Especially her crazy crawl to the camera at the end. This was really like something out of the 80s VMAs. She had that much poise and confidence and just the right amount of makeup.
Though she'll always be Leopard Face to me.
Grade: B
Tate Stevens Sang: "I Thought I Was Tough" by Craig Morgan
LA Reid Said: I thought it was really good. You are a classic.
Britney Said: Every time you get me. I think you're amazing.
Demi Said: I was a little bit bored at the beginning, but you stood on your own and you gave me the chills. I think you're such a star.
Simon Said: I know exactly what kind of artist you should be.
Tate is an absolute pro. It's that simple. I have no idea what he's doing here. In a world where there's 9 million country acts making a living either touring, on the radio or starring in sitcoms as a lead-out to Tim Allen, it's amazing to think that somebody this polished would be completely undiscovered, but here we are.
His vocals aren't perfect, but they're just about there. That's the only real criticism I have for him. I don't know much about country music, but he seemed to be on a par with about everybody I've ever seen perform on television in the brief snippets I get before I realize it's the CMA Awards and not The Grammys.
And maybe he'd make me want to stick around.
Grade: A-