The Top 16 And Khloe Kardashian Haunt The 'The X Factor' Halloween Show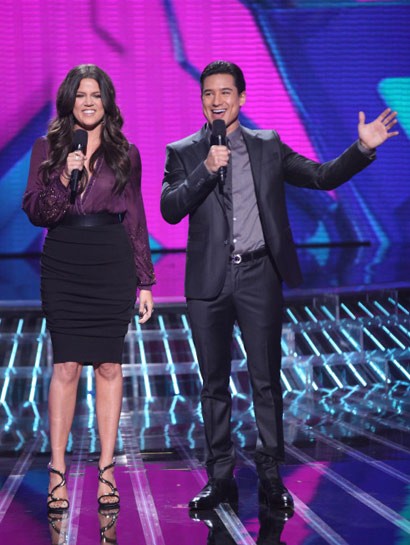 I was thinking of writing a whole long breakdown of our new hosts, but why would I do that when I can just quote the endless source of inspiration that is sure to be Khloe Kardashian:
"No Fighting, No Biting" – Setting ground rules for the judges.
"Or is it the Hex Factor?" – Trying to incorporate Halloween.
"Three sisters? That could work!" – Comparing Sister C to her family.
"OK. This is freaking me out." – Remarking on some lame Halloween visual.
"Stop flirting with me!" – to a mocking Simon Cowell who correctly noted that the air conditioning must have been on full blast inside the theater.
It's impossible to say that Khloe Kardashian is worse than Steve Jones, only because Steve Jones is the absolute baseline which nobody can sink below, but she came pretty damn close.
Oh, and Mario Lopez was there too. He was fine. Falling somewhere between Carson Daly and Quddus on the live reality hosting totem pole.
I can't help but wonder what would happen though if Khloe was left up there, by herself, live, without a net. That would be a show unto itself.
Speaking of the show, 16 people sang last night. Let's get to the longest 'X Factor' recap of all time, shall we?
Paige Thomas Sang: "What is Love?" by Haddaway
LA Reid Said: You look like a star, it feels like stardom, but I'm not sure about that song choice.
Britney Said: You're outrageous. I loved everything about it. I think you're a true star.
Demi Said: I'm so unbelievably proud for you.
Simon Said: You've just come out here tonight and nailed it.
Halloween starts in full swing and rather than going as her supposed doppelganger Rihanna (y'know, Doppleganger in that they look nothing alike), Paige apparently thought that Aaliyah from 'Queen of the Damned' was the look du jour.
Unfortunately, Paige did not decide to masquerade as somebody who could sing, getting completely drowned out by the backing track and only barely saved by an excessive amount of echo that couldn't hide the fact that her voice is about as interesting as a wet piece of Balsa wood and not nearly as strong.
Demi said in the clip package that Paige isn't that strong of a vocalist, so she'd try to cover it up. Apparently, in Demi's world, if you put on a porcupine spike wig and surround Paige with the other members of Oingo Boingo, nobody would be able to tell she couldn't sing.
I don't think anybody was fooled. Maybe if she'd thrown in the 'Night at the Roxbury' guys.
Grade: D
Arin Ray Sang: "You Keep Me Hangin' On" by the Supremes
LA Reid Said: You nailed it. That was really good. Your vocal wasn't quite on par with the genius of that track.
Britney Said: You're outrageous. I loved everything about it. I think you're a true star.
Demi Said: I feel like it was a little stiff. I want to see you dance better.
Simon Said: I think Britney put too much around him, but you do have that self-confidence of a pop star.
How cool was the arrangement of this song? How now was it? I thought it was an Usher song when it first started. I've probably heard this song 17,000 times, but Arin twisted it into something I just heard on Top 40 radio for the first time.
Now, despite that awesome arrangement, Arin didn't quite hit the Usher highs with his performance. He didn't even grab any Jason DeRulo swagger in there. His vocal was lazy and muddled and he didn't command the stage with the presence necessary to sell the song.
Everything is there for him to turn into a pop star by competition's end, but he couldn't quite pull it all together out of the chute.
Grade: C+
David Correy Sang: "My Love is Your Love" by Whitney Houston
LA Reid Said: We could really hear you sing. You sounded really really good and it felt right.
Britney Said: You completely surprise me, I was not expecting that. I felt you a lot.
Demi Said: It was actually pretty good.
Simon Said: I thought your performance was a bit manic and verging on desperate. It just felt like a random song choice.
Taking the big stage the human charisma vacuum…remains a human charisma vacuum. I guess in the wake of Steve Jones' departure somebody had to do it. It's like the rock at the end of 'Lost'.
Correy just doesn't have it. He has the most generically mediocre voice on the planet. Like a Bruno Mars impersonator decided he wasn't going to give his all that night.
He brings nothing to the stage in terms of presence, just a lot of tattoos, a gold chain and crowd hype moves that died out at about the same time as the Macarena. Just a big ball of forgettable.
Grade: D+
Sister C Sang: "Hell on Heels" by Pistol Annies
LA Reid Said: That was good. In the beginning I was concerned, but it was really good.
Britney Said: I felt like you really delivered. It was really interesting. It was stunning.
Demi Said: It let me down. You guys seemed really stiff.
Simon Said: From any standard around the world, that was a fantastic performance.
I can see Simon thinking just now. "God. How did I get these country girls on my team? What is this twangy nonsense they call music? Is that a banjo? Christ. I need these girls gone immediately."
Well, they certainly did their part to help him here. Firstly, it's clear that only the middle girl has any semblance of a voice as the only part of the performance that went easy on the eardrums was her big flourish at the end. The rest, was just a humdrum cornucopia of either bad harmonies or vocals you could hear at 2AM in any dive bar in West Texas.
I call sabotage on Simon's part. Though I don't think he needed to do much to do it. So let's just call it point shaving.
Grade: D-
Jennel Garcia Sang: "Home Sweet Home" Motley Crue
LA Reid Said: I did not expect that. That was a 10. You just convinced me that you could win.
Britney Said: You completely rocked it out.
Demi Said: I'm so unbelievably proud of you, I feel like crying.
Simon Said: You just defined the theme Made in America. I think Demi has tried to make you a clone of her, but the performance was amazing.
It's always kind of alarming to see just how much they alter the contestants' appearances with the makeovers. It verges on, "Hey, they look kind of better" to "What sadist did that to him/her?", but it never quite works out.
Here, Jennel looked like a brand new person and finally in a good way. Gone was the shrinking violet who was in danger of being overshadowed on stage by the mic stand and in came a little pint-sized rock goddess who could actually inject life into a tune.
That's not to say this was a blowaway (despite the overuse of the wind machine): I still don't think her vocals quite reached those full glam metal heights she wanted to hit, but this was kind of a shock for somebody I expected to have the producers forget to include in the running order because they'd already forgotten about her.
With this, I think she'll stick in a few memories.
Grade: B