The Top 12 Perform on 'The X Factor' Diva Week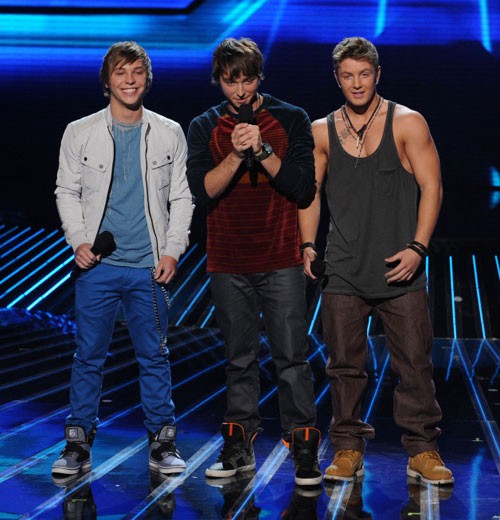 It's Diva week on "The X Factor" when the 12 acts take on the songs from some of the biggest divas in the music business. 
Last week in reality show history, "The X Factor" revealed the rankings of each act; this week the acts are looking to improve on many of those ratings as they channel their inner diva and avoid the double elimination on results night.
Again having "technical difficulties" – music tracks and backup singers drowning out the singers – "The X Factor" warbled through the night as the judges discussed the performances.
First to take the stage was young adult Jennel Garcia with "Proud Mary" by Tina turner.  LA said that Jennel started the night out with a bang; adding that she "smoked it".  Brittney said that Tina would be proud; adding Jennel nailed it.  Saying she was like a different person, Simon told Jennel that she was back in the game.  Demit said, "what a way to kick the night off."
Last week's number one singer Tate Stevens performed "From this Moment" for his wife who was backstage.  Brittney called the performance heartfelt; adding that she loved it and Tate had some amazing vocals.  Demi just said that Tate was so good. Simon said that Tate was better than last week; and added that he would be happy to write the $5 million check to Tate.  LA was not given an opportunity to comment because he was cut off by co-host Khloe Kardashian Odom talking to Tate.
Diamond White performed the Beyonce hit "Halo".  Noting that she had big shoes to fill, LA said that although she started out shaky, Diamond filed those shoes.  Dem said Diamond was a diva in the best way; adding that Diamond gave her competition a run for their money.  Simon called Diamond a future star and Brittney said Diamond kept getting better. 
Beatrice Miller performed the Cindy Lauper hit "Time After Time".  After saying she was so cute, LA wondered how a 13 year old could have a voice like Betrice's; but he questioned the song choice calling it bad.  Dem liked the song choice; saying Beatrice was so soulful and had an amazing tone.  Simon said she did better than last week but felt the song was boring and also questioned the song choice.  Brittney called it an incredibly special performance.
Hip-Hop group Lyric 145 made a last minute song change that was a medley of Queen's "We Will Rock You" and Katy Perry's "ET".  While LA thought the group performed better than last week – where they landed in the middle of the pack – but felt the group lost their way.  The background vocals were so loud that it was nearly impossible to hear the group perform.  Brittney questioned the group by saying she thought they should perform Hip-Hop.  Demi said that Freddie was a diva on his own and they didn't need to include "ET"; and added that she didn't get it.
Simon said he did get it and felt the group brought energy and was just what the show needed.
Arin Ray took on the Madonna hit "Crazy for You".  Arin said that he had a "friend" in mind to sing the song to.  After the wrong track was played at the beginning of the song, Arin performed the song with no trouble.  LA thought Arin struggled; saying that he wanted goose bumps and it wasn't a $5 million performance.  Demi agreed with LA: adding she was bored and didn't get the song choice.  Simon compared the performance to asking a cat to eat a tiger; saying that Arin looked like he hated it.  Brittney said Arin nailed it.
Paige Thomas performed the Donna Summer hit "Last Dance".  LA called it her best performance yet.  Brittney said it was like a disco ball exploded on the stage; adding it was the best disco throwback ever.  Sim agreed with LA but felt the dancers and the background was too distracting.  Demi said Paige nailed it.
Fifth Harmony performed the Mariah Carey hit "Hero".  LA said that the girls struggled in the beginning but turned it into a great performance.  Brittney was impressed; adding that Simon was doing a good job with them.  Demi said the girls did an incredible job and killed the vocals.  Simon called the performance brilliant with great vocals.
Carly Rose performed the Celine Dion hit "My Heart Will Go On".  LA said they could be looking at the winner.  Demi said the song choice didn't make sense, it wasn't Carly's voice.  Simon said that he didn't believe Carly was 13; saying she was not a human being.  Brittney said she had chills all over; calling the performance spectacular.
Vino Alan sang the Tina Turner hit "Let's Stay Together" in a performance that showed off his strong voice.  Brittney called Vino soulful; and Demi agreed; adding that she liked it better than last week but was still a little bored.  Simon didn't think the performance was as good as last week; adding Vino's voice was designed for a moment and that song wasn't it.  LA noted that Vino put his soul into it; adding Vino had a classic voice and it was one of the best he had heard on that stage.
The final group performance was from Emblem3 with the Alicia Keys hit "No One".  LA said the boys had a perfect vocal blend, were complete superstars, and exactly what the show needed; he added that they made the perfect song choice.  Brittney called the boys complete heartthrobs and Demi said the performance was better than last week.  Simon called the performance absolutely brilliant; adding there was no way they should have been so low in the rankings last week.
The last performance of the night was from the surviving member from last week's elimination – Cece Frey – with the Eric Carmen song "All By Myself".  While LA thought Cece sang it well, he felt she would be in the bottom again this week.  Brittney said that she just didn't get it and Simon called the performance very Cabaret; adding that something wasn't working.  Demi thought Cece nailed it; adding that she thought the others (judges) were being way too hard on her.
On Thursday's results show the top 10 will be revealed and Taylor Swift performs.