The Ten Greatest Songs Of The Decade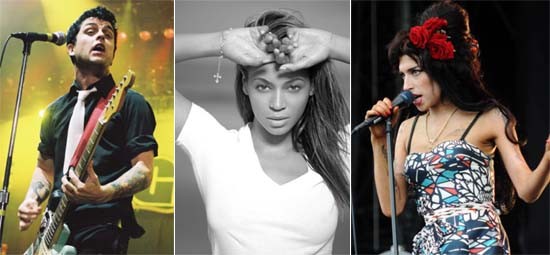 Yesterday, we brought you the
Ten Greatest TV Shows of the decade
. Now it's time to turn up the tunes a bit. During this decade, music kind of went back to the way it was fifty years ago. That is, the single became more important than the album. With the rise of mp3 downloads, and the ultra-convenient iPod for playing them back, singles were now the most common way of buying or listening to music. We're on the verge of again seeing artists simply releasing singles, rather than padding them with an additional ten tracks.
With that in mind, here are the Ten Greatest Songs of the decade. Remember, we are dealing with Greatest - not Best, not Favorite - but Greatest. Here's a refresher on the five determining factors that make a song the greatest:
Appeal
- How well-liked something is by the masses. Simply put, how many people consider it their "favorite".
Acclaim
- How the critics and cognoscente evaluated something. In other words, how often it is considered the "best".
Popluarity
- Very simple - how many people experienced this piece of pop culture in the way it would be consumed.
Zeitgeist
- How much something enters the public discourse. Catchphrases, clichés and a general buzzing determine this category.
Influence/Originality
- Pretty much speaks for itself - One thing's impact on those that come after it is crucial in determining greatness.
And with that, here are the Ten Greatest Songs of the Decade:
10. "Single Ladies (Put a Ring On It)" by Beyonce
Beyonce could probably have made the list with this song just for the video (it is one of the greatest of all time, after all) but this was more than just that - "Single Ladies" became a phenomenon just from the "Oh, oh, oh" of the first few bars - a bit of nonsense that instantly hooked in any listener.
Additionally, the acclaim for this song was near overwhelming. Rolling Stone declared it the song of 2008, and it recently received Grammy nominations for Song of the Year and Best R&B Song to go along with its Video of the Year VMA.
"Single Ladies (Put a Ring On It)" by Beyonce

Plus - the phrase "put a ring on it" is fast-becoming the knew - "Well, why don't you marry it?"
9. "Not Ready to Make Nice" by The Dixie Chicks
In the wake of controversy that's never really befelled a country act (or a level of vitriol never really experienced by any group of musicians) The Dixie Chicks responded with a passionate roar of a record that both elegantly and furiously expressed their feelings at becoming the subject of the death threats that dominated music news for many months following the group's condemnation of Bush.
When the song came out it hit, and hit big. It reached #4 on the Billboard Charts - no small feat for a straight up country tune - and nabbed Grammys for both Record and Song of the Year.
"Not Ready to Make Nice" by The Dixie Chicks

In addition to just the raw numbers - this was a song that many co-opted as a breakup tune, giving it a life the songwriters probably never expected - and massive crossover appeal. This was the country song of the decade.
8. "Ms. Jackson" by Outkast
A few years ago, Outkast was a critical darling of a southern rap group that had yet to acheive any sort of commercial success. That was before "Ms. Jackson" made them one of the most popular groups in the country.
For a group that had yet to really achieve any chart success - this was like a rocket - shooting to #1 on the Billboard charts with ease and dominating MTV airplay (when it still played videos) as the rain poured down on
Andre 3000
.
As expected for any critical darling - the awards rolled in for the group as the song won a Rap Performance and a Record of the Year nomination. The influence was also felt - Southern rap became more popular than ever, and Outkast's experimental beats permeated hip hop for years to come.
"Ms. Jackson" by Outkast

This was a great song, but not the group's greatest.
7. "Crazy in Love" by Beyonce featuring Jay-Z
The best pop record ever? Certainly one of the most explosive as the horns blared with jubilance, signaling the arrival of Beyonce as a solo pop force that would dominate much of the decade.
This song was essentially a perfect pop force. From the rise of its hook to the pound of its horns to the perfect placement of Jay-Z's rap break - it was hip-hop/R&B record like nothing before it. It also gave us one of the buzziest under-the-radar couple of the decade with Ms. Knowles and Jay-Z - an important factor in the song's staying firmly placed in the zeitgeist.
Critics agreed with its tuneful prowess, showering the song with praise that led to two Grammy wins and a Record of the Year nom. The song also hit huge with audiences - holding the top spot on the Billboard charts for six weeks and absolutely owning the club play charts for the better part of a year.
"Crazy in Love" by Beyonce featuring Jay-Z

This was the moment that Beyonce truly arrived as a solo artist - leaving Destiny's Child behind and beginning to establish her as the dominant diva that would own the decade.
6. "Umbrella" by Rihanna featuring Jay-Z
There's Jay-Z again (he just keeps popping up) doing his wife one better as he collaborates with
Rihanna
on the soaring dance track that redefined how we keep dry.
Before this song Rihanna had yet to really find her way as a solo star. She'd always shown promise and had had a few hits but this song suddenly made her a dance floor diva to rival Diana Summer.
The song locked down the top of the pop charts for seven weeks in total while dominating clubs for more than a year - it instantly became the go to song to put your drink down and flood the floor.
But it wasn't just fans of odd pronunciations who loved the song - critics raved about is innovative beat and glorious waterfall of a hook that was both invigorating and breathtaking. It earned nominations for Record and Song of the Year at the Grammys while winning a Best Rap/Sung Collaboration Award.
More than all that, it simply changed the word Umbrella. Much like "
The Sopranos
" stole the word for a high-octave singer and made it into a gangster term, Umbrella not only changed the way the word was pronounced (Um-buh-rella is now preferred) it made it so you couldn't see or be offered an umbrella without instantly replaying the hook in your head.
"Umbrella" by Rihanna featuring Jay-Z

That's widespread success.
5. "SexyBack" by Justin Timberlake
Sexy might have never actually gone away, but was anybody willing to argue with this futuristic beat that seemed like a gift from another planet where funk reigned supreme? Of course not.
Audiences flocked to Justin Timberlake's biggest solo hit - putting at the top of the Billboard Charts for six weeks. This song also earned major catchphrase status as its brash claim of a chorus inspired everybody to bring something back. If you did something well, you weren't just good - you were bringing it back. Like Tiger Woods is cheating on Elin Nordergren - he's bringing adultery back. Something like that.
This song also launched Justin Timberlake into orbit (very appropriate given its space age beats) and even though he hasn't done much musically since this song dominated America, it still seems like he's America's reigning pop star. That shows the power of this Timbaland-produced powerhouse.
"SexyBack" by Justin Timberlake

Speaking of whom,
Timbaland
his undoubtedly the greatest producer of the decade with his funk-driven beats turning any hip-hop song into a dance/pop dynamo. This song is arguably his masterpiece, and just another reason it's one of the greatest of the decade.
4. "Boulevard of Broken Dreams" by Green Day
Remember when Green Day was nothing more than a loud and adolescent sounding punk/pop band that notched three-chord hits with songs like "Warning" and "Basket Case". Remember when "Good Riddance (Time Of Your Life)" seemed like a massive departure for the group, when it was just a mere acoustic rendition of their same basic sound? Well that all changed with the release of this pop epic.
"Boulevard" gave Green Day, and modern-day mall punk, a brain. This song was not concerned with making unwashed teenagers jump up and down in unison while their sporadic body piercings flopped around their tattoos. Instead, it attempted to paint an honest picture of suburban malaise - to analyze those very teenagers they'd previously turned into an audience filled with gyrating sweat.
The music also changed. Rather than using a boppy three-chord bit rabble-rousing, the punk trio went for the slow burn of simmering guitars and titanic drums to form something of a punk epic. A major departure for the genre.
It worked well for the band as the song topped both the Mainstream and Modern Rock Charts for 15 weeks each and reached number two on the Hot 100, right smack dab in the middle of the Hip-Pop era. The song also won the Grammy for Record of the Year - a major feat for a punk band.
"Boulevard of Broken Dreams" by Green Day

Look for more tattooed quick-step crunchers to attempt this level of sophistication in the future making this song a seminal moment for punk music.
3. "Lose Yourself" by Eminem
Eminem had always been thought of as something of a one-trick pony. Sure, he could spin rhymes with the best of anybody - but they always had a certain level of sarcastic goofery. Eminem just couldn't pull off a track unless somebody was being brutalized therein. Then he released this song.
"Lose Yourself" was something of a hip-hop miracle, a slow delight that rose like a firehorse stampeding over a dirty club. It had both the grime of the streets and the posh polish of the studio oozing from its perfectly rhymed pores. Finally, a song from this decade's greatest MC that didn't make fun of a particular minority.
For Eminem to make such a dramatic departure from his wildly successful formula was something incredibly bold. Plus, it finally tore away the veneer he'd tried so hard to create with a parade of controversial joke rhymes and videos. This was Eminem bearing his soul - letting us finally see the artist that burned to create those controversial tunes. And we ate it up like mom's spaghetti.
"Lose Yourself" topped the Hot 100 for a mind-melting 12 weeks, making it perhaps the most popular song of the decade. It also stormed critics lists, earned a pair of Grammys and took home the Oscar for Best Original Song when it appeared in Eminem's "8 Mile". At this point, Eminem had reached the height of his buzz - it didn't seem possible for somebody who drew so much attention throughout the early part of his career to draw even more focus from the public, but Oscars seem to do that for people.
"Lose Yourself" by Eminem

Eminem never really built upon this success as he withdrew from the public eye for much of the latter part of the decade only to reemerge with his usual brand of brilliant nonsense at the end, but had "Lose Yourself" been his walk-off shot, it would have been a genius career capper.
2. "Rehab" by Amy Winehouse
Throughout this decade, female pop was mostly dominated by the Christinas, the Britneys, and the Jessicas of the music world. In other words, it was mostly looks and production rather than actual substance that drew hits for femme-pop. Then Amy Winehouse, and her startling brass section, changed the game.
This song was like nothing we'd heard from an English girl since Dusty Springfield first went to Memphis. It was a song that felt so fresh, so alive, yet seemed to have always been here before. That's because Winehouse took the soul of the sixties and injected it with the attitude of this century - saying "No no no" to her detractors and winning them over at the same time with an essential bit of bombastic pop.
The result also won over American audiences. Winehouse was everywhere in an instant, tattoos and all. Known just as much for her tabloid wiles as her prowess behind the microphone, Winehouse managed to achieve Madonna-like success very quickly - and made sure people always responded three times in the negative rather than once.
Surprisingly, the song only rose to #9 on the Hot 100, but this was still in the phase when Billboard was adjusting for downloads - this song was far more popular than its numbers would indicate, as was clearly shown by everybody in the country's knowledge of the hook.
The real claim to greatness for this song is its acclaim. It managed to win three of the most important Grammys, taking home Record of the Year, Song of the Year and Female Pop Vocal Performance of the Year. It also changed the way females were allowed to make music - paving the path for ballsy singer-songwriters like
Katy Perry
and
Lady Gaga
to dominate the subsequent charts.
"Rehab" by Amy Winehouse

Winehouse may have almost gone to the big house several times after her initial success, but this song, and the legacy it inspired, allow her greatness to far outlast her personal troubles.
1. "Hey Ya!" by Outkast
It's hard to imagine, but Polaroid Pictures didn't really exist for much of this decade. Yet this song made them seem as vital as the Cell Phone to our daily existence. In fact, it may be the only reason people remember those white-bottomed pictures even existed.
Okay, so this isn't much of a reason to call the song the greatest of the decade, but fortunately there were many other reasons out there. Like the joy of its beat or the jubilance of its dance track. This song was one of the most unencumbered bits of enthusiasm to come across radio waves this decade, and certainly its most accomplished.
The southern rap duo created one of the best marriages of pure hip-hop and pop music that anybody had ever heard - or probably will hear for times to come. They turned "Ice Cold" into the newest way to be truly hip and that aforementioned bit of photography into an institution all over again.
Of course, this song was more than just a few catchphrases and a crazy video, its popularity far superceded that. It spent 8 weeks atop the Billboard chart, only to cede that position to its companion single, "The Way You Move". This was almost like a lead-in or popularity by association. It isn't that "The Way You Move" isn't a great record, it's just that Outkast probably could've released three minutes of barnyard noises in the wake of "Hey Ya!" and seen it chart high. Its signature single was just that powerful.
"Hey Ya!" by Outkast

For their efforts, Outkast earned one Grammy and a nomination for Record of the Year, as well as the adoration of music critics everywhere. This one of the few songs even the most discerning and intolerant music snob could share with their pop-loving contemporaries. A song that sent middle school kids dancing along with their parents. This was a perfect piece of pop fun that couldn't help but be brilliant and loved.
That is why "Hey Ya!" is the Greatest Song of the Decade.
Check back tomorrow for the Greatest Albums of the Decade.
Story by
Andrew Payne
Starpulse contributing writer